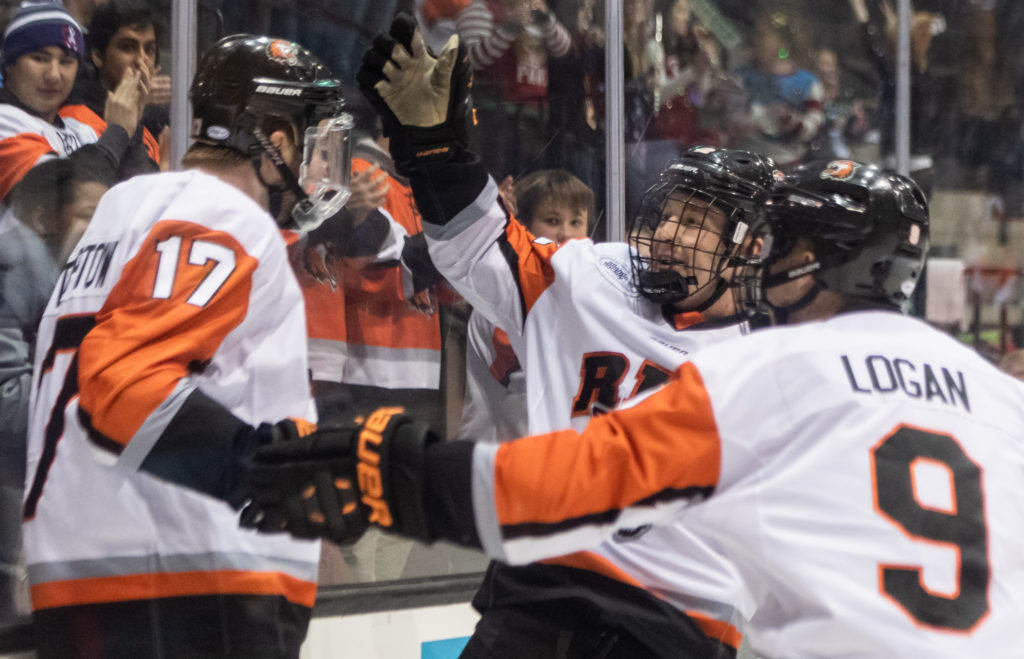 By KEVIN OKLOBZIJA
'Tis the season for that famous Italian word — "fra-gee-lay" in the vernacular of Ralphie's Old Man in A Christmas Story — to become part of everyday conversation.
Why, even Wayne Wilson, the head coach of Rochester Institute of Technology men's hockey team, used it often on Saturday evening.
Except he pronounced fragile correctly. And he wasn't in a very good mood when he used it in reference to the psyche of his slumping team.
"You can see we're fragile," Wilson said after a 6-4 loss to Sacred Heart at the Gene Polisseni Center, which completed the weekend sweep for the Pioneers.
That's now five straight losses for the Tigers (6-8-1, 4-6-1 in Atlantic Hockey), the past four of which have come on home ice.
On Saturday RIT opened 2-0 and 3-1 leads as Adam Brubacher scored twice and Shawn Cameron once. Halfway through the game, the Tigers were in prime position to roll.
But Bick Boyagian scored at 17:21 of the second period and suddenly the Tigers weren't so confident.
"We needed to make it 4-1," Wilson said. "We could have gotten a three-goal lead and we couldn't do it and we kept them in the game.
"It went south really quickly."
Then when junior defenseman Chris McKay misfired on a point-to-point pass during an RIT power play, Marc Johnstone intercepted and sped away to score on a breakaway. The short-handed goal with just 7.5 seconds left in the second period tied the score.
It was also Sacred Heart's second short-handed goal off a poor pass by McKay.
Still, the Tigers regained the lead on a Bryson Traptow goal 2:20 into the third period, but it lasted just 110 seconds.
Ruslan Rakhmatov scored through traffic at 4:10 and when Austin McIlMurray converted a Brody Valette giveaway in the slot into the go-ahead goal at 11:46, RIT trailed and had no response.
"You can just see it, mentally more than anything," Wilson said. "It's thinking the game and a lack of confidence."
What's strange is that the Tigers were overloaded with confidence a little more than three weeks ago. They had won three straight, all in Atlantic Hockey, and headed to Northeastern for a measuring-stick game against the No. 13-ranked Huskies.
"We lose on a couple controversial goals and we still felt pretty good about ourselves," Wilson.
But then came home losses to Air Force, followed by this weekend's flop against Sacred Heart (6-8-2, 6-6-1).
"You know you're going to get out of it, at least you think you will," Wilson said, "but you don't know what's going to get you out of it."