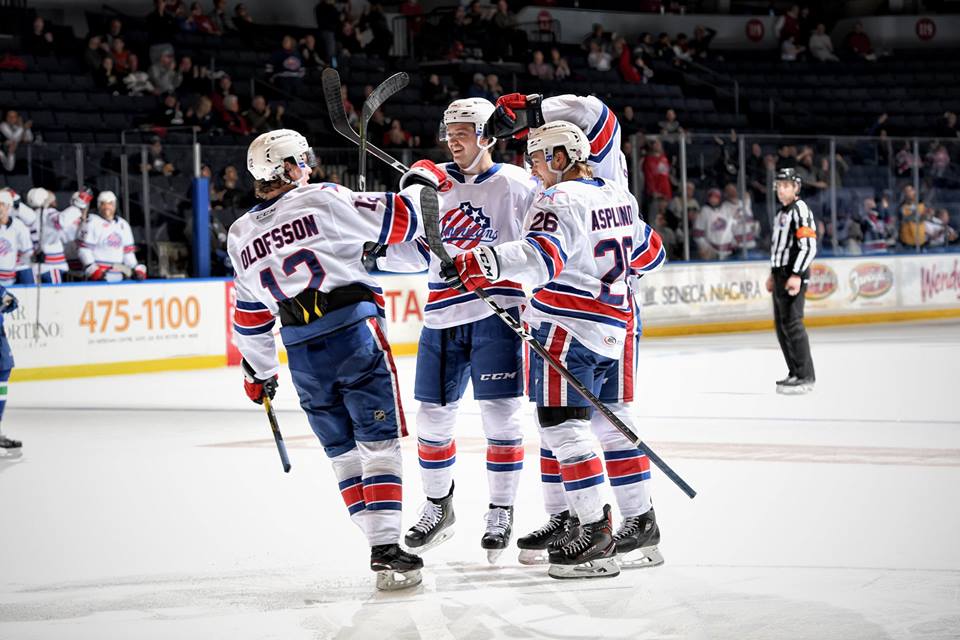 By KEVIN OKLOBZIJA
The new goalie played well, the Rochester Americans jumped out in front early, and history in terms of trivial information was made.
That's the quick recap of Wednesday's 5-2 victory by the Amerks over the Utica Comets. Here's your Amerks 6-pack:
1. Surprise, you're going up … and starting
Goalie Jonas Johansson received a somewhat out-of-the-blue promotion to the Amerks on Tuesday and was given the start on Wednesday.
While he wasn't tested all that often, the 23-year-old Swede did make 25 saves. He was pitching a shutout for nearly 46 minutes, and the goals he allowed were both in extra-attacker situations when Utica pulled goalie Thatcher Demko.
Considering Scott Wedgewood and Adam Wilcox are healthy, Johansson didn't think he'd be leaving the ECHL's Cincinnati Cyclones anytime soon but was obviously glad he got the call-up.
"It's a big deal coming up here for me, this is where I want to be," he said after the game. "I was trying to see it in my head that it might happen so if it did happen it wouldn't be a surprise."
2. He earned it, that's why
Amerks coach Chris Taylor was adamant that there was no ulterior motive for bringing up the second-year goalie.
Taylor said it had nothing to do with the play of Wedgewood or Wilcox.
A busy stretch of the schedule (nine games in 18 days), coupled with Johansson's solid play with Cincinnati, created the perfect chance to see what he could do, Taylor said.
"I'm not sending a message; this is a decision the organization made," Taylor said. "He earned it, he was playing really well (7-3-1, .912 save percentage, 2.49 goals-against average)."
3. History, without a doubt
The three stars were all Amerks and all natives of Sweden, which surely has never happened for Rochester.
Left winger Victor Olofsson (one goal, one assist) was No. 1, rookie right winger Rasmus Asplund (three assists) No. 2 and Johansson No. 3.
Asplund helped set up goals by Olofsson, Andrew MacWilliam and Wayne Simpson's empty-netter, his first three-point night in the AHL.
He came into Wednesday with just one goal and three assists in 21 games, though he now has 1-5-6 in his past six games.
"I thought this was Asplund's best game of the year," Taylor said. "He was getting into hands all night, he was touching the puck first on the forecheck.
"Sometimes you have a great game and get no points and think, 'Did I really help the team tonight?' Tonight he got rewarded."
Said Asplund: "I think it's just small details. I've been watching a lot of video and just trying to change up some small details."
4. A line to fear
The line of Danny O'Regan, Asplund and Olofsson was impressive again.
"I love the line," Taylor said. "They get on pucks, they're creative but responsible. O'Regan is really good on the walls, Asplund is always on the right side of guys and Olofsson is always looking for the offensive opportunity."
5. A long time coming for Big Mac
MacWilliam scored the game's third goal, pushing the Amerks lead to 3-0 at 13:35 of the second period.
The goal was his first since signing with the Amerks to start the 2017-18 season (70 without a goal as Amerk), and his first since April 4, 2016, when he played for the Manitoba Moose.
The drought had reached 137 games, and he even had to wait momentarily as the officials huddled after the goal, apparently to discuss an inadvertent whistle — or something relating to the legitimacy of the goal.
"Maybe it's because it's been so long, they were confused," MacWilliam joked.
6. Tennyson a factor
Matt Tennyson was called up to the Buffalo Sabres over the weekend after injuries on the blue line but returned after Tuesday's game against Toronto.
He scored the second goal and initiated a scrap that ended up with only roughing minors assessed.
NOTES: Olofsson's first-period goal ended the Amerks goal-less streak at 113 minutes, 52 seconds. They played 143 minutes, 39 seconds between goals by anyone not named Olofsson, a streak that ended with Tennyson's goal 1:40 into the second period.
One of the referees, Carter Sandlak, was another on the growing list of officials to go right from playing the pro game to officiating. He was hired out of the NHL's Exposure Combine in August. His father, Jim, played nearly 600 NHL games and Carter spent most of his four-year playing career in the ECHL. Another rookie AHL referee hired out of this summer's combine was former Amerk Michael Duco.