By PAUL GOTHAM
Sam O'Connor, who earned All-America honors earlier this week, led 19 Section V student-athletes named to the All-State teams as announced Thursday morning.
O'Connor scored 11 goals and four assists for Adam Hiller's squad which claimed the program's first sectional title since 2012.
"For Sam, it's just got to be his work ethic," Hiller said. "I haven't had a player that's worked as hard as he has."
With O'Connor roaming the midfield, the Barons defeated Williamsville-East in the NYS Far West Regional and advanced to the state semifinal. O'Connor collected a goal and an assist in that match.
As Hiller pointed out, assessing O'Connor goes beyond numbers on a paper or screen.
VIEW MORE SUE KANE PHOTOS HERE. 
"You can't necessarily just look at stats," Hiller noted. "The improvement I've seen since he was a freshman all the way to senior year. Every year he kept getting better and better."
On a squad that dealt with injuries to key players to open the season, O'Connor provided a calming presence in the midfield. As the lineup returned, the Barons won nine straight.
"This year I think everything came together for him," Hiller added. "He worked hard in practice every single day. Working before practice, after practice he'd stay for about 10-15 minutes afterward working on stuff."
A First-Team All-County Player as a junior, Hiller referred to O'Connor's work with the Olympic Development Program (ODP) and Rochester Football Club (RFC) as keys to his development.
"He's done everything with soccer," he stated.
He became the first Brighton Baron since Mike Domm (1993) to earn All-America honors.
O'Connor was one of eight fellow Section V players earning also earning All-State Large Schools honors.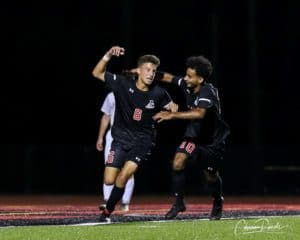 Justin Arilotta (Hilton), Colby Egan (Churchville-Chili), Tyler Lewandowski (Greece Arcadia), CJ Takatch (Greece Athena), Matt Gentile (Wayne), Ajan Rajamohan (Spencerport) and Dan Malloy (McQuaid Jesuit) were also received All-State selections.
Arilotta earned second-team recognition. The Section V Class AA Player of the Year finished with 11 markers and five assists as Hilton won back-to-back divisional titles for the first time in program history. The Cadets went on to win their second sectional title in four years.
Egan helped Churchville to at least a share of back-to-back divisional titles. The senior tallied 13 times and collected 10 assists to help the Saints to a 17-3-0 mark on the season and a spot in the Class A1 final. The Monroe County Division II Player of the Year, Egan was named third team All-State along with Lewandowski, Takatch and Gentile.
VIEW MORE CHRIS ROACH PHOTOS HERE. 
A second team selection a year ago, Lewandowski scored 24 goals and collected five assists for the Titans who were ranked as high as No. 7 in the NYSSWA poll earlier this season. Takatch, a St. Bonaventure University commit, collected seven goals and an assist. Gentile, the only junior among the Large School recipients, scored 14 goals and 19 assists this season.
Arilotta, Egan, Gentile, Lewandowski, O'Connor and Takatch also were named to the All-East Region team.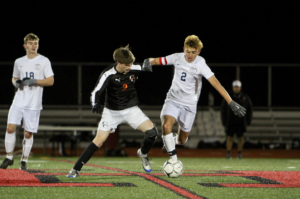 Rajamohan earned a spot on the fifth team while Malloy was named to the sixth team. Rajamohan had one goal and five assists out of the defensive midfield spot to help Spencerport to a share of the Monroe County Division II crown. Malloy scored 17 goals to go with eight assists.
Bath-Haverling's Thomas Binkowski earned first team All-State (Small Schools). The junior midfielder finished with 17 goals and 22 assists for a Rams squad which won its first sectional title since 2011 and advanced to the NYS Far West Regional with a 20-0 record before falling to East Aurora.
Palmyra-Macedon's Jacob Gallina was named second team All-State (Small Schools). The Finger Lakes East Player of the Year, Gallina scored 23 goals and had 21 assists on the season.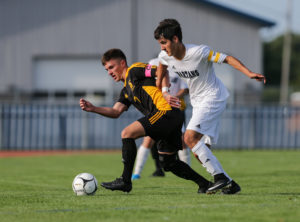 Dylan Ange (Greece Odyssey), Justin Eaton (Williamson) and Griffin Yastremski (Bath-Haverling) earned spots on third team All-State. Ange guided Odyssey to program firsts with Monroe County Division IV title as well as No. 1 seed in sectionals. The senior forward led Monroe County with 27 goals on the season.
Eaton finished with 30 goals and 13 for Williamson which finished the regular season undefeated and reached as high as No.2 in the NYSSWA Class C rankings. Yastremski collected 17 shutouts and allowed just four goals this season while making 61 saves.
Adam Enders (Belfast), Ethan Grover (Warsaw) and Cole Rathbun (Naples) were named to the fourth team.
VIEW MORE CHRIS CECERE PHOTOS HERE.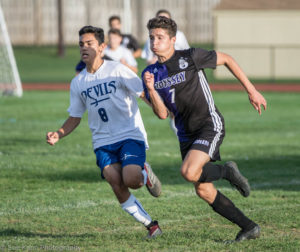 Enders, the Section V Small Schools Player of the Year, finished with 87 points on the season, good for a tie atop the individual scoring race. With 36 goals this season, the senior set the Section V mark with 143 career tallies. Rathbun, the Finger Lakes West Player of the Year, scored 21 goals and added nine assists. Grover had 13 goals and 14 assists.
Jack Gagnier (Geneseo), Ian Lau Atencio (C.G. Finney) and Steven Soto (Mount Morris) received fifth team honors.
Gagnier scored 18 goals and had eight assists for Geneseo which advanced to the NYS Class finals. Atencio for 34 goals and 16 assists, and Soto had 19 tallies and 11 assists.
VIEW MORE MIKE GENTILE PHOTOS HERE.
| | | |
| --- | --- | --- |
| 2018 NYS All-State | Large Schools | |
| Player Name | School | Team |
| Sam O'Connor | Brighton | First |
| Justin Arilotta | Hilton | Second |
| Colby Egan | Churchville-Chili | Third |
| Tyler Lewandowski | Greece Arcadia | Third |
| CJ Takatch | Greece Athena | Third |
| Matt Gentile | Wayne | Third |
| Ajan Rajamohan | Spencerport | Fifth |
| Dan Malloy | McQuaid | Sixth |
| | | |
| --- | --- | --- |
| 2018 NYS All-State | Small Schools | |
| Thomas Binkowski | Bath-Haverling | First |
| Jacob Gallina | Palmyra-Macedon | Second |
| Justin Eaton | Williamson | Third |
| Griffin Yastremski | Bath-Haverling | Third |
| Dylan Ange | Greece Odyssey | Third |
| Ethan Grover | Warsaw | Fourth |
| Adam Enders | Belfast | Fourth |
| Cole Rathbun | Naples | Fourth |
| Steven Soto | Mount Morris | Fifth |
| Jack Gagnier | Geneseo | Fifth |
| Ian Lau Atencio | C.G. Finney | Fifth |