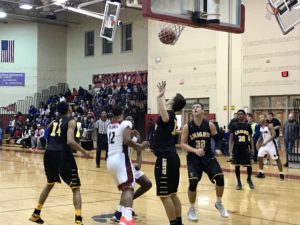 By PAUL GOTHAM
ROCHESTER, N.Y. — Less than five minutes into Tuesday's RCAC matchup, Wilson's Wildcats had built a double-digit lead over defending Section V Class AA champion McQuaid.
The advantage swelled to 15 late in the second quarter, and Wilson looked poised for its first victory of the season.
"We had a couple of players that just weren't ready to play," said sixth-year McQuaid coach Jack Leasure. "And we got punched in the mouth a little bit."
Upper cut absorbed, the Jesuit Knights picked their collective selves off the canvas.
Kobe Long and Jermaine Taggart combined to score 55 points, and McQuaid rallied for a 78-76 victory.
"It feels great," Long said after finishing with a career-high 34 points. "We got to have games like that to get us ready for sectionals. I felt like it was a great team win."
The junior guard connected four times behind the arc. More importantly, he kept a struggling squad within striking distance connecting on all nine of first-half free attempts and accounted for 20 points before going into the locker room at halftime.
"We had to just start focusing," Long said of the first-half struggles. "We weren't playing together on defense. We were playing individual defense. During the second half, we had to step it up and play as a team."
Taggart scored all 21 of his points in the second half. The junior guard highlighted a key sequence to start the fourth quarter when the Jesuit Knights scored on nine of their first 11 possessions to open the stanza.
Jermaine Taggart makes it a one-possession game. @wildcats_wilson 61 @McQuaidJesuit 58 pic.twitter.com/x90oLsTvpo

— Paul Gotham (@PickinSplinters) December 5, 2018
"I just knew that our team needed a bucket and I knew that things weren't going to change if I just stood around and just passed the ball," he explained. "I know my value on the team, so I just had to step it up."
Trailing 61-55 entering the final eight minutes of play, Taggart connected twice from behind the arc. His catch-and-shoot trey on the break made it a two-point game at 63-61.
Later he converted a rebound and putback and knotted the score at 70 on the next possession. His two free throws with 3:36 remaining in the contest gave McQuaid its first lead of the night at 72-70. They didn't surrender the advantage after that.
"During halftime in the locker room, coach came in and he just said 'we got to dig deep,'" Taggart commented. "He's like 'great teams are not defined by being able to blow out others by 15 or 20. They're defined as teams that can get through adversity. We just pulled through."
Lead in hand, Long took over scoring six points during the finals three minutes of the game. An off guard for the first two years of his career, Long has moved into the role as primary ball handler for the Jesuit Knights.
"You've got to value the ball," Leasure said of a point guard's responsibility.  "I think he's learning every day how to do that better whether that's just taking care of it and making sure we get great shots and good possessions.
"When you're starting to learn the position and he's getting much better at it, you start to realize where we've got to manage clock and make sure we execute. I thought he showed both of those tonight."
Wilson's Malikk scored six points early as the Wildcats jumped to a 9-0 lead to open the game. Freshman Christian Harmon connected twice behind the arc. Robert Davis hit a pull-up jumper in transition for a double-digit lead at 14-4. Brennan Clark followed with a spectacular dunk the next trip down the floor, and McQuaid was forced to take an early timeout to try and stem their opponent's momentum.
The pull up 3 on the break from @BigshotRob_11 pic.twitter.com/8r1MPTAVb3

— Paul Gotham (@PickinSplinters) December 4, 2018
"We were letting 3-point shooters get wide open shots," Long stated. "We were giving Robert his pull-up shot that he likes, and we were letting Malikk get to the basket whenever he wanted.
"Once the second half came everyone was ready to engage and we were able to fight back."
Trailing 21-9, Long hit a pull-up three in transition and two possessions later a catch-and-shoot three ball from the left wing. McQuaid trailed 21-15.
"On one side of it, we got to make sure we're ready all the time," Leasure said. "That's a hard thing to do. Really good players do that. They're ready all the time.
"On really good teams what the players do is when they do get hit in the mouth and they're not ready, they respond and show resiliency instead backing off and getting individual. We got tighter, so I was encouraged to see that."
Jon Catone and Connor Zamiara added eight points apiece for McQuaid. Harry Bruu and Michael Maloney both scored three. Keith Warren chipped in with a free throw.
Long and Taggart averaged 14.0 and 16.3 points per game respectively for the 2017-18 squad which claimed the New York State Class AA Far West Regional championship and advanced to the state semifinals.
Going to try this again: Joe Catone behind the back to Harry Bruu cuts the @McQuaidBball deficit to 6. End 3rd Wilson 61 McQuaid 55 pic.twitter.com/dJrHCOfcni

— Paul Gotham (@PickinSplinters) December 5, 2018
Johnson paced Wilson with 20 points. Arthur Wilson scored 14 off the bench. Davis and Harmon both scored a dozen. Clark collected eight points. Desi Floyd added six, and Maurice Young had four.
Arthur Wilson goes the length for a traditional 3-point play. @wildcats_wilson leads @McQuaidJesuit 27-15 pic.twitter.com/2dSO5yda23

— Paul Gotham (@PickinSplinters) December 4, 2018
McQuaid hosts St. Joe's (VI) Thursday night. A 7 PM tipoff is scheduled.
Wilson hosts Early College for a 6 PM start on Friday.