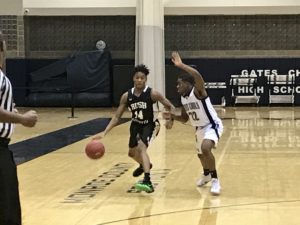 ROCHESTER, N.Y. — Adam Williams scored 21 points, and Keith Slack added 16 as the Gates-Chili Spartans built a double-digit advantage and held on to beat Rush-Henrietta, 69-63, Tuesday night.
Slack hit three 3-pointers and accounted for 11 points during a second quarter when Gates outscored R-H, 24-13. Williams scored seven in the third quarter, and the Spartans led 56-46 going into the final eight minutes of play.
"The first one under our belt is like a breath of fresh air," second-year Gates-Chili coach Terry Nowden said. "I was nervous all day. It's like what is this year going to come to. I don't know. Let's roll the dice."
Rush-Henrietta's Eddie Beverly connected from behind the arc, and Shamire Broyld converted a pair of free throws as the Royal Comets cut the deficit to three at 66-63 with 1:44 remaining in the game.
"Rush is a great opponent for the first game," Nowden noted. "You can't ask for a better one.
"Down the stretch, it was us gaining our second wind. We went 94 feet all game long so as it gets to the closing minutes, you get fatigued. You get tired. You had to suck it in. We had to find our last little breath to finish the last two minutes because that was rough."
Slack, who entered the season with 1,217 career points, also handed out five assists in the game.
"He's being a leader," Nowden said of his senior point guard. "Like I told him 'as far as you lead us is as far as we're going to go.' He doesn't have to score 30 for us. He can score 16 and have assists or 10 assists, whatever so long as he's leading and he's always positive especially with the younger guys.
"He's going to have to put them under his wing. He's going to have to trust them because down the stretch I'm sure we're going to see a lot of teams run two or three guys at him. So he's going to have to trust and release that ball to a teammate."
Williams grabbed seven rebounds for G-C. Devin Walton had 10 points and five rebounds. Turner Harris (7), Traylan McCray (6), Andrew Newcombe (6), Damari McCutchen (2) and Mitchell Harris (1) rounded out the scoring for the Spartans. G-C hosts Canandaigua, Thursday night for a 7:30 PM start.
Broyld paced R-H with 20 points. Tyshaun Searight added 12. Nyles Goodwin had, and Beverly accounted for 10. Javonte Williams (6), Charles Bowden (2) and Timmy Jackson (2) rounded out the scoring for the Royal Comets (0-1). R-H hosts Hilton Friday night for a 7:15 PM start.