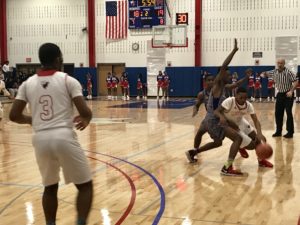 By PAUL GOTHAM
ROCHESTER, N.Y. — The smile on Chaz Washington's face said it all.
In the waning moments of Monday's RCAC matchup, the senior guard stood at the free throw line looking to notch victory No. 1 in the books. He turned to his left, glanced at his teammates on the East High bench and a wide grin broke across his face.
"They beat us twice last year," Washington said after East's 78-65 win over Monroe. "Revenge is sweet. I love it."
He led three in double figures with 26 points. The 6-foot guard opened the game with a 3-pointer from the right wing and finished 7-of-9 from the free throw line including connecting on all four of his attempts in the fourth quarter when the Eagles put the game away.
"It felt great," he said of the win. "It was a great opener. We came out pretty aggressive."
Washington sparked the decisive run midway through the third quarter, but it was a freshman who stepped up and helped East take a lead they did not surrender.
Trailing by two, East scored 11 straight. Washington started the run with a lay up. Freshman Kai McCullough then scored six of the next eight points.
"Kai played a great second half," East High coach Darrell Barley said. "He was all over the boards, getting rebounds and playing like a man child."
McCullough connected twice from the free throw line then he converted rebound and putbacks on consecutive possessions to give the Eagles 50-41 lead with 2:51 remaining in the third quarter.
"We needed buckets to get us back going in a rhythm," McCullough said. "Those buckets we're trying to help us get better and pick up the pace for us to win."
Monroe cut the lead to five before the end of the stanza, but Washington finished a wing drive at the rim on the first possession of the fourth. Next trip down the floor he drove the paint and picked up a foul going to the basket. His two charity tosses gave East its first double-digit lead of the night at 63-52.
HALFTIME: @GoEastEagles 33 @JMHSRedjackets 31. Chaz Washington leads East with 16. Fidel Brock and DeVante Mateo have 10 apiece for Monroe. JoJo Jones finds a cutting Kerone Kearse for 2 on this play. pic.twitter.com/kMcJwiA1Gi

— Paul Gotham (@PickinSplinters) December 4, 2018
"Chaz is so dynamic," Monroe coach Matt McCormick said. "You give him any kind of space, his body control in the air is better than anybody I've seen in the past 10 years.
"His ability to change hands. He's so dynamic with making shots when he elevates. We had no answer for that tonight."
East opened the game scoring on its first six possessions, but they could not maintain the pace. Minus three players including returning starter, Maurice Coney, the Eagles struggled to keep their rhythm.
Fidel Brock and De'Vante Mateo combined for 15 points in the early going. Brock's 3-pointer from the top of the arc gave the Red Jackets their first lead of the game at 21-19.
"They've got two of the best guards in Rochester," Barley said of Monroe's backcourt tandem. "Those guys were just coming and coming and coming. Whenever we did something, they made a run."
Barley turned to Washington in the second half.
"We put the ball in Chaz's hands," Barley explained making note of the loss of Coney his starting point guard as well as Trequan Coney another ball handler who comes off the bench. "We had a couple injuries in the last week and lost a couple ballhandlers.
"Chaz did a good job running the offense, keeping the ball in his hands."
Washington combined with Zachariah Scott to form an inside-outside tandem. With Washington getting paint touches and drawing the defense, Scott found room to work in the paint.
Zach Scott goes the length of the floor to give @GoEastEagles a 57-50 lead over @JMHSRedjackets after 3 quarters. pic.twitter.com/9yOYlnytUP

— Paul Gotham (@PickinSplinters) December 4, 2018
"Coach told us 'next man up,'" Washington said. "I had to trust in my teammates to knock down shots. We executed, executed well."
The game included five lead changes and two ties over the final five minutes of the second quarter.
Monroe, though, could never gain any separation from East with their largest lead of the night being two points.
"I told them at halftime the resolve that they showed down 11-3 and to battle back showed a lot," McCormick said. "In the second half, we didn't make free throws."
Scott finished with 18 points. McCullough had 14. Damani Barley (6), Seven McGee (6), Kaori Barley (4) and Howard Eagle (4) rounded out the scoring for East.
"I'm just happy that we won as a team," Barley said. "There was no player that really dominated. Everybody had their time to shine."
Mateo, who poured in a career high 31 points during Monroe's 99-64 victory over Canandaigua this past weekend, scored 19. Brock and Tyquil Glasgow scored 12 apiece. Jamar Williams added 10. Travone Glasgow and Kerone Kearse scored six apiece for Monroe.
"We're going to be in games," McCormick noted. "We're going to be a tough out all year. These guys, their hard-nosed. They want to play defense. If we can just play offense like we did on Saturday, we're going to be a tough team to beat."
The game was the first at Monroe's new gymnasium. The Red Jackets had hosted just one game over the past 20-plus years at the Alexander Street site. The newly renovated school building was opened in September of this year.
East (1-0) hosts Early College on Wednesday for a 6:15 PM start.
Monroe (1-2) plays at World of Inquiry on Thursday. A 6 PM tip time is slated.