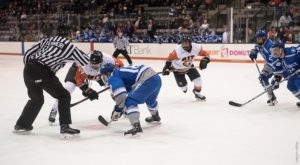 By KEVIN OKLOBZIJA
Who knew the Air Force Academy didn't like teddy bears?
Or so it seemed on Saturday night, when the merriment of Rochester Institute of Technology's teddy bear toss to benefit Rochester Regional Health Children's Unit was unceremoniously squashed by Air Force goalie Billy Christopoulos.
Christopoulos stopped all 30 RIT shots, including three spectacular saves, as the Falcons blanked the Tigers 3-0 at the Gene Polisseni Center.
So instead of the fans hurling teddy bears onto the ice after the Tigers' first goal, which was the plan, they  tossed the cuddly cloth creatures without frivolity or enthusiasm when the game ended.
"I really liked RIT's game, they really came with everything, but they ran into Billy the Greek," Air Force coach Frank Serratore said after the Falcons completed the weekend sweep. "That was Billy the Greek at his best."
Indeed, the senior goaltender from Raleigh, N.C., deprived Jake Hamacher, Bryson Traptow and Ryan Kruper sure goals as the Tigers fell to 6-6-1 and 4-4-1 in Atlantic Hockey.
"Overall, their goalie was tremendous," RIT coach Wayne Wilson said. "We had chances where we had to be better (such as Abbott Girduckis on a short-handed chance in the second period, Shawn Cameron with an empty net 100 seconds into the third period) but you always have to give credit to the team that gets it done."
Most amazing was that just over three weeks ago, Christopoulos was in the hospital for an intestinal disorder. He eventually required an arthroscopic procedure but was back on the ice for the first time Friday night as Air Force defeated the Tigers 3-1.
"We're going to schedule him for surgery again after the Sacred Heart series (late January) and again before the playoffs if he's going to play like this," Serratore joked.
He was sure his club could have been behind at least 3-0 after the first period, when the Tigers outshot the Falcons 14-6. But when Air Force took the lead at 8:43 of the second period on a goal by Evan Feno, momentum began to shift a bit.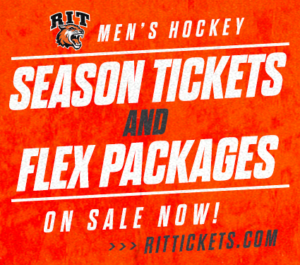 "For the majority of the game, they were pitching and we were catching," Serratore said. "Nothing dirty, but we absorbed a lot of physicality.
"But you get that many chances and you don't score, you end up saying, 'Oh, crap,' " Serratore said of the Tigers' mindset, "because you know the other team's eventually going to score."
And when Air Force went ahead 2-0 on a power-play goal by Evan Giesler 4:53 into the third, it was game over.
"The power-play goal, I looked at their bench and it really seemed to demoralize them," Serratore said.