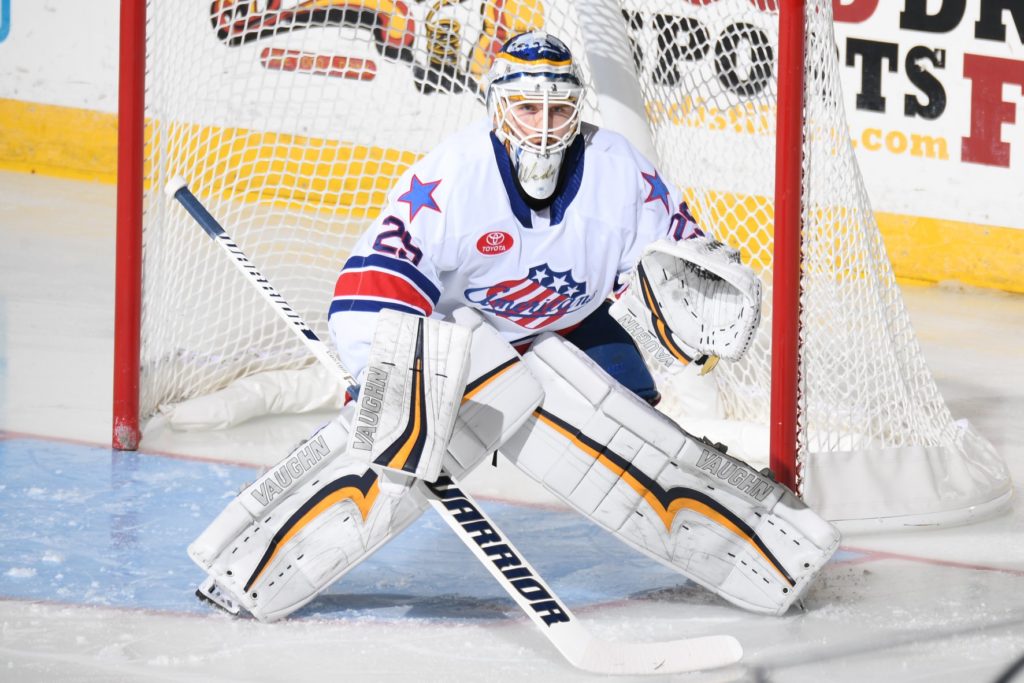 By KEVIN OKLOBZIJA
He had taken the the American Hockey League by storm, unleashing an NHL-worthy wrist shot with deadly accuracy night after night.
Through his first six games with the Rochester Americans, Victor Olofsson had scored five goals. He also set up seven goals in that span and, when October ended, his six goals, 10 assists and 16 points earned him AHL Player of the Month honors.
The 23-year-old Swedish left winger was often the trigger man on power plays, with the Amerks looking to take advantage of his shot.
But there are no secrets in hockey. You can't hide a dynamic skill-set. Opponents suddenly began giving Olofsson less time and space. They made sure he rarely had a clear shooting lanes on power plays.
Between Oct. 19 and Nov. 24, he scored just one goal in 10 games (and missed three other games due to injury). The rest of the league learned quickly what Olofsson could do.
"Video shows everything," said Amerks coach Chris Taylor, whose team continues to lead the North Division (13-5-2, 28 points).
On Friday, the first-year forward finally found the net again — and unlike his first half-dozen goals, this time the puck may not have even traveled a foot from his stick to the goal line.
Olofsson circled behind the net to swat home with the backhand his own rebound, and that one-goal cushion was all goalie Scott Wedgewood needed to carry the Amerks to the 1-0 victory over the Wilkes-Barre/Scranton Penguins at Blue Cross Arena at the War Memorial.
"He's great around the net," Wedgewood said of Olofsson. "He showed tonight he's tenacious and he'll find it."
The goal came 3:59 into the second period, ending a string of five games without a goal. But while pucks hadn't been finding the net, coach and player are both happy with his game.
"I like his play away from the puck, he's getting in on the forecheck, he's not being a perimeter player," Taylor said. "It doesn't come easy for him, he has to work hard to score goals, and that's helping him get better."
One thing that has enabled Olofsson to maintain confidence: he knows he can score. He led the Swedish League in goals last season, finding the net 27 times in 50 games. That was the highest goal total for the league in four years.
"I feel like my overall game has been pretty good," he said. "Even though I'm not scoring, I think that's the most important part."
The most important piece of the Amerks game on Friday was Wedgewood. He stopped 35 shots for his second shutout. It's also the first time the Penguins had been blanked since March 3 (42 games ago).
"He was definitely dominant," Taylor said. "He got us two points."
The veteran goaltender really frustrated Jean-Sebastien Dea, who launched nine shots, and Ryan Haggerty, who fired five. The one time Haggerty did beat Wedgewood, the puck clanked off the cross bar with 4:56 to play during a Pens power play.
Within 10 seconds, Haggerty was blasting two more one-timers on goal by Wedgewood stopped both, one with the chest and one with the glove. That's called having a guy's number. Or not. Wedgewood was well prepared for the Penguins set-up of Haggerty's one-timer.
"I've seen him before," Wedgewood said. "He's got a good shot and it's just kind of knowing who you're going against.
"I was being aggressive on him. (When you do that), you trust guys to tie up and help out with rebounds."