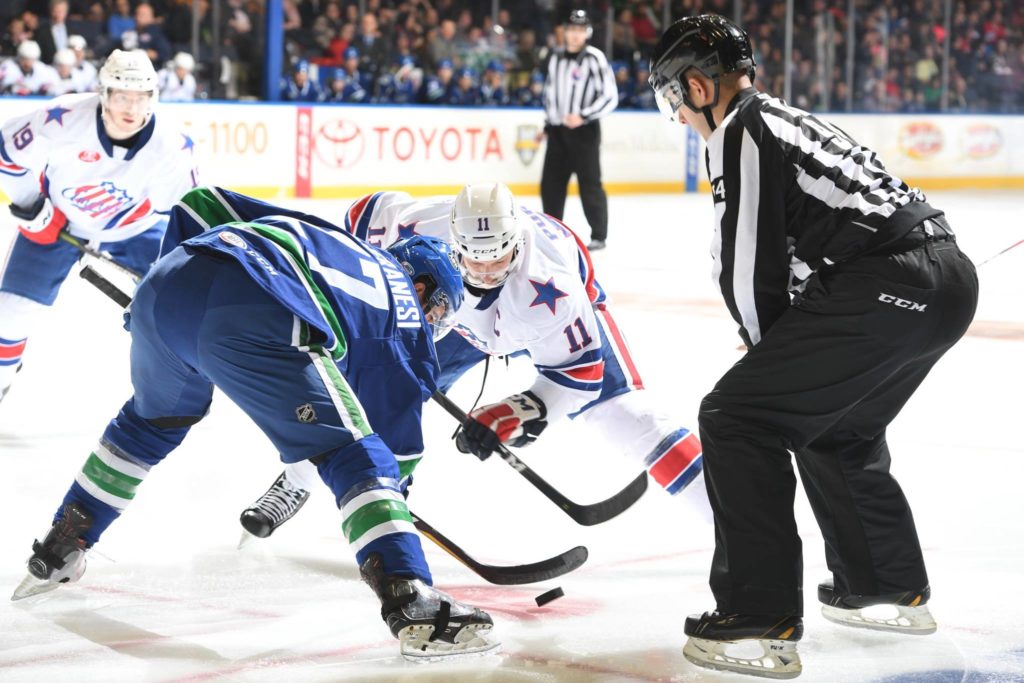 By KEVIN OKLOBZIJA
When you launch 47 shots at the opposing goalie, can you really be slumping?
Well, you can be if you lose 5-4 despite the avalanche of shots, and if it's your third loss in the past four games.
Rochester Americans coach Chris Taylor said as much after Friday's quite distressing loss to the still-undermanned Utica Comets.
After 9-4 and 3-2 losses last weekend during a three-game swing through New England, the post-Thanksgiving homecoming did nothing to wake up the Amerks.
"It's concerning from last weekend to this weekend," Taylor said.
The Amerks can just be thankful hockey doesn't have an official statistical category for unforced errors, because they were horrid at times.
"Worst of the season," Taylor said of the overall performance. "Total team effort (non-effort?). Total team loss."
They went offside without pressure from the Comets, sometimes because the puck-carrier refused to put the puck deep and let the wingers attack with speed. Sometimes the offside was caused by a player too anxious to get into the zone.
And then there were the giveaways, like Brendan Guhle's misplay on an outlet pass that went right to Cam Darcy in the high slot. An instant later, Darcy fired a shot past goalie Adam Wilcox and the Comets had a 5-3 lead just 2:44 into the third period.
And this was against a team missing key players due to injury and recall.
"We let in too many goals," Taylor said, "especially against a team that doesn't have close to what we have roster(-wise)."
Wayne Simpson, Danny O'Regan, Jack Dougherty and Sean Malone scored for the Amerks (11-5-2), who play at Binghamton Saturday night. Winger C.J. Smith assisted on the first three goals, his first three-point game of the season.
Of the Amerks' 47 shots, 23 were from defensemen, including six by Guhle and five each by Zach Redmond and Matt Tennyson. Winger Victor Olofsson also had six.
"Obviously we had our scoring chances, we got almost 50 shots," Smith said. "We should be able to find a way to win a game like that.
"But we let the hang around, hang around, and shot ourselves in the foot."
After giving up just 11 goals in a six-game span between a 4-0 shutout over Utica on Oct. 26 and the 3-2 overtime victory over Syracuse on Nov. 9, the Amerks have allowed 20 goals in the past four games.
"Our team should never give up five goals," Taylor said.
Wilcox wasn't sharp, making only 17 saves. Taylor did say he considered putting in Scott Wedgewood but opted to stick with Wilcox.
"Not everything's on him," Taylor said.
NOTES: The parent Buffalo Sabres returned first-year defenseman Lawrence Pilut to the Amerks after their game against Montreal. He was promoted on Tuesday after Marco Scandella was injured at Pittsburgh on Monday but didn't play. Pilut leads the Amerks in scoring with 3-19-22.
The crowd of 6,756 was closer to the traditional large Friday-after-Thanksgiving gathering for Amerks hockey. It's the largest crowd for the day since 2014-15 (7,107) and third-largest in the past nine years (also topped by 8,781 in '12-13). Last year's post-Thanksgiving game drew just 4,282.