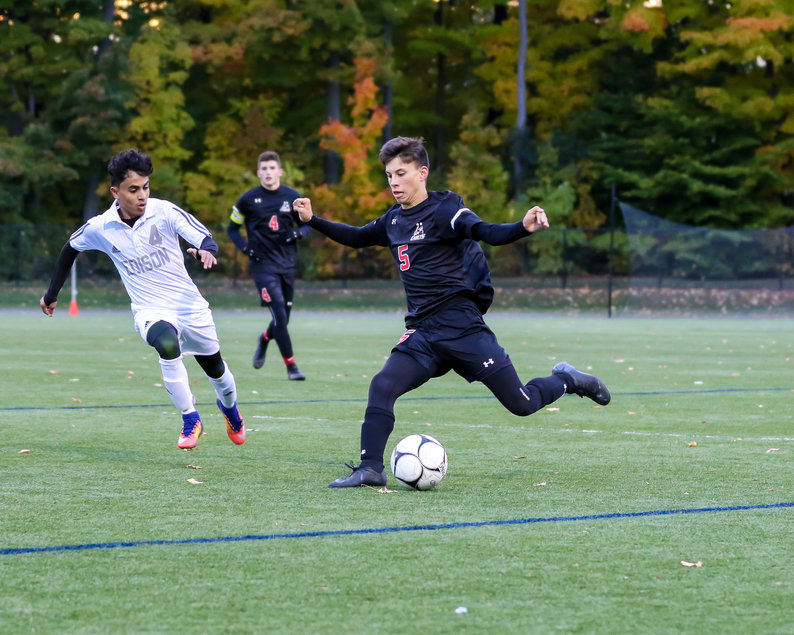 By CAITLIN McCLARE
Mabrook Saleh led Edison to a 13-3-2 overall record and a spot in the Section V Class AA semifinals. The senior midfielder's offensive excellence garnered 2018 Rochester City Athletic Conference (RCAC) Player of the Year honors.
VIEW MORE CHRIS ROACH PHOTOS HERE. 
Saleh led the RCAC with 21 goals and 16 assists as Edison won its last nine regular season games (part of an overall 11-game winning streak) to earn a No. 4 seed in the Class AA bracket. Four of Saleh's teammates joined him on the RCAC First Team: Malik Musa (midfielder; 12 goals, 7 assists), Rey Arizmendi (midfielder; nine goals, 16 assists), Esam Saleh (attack; four goals, four assists), and Mpenzi Yohanna (defender; one goal, one assist).
2018 SEASON HIGHLIGHTS
Four of McQuaid's top players earned spots on the first team. The Knights' (12-2-1, 6-0-0) top scorer Dan Malloy knocked in 17 goals and collected eight assists, grabbing the honors. Malloy was joined on the  squad by fellow Jesuit Knights Tim Brown (defender; two goals, one assist), Jeevan Deol (midfielder; four goals, one assist), and John Marangola (attack; one goal, two assists).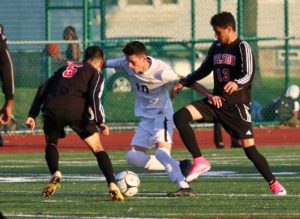 Third in the league with 12 goals and 14 assists is World of Inquiry's (7-10-0, 5-4) Emmanuel Nsengiyumva, who is one of three from the Griffins on the first team. A'leman Bardques (midfielder; five goals, five assists) and Yusuf Jeylani (midfielder; six goals, seven assists) join him.
Wilson (6-8-1, 4-5) has three representatives, including sophomore Christophe Roberts. Roberts scored two goals and tallied two assists, alongside Mohamood Muthana's seven goals. Senior defender Alin Thapa (two assists) earned a spot as well.
Rounding out the league's first team are SOTA's Eliphazi Irrishura (midfielder; five goals, five assists) and Chris Rapoza (defender; one assist) and East's Abdulaziz Osman (midfielder; four goals, two assists) and Bryon Munoz (attack; six goals, two assists).
| | | | |
| --- | --- | --- | --- |
| 2018 RCAC All-League | | | |
| Player Name | School | Position | Grade |
| Bryon Munoz | East | A | 12 |
| Abdulaziz Osman | East | MF | 11 |
| Rey Arizmendi | Edison | MF | 12 |
| Malik Musa | Edison | MF | 12 |
| Esam Saleh | Edison | A | 12 |
| Mpennzi Yohana | Edison | D | 11 |
| Mohamood Muthana | Wilson | MF | 11 |
| Christophe Roberts | Wilson | A | 10 |
| Alin Thapa | Wilson | D | 12 |
| Tim Brown | McQuaid | D | 12 |
| Jeevan Deol | McQuaid | MF | 12 |
| Dan Malloy | McQuaid | A | 12 |
| John Marangola | McQuaid | A | 12 |
| Eliphazi Irrishura | SOTA | MF | 12 |
| Chris Rapoza | SOTA | D | 12 |
| A'leman Bardques | WOI | MF | 12 |
| Yusuf Jeylani | WOI | MF | 12 |
| Emmanuel Nsengiyumva | WOI | MF | 12 |
| | | | |
| Player of the Year | | | |
| Mabrook Saleh | | | |