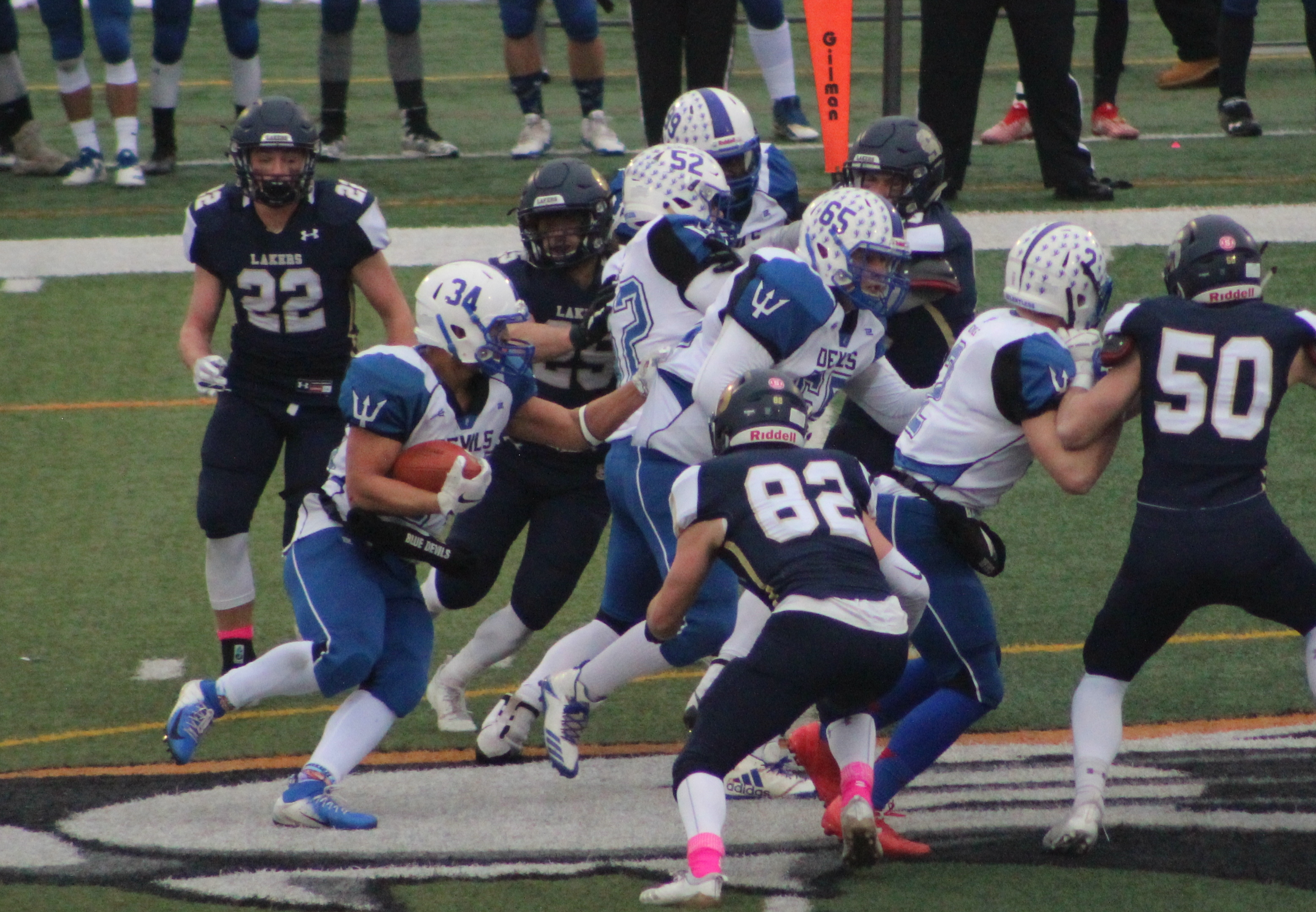 By JOHN LIKANJE
ENDICOTT, N.Y. — Senior running back Ray Leach ran for eight touchdowns as the Batavia Blue Devils defeated the Skaneateles Lakers 54-49 in the Class B State Semifinal Game at Ty Cobb Stadium at Union-Endicott High School. 
Once again, Leach accounted for nearly all of his team's offense. He carried the ball 50 times for 474 rushing yards and scored 48 of Batavia's 54 points. To top it all off, he scored two touchdowns in each quarter. Leach's biggest touchdown came with three and a half minutes remaining in the game to extend the Blue Devils' lead to 54-42 after Skaneateles scored a touchdown on their previous drive. He now has 16 touchdowns in two State Regional games.
#34 Ray Leach rush TD. PAT by #80 Ben Paserk good. @Batavia_BHS 7 @SkanFootball 0 pic.twitter.com/sjHycvJFBn

— John Mitchell Likanje Junior (@jml5798) November 17, 2018
Batavia head coach Brennan Briggs definitely wanted the ball in Leach's hands as much as possible, especially on their scoring drives as the Blue Devils had 12 drives throughout the game and eight of them finished with Leach rumbling into the end zone.
"I'm speechless, really. What he does every single week is impressive," Briggs said after the game. "When he really turns it on, I don't know if anyone can stop him in the New York State."
Leach was particularly effective running on the left side of the field.
"Basically, it's based off of defense," Leach said. "Whatever the defense is weak-side, we run to pretty much. Our left side just was the big man today."
Leach also gave the credit to his offensive line for helping him find those holes in Skaneateles' defense.
Leach 5th rush TD. PAT by Paserk good. @Batavia_BHS 35 @SkanFootball 21 pic.twitter.com/SFLhYbIq3t

— John Mitchell Likanje Junior (@jml5798) November 17, 2018
"We have tough kids out here. All of us come to practice, work hard, get in each other's head," Leach said. "My line definitely does a great job and they definitely pick up the load off for me."
Leach's teammates heavily contributed to his success as well. The Batavia offensive line knew that they had to be focused and help Leach and their other playmakers make plays in order to emerge victorious. In the second quarter, offensive lineman Camden White had a key block which Leach used to break out for a huge 68-yard run.
"It was a backside play," White said. "I hinged (block to take away the inside and force defender to the outside) my guy. I saw him break out and it's crazy to watch."
Batavia quarterback Ethan Biscaro had five carries for 32 rushing yards. Running back Alex Rood carried the ball once for five yards. Coach Briggs emphasized how he and his team needed to trust what got them this far which was their ability to effectively run the ball. It showed as Biscaro only threw the ball twice throughout the entire game.
"If we really need to go in the air, we'll be able to do that," Coach Briggs said. "We've certainly got capable receivers and a line to block and a quarterback that can throw the football but you gotta ride the horse you came with."
For Skaneateles, the Section III champions suffered their first loss in two years as they were on the verge of completing back-to-back undefeated seasons.
Ray Leach rumbles for 67 yards. pic.twitter.com/5lUzaqaGyU

— Paul Gotham (@PickinSplinters) November 17, 2018
Quarterback Patrick Hackler accounted for six of the seven touchdowns the Lakers scored. He had three rushing touchdowns-two coming on back-to-back drives in the second quarter and his third in the fourth quarter to cut Batavia's lead to 54-49-and three passing touchdowns-two to wide receiver Nick Wamp and the other to fellow wide receiver Will McGlynn.
Hackler 2nd rush TD. PAT by Wamp good. @SkanFootball 21 @Batavia_BHS 21 pic.twitter.com/RTMa68YGZr

— John Mitchell Likanje Junior (@jml5798) November 17, 2018
Although this game was a shootout (both teams combined to score on 15 of 23 drives), there were some key defensive plays, particularly in the third quarter. On the first play coming out of halftime, Batavia quarterback Ethan Biscaro had an interception that would have been a big gain or a touchdown if caught by the Lakers' wide receiver. Coach Briggs praised him for his effort that he has displayed throughout this state regional run.
"You can't really coach those things," Coach Briggs said. "Ethan is a fantastic athlete, he's got a great sense for the game, he knew exactly what he needed to do when he extended the play. He's a great football player."
Ray Leach also had an interception at the end of the third quarter to kill Skaneateles' momentum after the Lakers tried to respond to his sixth touchdown which gave the Blue Devils a 42-28 lead.
"It felt great," Leach said about his interception. "I knew we had to do something to stop them on defense and definitely once that happened, we got momentum and things kept rolling."
In Batavia's past three games, Leach has rushed for over 1,200 yards and scored 22 touchdowns.
Batavia will play the winner of Marlboro of Section IX versus Glen Falls of Section II in the Class B State Regional Final next Saturday at the Carrier Dome on the campus of Syracuse University.
Batavia
14
14
14
12
54
Skaneateles
 7
21
 7
14
49
Scoring
Batavia
Ray Leach 12 run (Ben Paserk kick
Skaneateles
Areh Boni 23 run (Nick Wamp kick)
Batavia
Ray Leach 3 run (Ben Paserk kick
Skaneateles
Patrick Hackler 6 run (Nick Wamp kick)
Batavia
Ray Leach 1 rush (Ben Paserk kick)
Skaneateles
Patrick Hackler 6 run (Nick Wamp kick)
Batavia
Ray Leach 1 rush (Ben Paserk kick)
Batavia
Ray Leach 5 rush (Ben Paserk kick)
Skaneateles
Nick Wamp 17 from Patrick Hackler (Nick Wamp kick)
Batavia
Ray Leach 2 rush (Ben Paserk kick)
Skan
William McGlynn 2 pass from Patrick Hackler (Nick Wamp kick)
Batavia
Ray Leach 16 run (kick blocked)
Skaneateles
Nick Wamp 14 from Patrick Hackler (Nick Wamp kick)
Batavia
Ray Leach 48 run (run failed))
Skaneateles
Patrick Hackler 10 run (Nick Wamp kick)
Rushing
Bat
Ray Leach 50-474, Ethan Biscaro 5-36, Alex Rood 1-5
Passing
Bat
Ethan Biscaro 0-2-0-0-0
Receiving
Bat
none