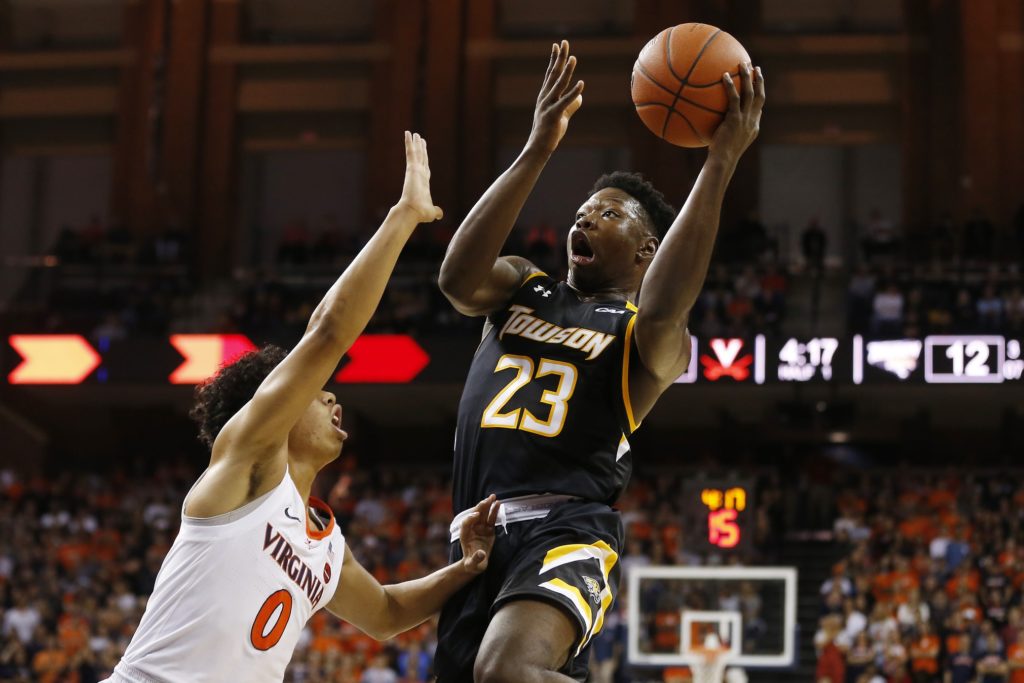 By MATT TRABOLD
The Section V 2018-2019 regular season tips off in the next two weeks. Section V alums are already leaving their mark at the collegiate level. Trabs takes roll call.
Quinton Rose—Jr., Temple (Bishop Kearney)
Going into last season, the NBA Draft buzz surrounding Rose was high, especially after a good showing at the USA Basketball camp before the FIBA Under-19 World Cup in the summer of 2017. One CBS Sports 2018 NBA Draft mock that offseason pegged the former King as the No. 26 overall selection. After leading the Owls in scoring as a sophomore, he declared on March 30 for the 2018 NBA Draft. When the NBA released on May 7 its list of attendees and invitees to the 2018 NBA Draft Combine, Quinton's name was not on there, and he ultimately decided to withdraw his name from 2018 NBA Draft consideration on May 28 in order to play at least one more season with Fran Dunphy, Shizz Alston, Jr. and company. He worked out with the Milwaukee Bucks, Cleveland Cavaliers, Boston Celtics, New York Knicks and Brooklyn Nets before withdrawing. The NBA Draft buzz for his services at the next level is still alive and well. NBADraft.net currently has Rose as the No. 22 overall selection in its 2020 NBA Draft mock. Coming into this season, Quinton became the first Temple men's basketball player ever to be named to the American Athletic Conference Preseason All-Conference First Team in the conference's six-year run. With Rose being even more of the go-to guy for his team this campaign, he has currently risen his scoring average from a season ago to nineteen points an outing. Of the three ballgames he has competed in so far as a junior, the best outing was in a four-point win over Georgia that saw him drop 25 points, two steals and just a single turnover.
Anthony Lamb—Jr., Vermont (Greece Athena)
Lamb was only able to make thirteen starts last season for the Catamounts due to a foot fracture that removed him from competition for much of his sophomore campaign. Even in a year significantly hampered by that injury, Anthony still managed to weave twelve double-digit scoring outings, including one of 27 points in a homecoming at Blue Cross Arena against an eventual 2018 NCAA Tournament team in St. Bonaventure. Just before this season kicked off, the America East Conference picked Lamb to highlight its 2018-2019 Men's Basketball Preseason All-Conference Team. If college basketball fans around the country did not know of Anthony already, they certainly learned his name after what he did on national television at No. 2 Kansas on Monday. He went for a team-high 24 points in a game that Vermont either led or was very close on the scoreboard with the Jayhawks in for a long while before LaGerald Vick and his 8-of-8 shooting from deep eventually sparked a win by sixteen points. Lamb arguably dominated an All-American name in Dedric Lawson in that one, including blocking him twice. In the handful of instances that saw Kansas switch hulking 7-1 junior Udoka Azubuike onto him, Anthony showed his versatility by bringing Azubuike out to the perimeter, where he is more unequipped defensively. Lamb wowed all night with spin moves, mid-range jumpers, perimeter jumpers and fancy assists that would make even the most polished pass-first point guards blush. After the game, Hall of Fame Kansas head coach Bill Self said, "Lamb was such a hard matchup, and he toyed with us all night long. He got the best of everybody who guarded him."
That Anthony Lamb spin move >>>

(via @clippittv) pic.twitter.com/0gCKnQwFGh

— Basketball Society (@BBallSociety_) November 13, 2018
Nahziah Carter—So., Washington (Bishop Kearney)
This past offseason, for the second summer in a row, Nahziah thrived in the star-studded summer league in Seattle put on by current Phoenix Sun Jamal Crawford, The CrawsOver. While playing for the Kitsap Admirals, Carter was no stranger to double-digit scoring performances and double-digit rebounding performances in the league. In one ballgame against a team boasting current San Antonio Spur Dejounte Murray, current Houston Rocket Marquese Chriss, former NBA veteran Spencer Hawes and former NBA veteran Martell Webster, Nahziah went for a game-high 33 points and seven rebounds. To begin his sophomore season with the Huskies, Carter did not have his best shooting night in a four-point performance against Western Kentucky. He more than turned things around in the two contests since that one against the Hilltoppers. In those two games, Nahziah recorded a combined 27 points on 8-of-15 shooting from the field and 9-of-11 shooting from the charity stripe.
There were a trio of nationally televised college basketball games tonight ft. Rochesterians. Nahziah Carter @_ClutchCarter, Dontay Caruthers @Dontay_12 @GoEastEagles & Jeenathan Williams all certainly had their moments tonight, including Carter throwing down a windmill smammer. pic.twitter.com/mSWO2EPiKQ

— Matt Trabold (@TrabsMatt) November 10, 2018
Dontay Caruthers — Sr., Buffalo (East High)
Like Anthony Lamb, Caruthers was sidelined for a portion of last season due to a foot fracture. That injury forced him to miss eleven games in the months of December and January. Dontay largely lost his starting job when he returned to action, but he definitely still made his presence felt and then some in the final eighteen outings of his junior year. That included a performance of nineteen points on 8-of-12 shooting from the field in eighteen minutes off the bench against Ohio on February 24. On December 1 of last season, Caruthers led all of the Division I backcourt players in the country in field goal percentage at 74.4 percent. He began his senior run with an outing against St. Francis (Pennsylvania) of eight points, five assists and three steals. As a senior thus far, Dontay is currently just behind the steals average from his sophomore season that ended in him being named the Mid-American Conference Defensive Player of the Year. Also, he currently stands at 12-for-12 shooting from the charity stripe this go-around.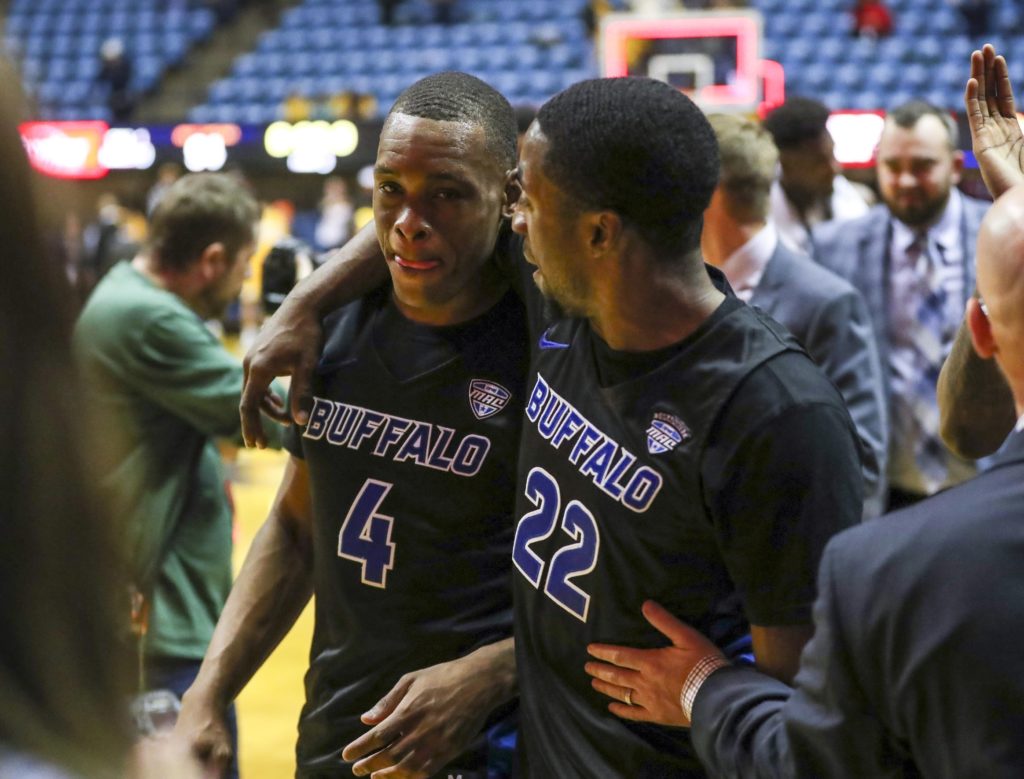 Emmitt Holt—Sr., Providence (Webster Schroeder)
Holt is little by little working his way back into his normal level of game action for the Friars after a situation that required abdominal surgery kept him away from the team, and even the Providence College campus as a whole, for most of the last year. Before that medical redshirt scenario that took away an entire season of basketball for him, Emmitt was the second option for Ed Cooley and his staff behind Rodney Bullock two years ago. His first game back in a Providence jersey for a game was on the team's foreign exhibition trip to Italy this past summer, where he went for seven points, a team-high eleven rebounds and two steals against the Adriatic Sea Dragons. Not long ago on October 19, Holt recorded seven points and seven rebounds off the bench in an exhibition game against Bridgeport. On October 25 in another exhibition game against Bowie State, Holt got the start and had twelve points, nine rebounds and a block. So far this actual season though, he has not had the chance to see the floor too much. Over the three ballgames Providence has played in so far this campaign against Holy Cross, Siena and Wichita State, he has logged a combined fourteen minutes of play, including a rebound and a block in three minutes of play versus those Shockers.
Keith McGee—So., New Mexico (Greece Arcadia)
Before starring for the South Plains College Texans last season, McGee began his time in the college basketball world at Southeastern Community College in Iowa. A phenomenal season as a Texan last year culminated with Keith being named the 2018 National Junior College Athletic Association Tournament Most Valuable Player. He was already supposed to have a substantial role for the Lobos this season, but that role grew exponentially when notable Ohio State transfer guard JaQuan Lyle ruptured an Achilles tendon at the very end of September two months ago. In his first two games at the Division I level, he combined for twenty points, including getting the starting nod against Iona last time out. With New Mexico up to this point, the former Greece Arcadia and Leadership Academy for Young Men star has shot 66.7 percent from both the field and downtown.
.@GreeceArcadia product Keith McGee @why_notkeith has began this game vs. Iona MBB at 3/3 3FG. https://t.co/hHGqgAecSs

— Matt Trabold (@TrabsMatt) November 14, 2018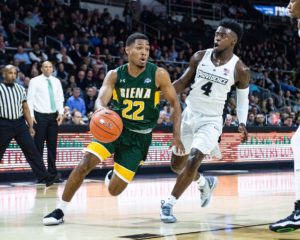 Jalen Pickett—Fr., Siena (Aquinas Institute)
After an Aquinas Institute career that included a Class AA state title and beating current Atlanta Hawk Kevin Huerter in the state semifinals that year, Pickett played last season at SPIRE Institute in Geneva, Ohio with a former Albany City Rocks teammate of his in former Cheektowaga and current St. Bonaventure starter Dominick Welch. His play with that school was good enough to make him the first signee of the Jamion Christian tenure at Siena. Jalen had some issues shooting the basketball in his first collegiate game, going 2-of-11 from the field against fellow Rochesterian Emmitt Holt and Providence. What he did not struggle with in that game though was expertly getting his teammates involved. Against the Friars, he went for nine assists and just two turnovers. Between that game and the one last time out against another one of his former Albany City Rocks teammates in Maceo Jack and George Washington, Pickett recorded a combined fifteen assists and only three turnovers. Against the Colonials, the freshman starter got his scoring touch back with nineteen points, four threeballs, 5-of-6 shooting from the charity stripe and five rebounds. He is currently tied with another former Albany City Rocks player in Tulsa senior Sterling Taplin for being nineteenth nationally in assists average. On top of that, Jalen is also top seventy in the country in assist-turnover ratio at the moment.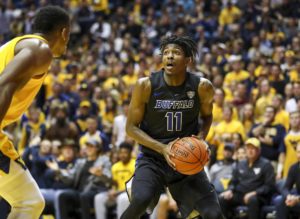 Jeenathan Williams —Fr., Buffalo (University Preparatory Charter School for Young Men)
After an illustrious varsity career at University Preparatory Charter School for Young Men, Williams decided to play his final year of basketball before entering the collegiate ranks at prestigious Napa Valley prep school Prolific Prep. It has not taken long for the four-star recruit to become one of the first guys off the bench for a very deep and nationally ranked team of Bulls. His first three collegiate games have entailed a combined seventeen points, 7-of-8 shooting from the charity stripe, three blocks and no turnovers against St. Francis (Pennsylvania), a ranked at the time West Virginia group and Southern Illinois.
Didn't take long for rookie Jeenathan Williams to make his presence felt with the big block in the first half. Our ROC friends told us he was a special player. It'll be fun to watch him develop @UBmenshoops @TrabsMatt @WKBW @13WHAM pic.twitter.com/TxMNulndaG

— Matthew Bové (@Matt_Bove) November 6, 2018
Brian Fobbs—Jr., Towson (Bishop Kearney)
Fobbs was a little overshadowed in the scholastic ranks due to being on the same high school team in town as the high-profile Quinton Rose and Nahziah Carter, so he began in the college basketball world with the junior college route with Genesee Community College. Last season with that program, he was named a First Team National Junior College Athletic Association Division II All-American. Brian's first game at the Division I level saw the Tigers only trailing the fifth-ranked team in the country at the time in Virginia by single figures at the halftime break, with him as the leading scorer for the team after twenty minutes of action. He has scored nine points in a starting role in each of his first two ballgames at the Division I level, including last time out against Wesley College.
The Golden Flyers added recent Irondequoit boys basketball state champion Zach Stenglein to a collection of Section V product talent that already included his older brother in Tyler Stenglein (Irondequoit), Daniel Jacob (Pittsford Mendon), Brendan Wind (Greece Athena), Brendan Broderick (McQuaid Jesuit), Jake Burgio (Brockport), Isaac Nelson (Brighton), Stephen Gabel (Fairport) and Matt Muncey (Fairport). In an exhibition game against a Division I foe in Colgate on Wednesday, the Stenglein brothers combined for 23 points, including 12-of-16 shooting from the charity stripe.
The Tribunes do not always have a bunch of Rochesterians on their roster, but they brought in for this season a high-flying college basketball veteran in Rodney Johnson II (Gates Chili) from Southeastern Community College in Iowa. Johnson II once outplayed current Chicago Bull Rawle Alkins in a game while playing for North Carolina prep school Bull City Prep. The other Rochester guys on this Monroe Community College roster are Ryan Gentile (Spencerport) over from Roberts Wesleyan College, Taylor Clements (Newark) and Marcus Zappia (Greece Arcadia).
This roster for the Golden Eagles already had one key piece of Rochester-bred basketball talent returning from last season in starting point guard Tyler Collins (Newark) when the incredibly springy Devante Hagins (Leadership Academy for Young Men) came over from Mohawk Valley Community College and Antonio Alvarez (Brockport) came over from Hilbert College. Last time out, Hagins went 8-of-8 from the field for 21 points and eight rebounds against Morrisville State.
Rochester Institute of Technology
The second-leading scorer at the moment for the Tigers and one of their captains this season is Newark product Jaymee Rosser. Junior guard Drew DeBacco (Webster Thomas) is another Rochesterian that is serving as a captain for this squad this year. This Rochester Institute of Technology group also can employ former Irondequoit Eagle DJ Walker.
State University of New York at Geneseo
With former Honeoye Falls-Lima star Tommy Eastman not on the roster anymore, these Knights currently only have one player from the Rochester area these days. In the season opener against Houghton College, Cam Keeley (Fairport) went for four points and five rebounds.
The Cardinals have yet to start up this season, but Mike Grosodonia II and his staff will have three players from the Rochester area to throw at opponents when they do. The guy from that trio that had the biggest role on the squad a season ago was two-sport player Dylan Harrington (Irondequoit). In addition to Connor Sullivan (Fairport), Grosodonia II also has on his roster a player that he coached in high school in the sweet-shooting Jordan Gilman (Aquinas Institute).
The leading scorer for Roberts Wesleyan College last season was former Churchville-Chili Saint Isaiah Lewis. Joining him in the program this season is his little brother Eric Lewis. Reggie Clark (Greece Arcadia) exploded for 25 points on 7-of-7 shooting from the field and perfect shooting from deep on a foursome of shot attempts from out there in a victory over Notre Dame College on Tuesday.
Ryan Algier (Fairport) collected two points, two rebounds, two assists and three rebounds in 13 minutes off the bench for the Yellowjackets earlier this week.
Like the men's basketball team over at St. John Fisher College, the Statesmen still have not played their first game of this season quite yet. Dan Masino (Fairport) started every game for this club at point guard as a freshman last season. He led that team a year ago in assists on top of scoring 11.8 points an outing.
Jay Sarkis (Greece Athena) again entered this year for the Wildcats as their veteran leader. Sarkis, Jeff Redband (Batavia) and Deion Hamilton (Greece Athena) have all logged starts so far this young season for the team. This Daemen College roster also contains Tajmin Holt (Early College International).
The last game for the Red Barons had the slimmed down Christian Simmons (School of the Arts) going for a huge 43 points on 14-of-20 shooting from the field against Clinton Community College. Corning Community College also has Ja'Shaun Smith (Rush-Henrietta) and Sam Kelly (Aquinas Institute) this go-around.
In a win in triple overtime over Fulton-Montgomery Community College on Saturday, Isaiah Brinkley (University Preparatory Charter School for Young Men) sent through a school record of 52 points. In June, Isaiah's father unfortunately passed away at the age of 52 years old. The four-win Lazers have a roster that additionally contains Ben Russ IV (Northeast Douglass).
Finger Lakes Community College
Recent Bishop Kearney graduate Devin Green is currently averaging a whopping 26.8 points an outing with a 56.9 percent field goal percentage as a backcourt player for the Lakers. Bradley Stone (Marcus Whitman) is another starter on this squad with a Section V boys basketball past.
Colby Community College (Kansas)
Rian Carter (Bishop Kearney) has stormed out of the gate with his new college basketball team. So far this year, he has put up 35 points against Sisseton Wahpeton College, thirteen points against Western Nebraska Community College and 28 points against Lamar Community College. Rian currently finds himself tied for 27th in the country in National Junior College Athletic Association Division I scoring.
Niagara County Community College
Two Thunderwolves from last season are now playing on Division I teams: LaTerrance Reed at Northwestern State and Donel Cathcart III at Youngstown State. This year, Bill Beilein and his staff have a roster featuring Nigel Scantlebury (Greece Athena), Sincere Ramsahai (McQuaid Jesuit, Gates Chili) and near-seven-footer Brett Ogden (Avoca).
University of Northwestern Ohio
Last year, Nathan Bradley (Bishop Kearney) started all but a pair of the team's thirty ballgames and averaged 7.2 points an outing. Nathan is the older brother of current top fifteen Class of 2022 national recruit Jaden Bradley.
McCook Community College (Nebraska)
The college basketball career of Kailee White Jr. (Rush-Henrietta, Gates Chili) has started out with a bang. So far this season for the Indians, Kailee has scored fourteen points against Louisiana Christian and nine points against Laramie County Community College.