By KEVIN OKLOBZIJA
First things first: The calendar hasn't even hit Thanksgiving yet. There's a lot of hockey to be played.
That said, though, there's a whole lot to like with how the Rochester Institute of Technology men's hockey team is playing, especially after a 2-0 victory over Canisius on Tuesday night at the Gene Polisseni Center.
The Tigers are getting production from their big line, including Tuesday's first goal from Gabe Valenzuela. Erik Brown, Abbott Girduckis and Valenzuela have scored 15 of RIT's 28 goals.
The second line continues to demand ice time, with junior left wing Shawn Cameron earning second-star honors on Tuesday despite not having a point.
The youthful fourth line with sophomore Nick Bruce and freshmen Will Calverley and Kobe Walker is coming off back-to-back impressive games. Calverley's first collegiate goal gave the Tigers a 2-0 lead against Canisius.
But perhaps most impressive has been the play of sophomore goalie Logan Drackett. Given a chance to shine as a freshman, he was unable to meet the challenge. There were good nights and bad, good saves and bad goals. When the season ended with a first-round playoff ouster, he had a 7-10-2 record, .869 save percentage and 3.44 goals-against average.
"I think he was as disappointed in his own play as anyone that was pointing a finger at him," Tigers coach Wayne Wilson said.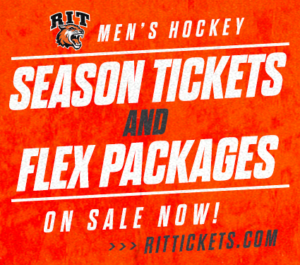 Drackett vowed to himself to be better. "I knew I had to improve a lot," he said.
The 20-year-old Calgary native is a big reason why the Tigers are off to their best 10-game start (6-3-1) since the program moved up to the NCAA Division I level in 2005-06.
He made 25 saves on Tuesday in earning his first collegiate shutout, although he deflected the credit to the skaters in front of him.
"The D-corps, I can't talk enough about them," Drackett said. "We came out as a team flying. We had what, 16, 17 shots (17 in the first period)? That says it right there. We were ready to go."
Drackett has started all 10 games and has a .932 save percentage and 1.97 GAA. He looks more composed. He has made a conscious effort to be "quieter" in the crease in terms of unnecessary movement.
"And as well as he's playing, the other guys (Christian Short and Ian Andriano) are that much better in practice," Wilson said, "so I really feel good about our goaltending."
He liked pretty much everything about the Tigers' game on against Canisius. The Tigers outshot the Golden Grifffins 17-8 in the first period and 12-6 in the second, then were content to play a lock-down style in the third.
"We really controlled things in the first, even though we didn't get rewarded," he said. "The second period we got the goals and in the third I thought we shut things down pretty well.
"I really liked the last two minutes (when the Griffins didn't have a shot on goal, despite playing with an extra attacker for 90 seconds). There was no panic. We looked comfortable defending."
Valenzuela's goal came 1:22 into the second period, with a delayed penalty upcoming against Canisius. Moving from the top of the left circle straight to the net, he had time and space to wait out goalie Blake Weyrick before picking the top corner.
Calverley then fired home a wrist shot from the middle of the slot three minutes later, and the puck will be headed home to Scarborough, Ontario, soon.
"Coach has shown a lot of confidence in us and that helps your confidence," he said.
At 6-3-1, and 3-0 on the ice of the Gene, it's hard for them not to be confident.