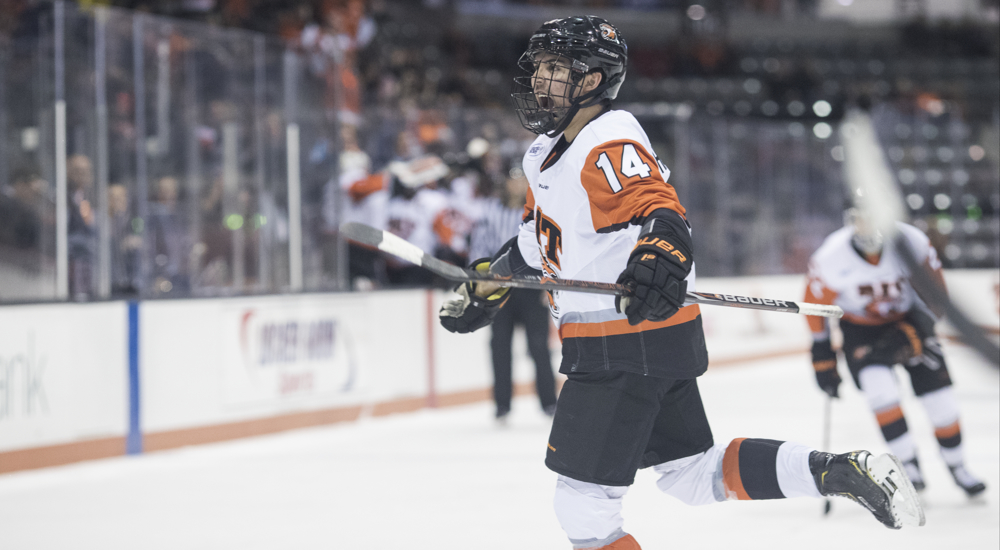 By KEVIN OKLOBZIJA
Throughout his climb up the hockey ladder, first in the lower American junior leagues, then the top-level United States Hockey League, and finally into college, Jake Hamacher has always been a pass-first, shoot-second guy.
Not anymore. Well, at least explicitly.
Predictability can create ineffectiveness.
So when the sophomore left winger from Corona, Calif., began his physical and mental preparations for the 2018-19 NCAA season at Rochester Institute of Technology, Hamacher embraced a new mindset.
"I'm definitely more of a playmaker, but if I'm open, I'm not going to make the extra pass," the 5-foot-8, 174-pound Hamacher said. "If I'm a threat to shoot and pass, it makes me more dangerous."
He proved it on Saturday night, scoring the second and third goals in a quick-strike first period as RIT rolled past American International College 5-2 at the Gene Polisseni Center.
Senior left winger Erik Brown also scored twice and senior right winger Abbott Girduckis once as the Tigers completed the weekend sweep and improved to 5-3-1 overall and 4-2-1 in Atlantic Hockey.
Through nine games, Hamacher has produced four goals, five assists and nine points, second only to Girduckis (5-6-11) in team scoring.
"He was a big point guy in the USHL (14-26-40 for Dubuque in 2016-17) and we thought he'd be able to do that for us," Tigers coach Wayne Wilson said. "That line (with sophomore Alden Dupuis at center and junior Shawn Cameron on right wing) has some good chemistry, like Gabe's (Valenzuela) line."
A prime objective heading into the weekend was to create a true home-ice advantage at "the Gene." The Tigers haven't really been all that difficult to beat at home. They were just 6-13 at the Polisseni Center the past two seasons.
"We've struggled, no question," said Wilson, who credited the captains, Brown and Girduckis, for making sure that changed against AIC.
Mission accomplished. While the Tigers weren't great on Friday, winning 2-1 despite being outshot 33-26, they steamrolled the Yellowjackets on Saturday.
Brown scored at 4:53 off a two-on-one and Hamacher made it 2-0 just 39 seconds later with a 270-degree spin-around-and-shoot after receiving a Dupuis pass in the right of the slot.
His goal at 14:24 extended the lead to 3-0 and when Girduckis jammed and/or kicked in a loose puck 2:16 into the second period, the Tigers were cruising.
"The biggest thing this weekend was we want to make sure no team wants to come play at our home, at our rink," Hamacher said.
Sophomore goalie Logan Drackett continued his strong play, stopping 19 shots. He was especially sharp on Friday in making 30 saves.
The big lead gave Wilson a chance to increase ice time for the third and fourth lines, and they performed well with extra duty.
"I've always said, to be a championship team, you have to be a four-line team up front," Brown said. "It's awesome to have a team that has some layers."
Notes:
» RIT plays a rare Tuesday home game against Canisius, then is idle until at non-conference game at Northeastern on Nov. 24.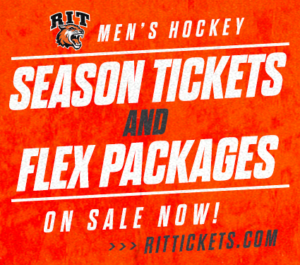 » AIC's Jared Pike was ejected for kicking Will Calverley as he exited an entanglement along the boards with the RIT center midway through the second period. "It was more of a stomp than a kick," said Wilson. He will ask the league to review the incident.