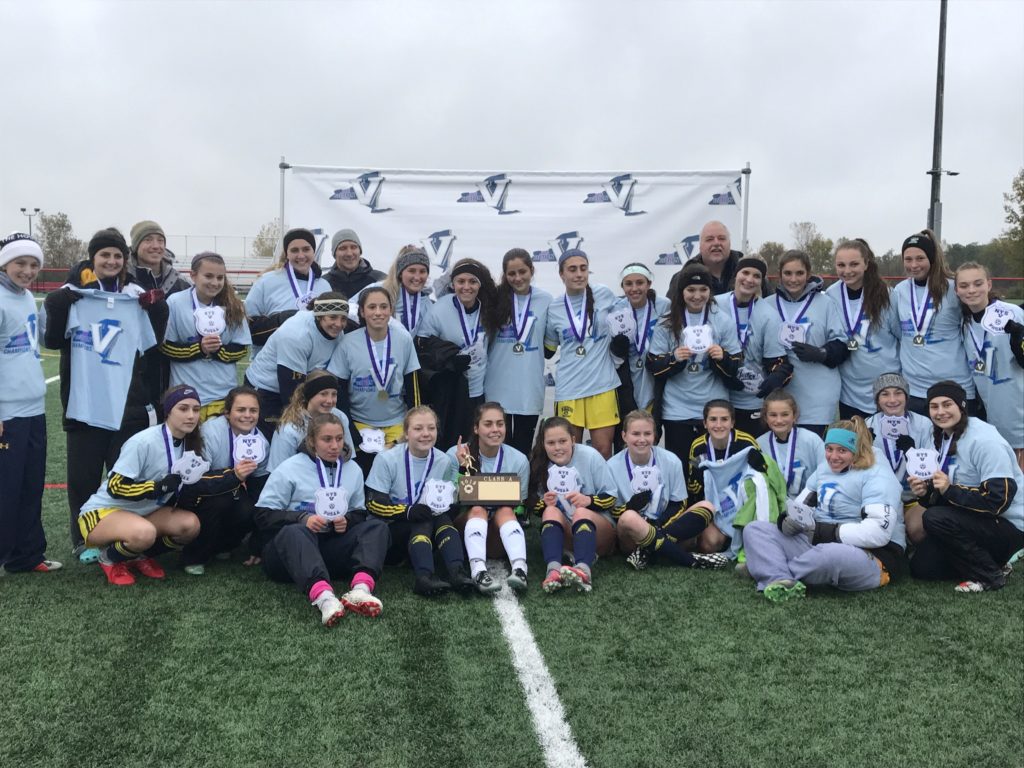 By PAUL GOTHAM
ROCHESTER, N.Y. — Three years ago, they were trying to win a New York State title for the first time in program history. This weekend the Spencerport Girls' Soccer team is looking to make it a three-peat, but the success has not affected the Rangers' approach.
"They just adhere to the process," head coach Jamie Schneider said of his team. "The biggest thing is they don't take any wins for granted. They know what we have to do. They're a very competitive bunch."
Many would find it a challenge to avoid taking the wins for granted. Schneider's club brings a state-record 64-game unbeaten streak into this weekend's action.
"Do what we do, keep it simple and don't deviate from that too much," Schneider said of his squad's mindset. "Going to the state tournament, that's the plan."
Seniors Erin Coykendall (15 goals, 14 assists) and Leah Wengender (28 goals, 18 assists) pace Spencerport's offense.
The defense, though, is the Rangers' trademark. .
"We take great pride in defending knowing that is the number one aspect of our game," Schneider noted. "We've always had talented forwards over the past few years, but to concentrate on that side too has always been a focus. The girls have definitely risen up to that."
With junior Cat Wall in goal, the Rangers (18-0-1) have registered 14 shutouts this season and limited opponents to just six goals.
"It's been a process in terms of our defense," Schneider added. "They're great individual defenders and because of that we defend really well as a team."
Spencerport takes on Jamesville-Dewitt (III) in Saturday's NYS Class A semifinal. The same two teams met in 2016 for the state title. The Rangers have switched roles since then going from hunter to the hunted.
"We've handled it very well," Schneider said of the adjustment. "It's definitely been a learning curve. The team has definitely stepped up an embraced that learning curve. With this postseason we felt it, but the girls answered the call again with the sectional championship and the Far West Regional championship."
A victory Saturday at Tomplins Cortland Community College and Spencerport will play the Vestal (IV) versus Valley Stream South (IIX) winner in Sunday's championship game. Just don't expect the Rangers to get caught thinking about that game as assistant coach Rick Mueller noted.
"They're able to stay focused on one game," Mueller said. "It's always one game. They're never letting the moment get too big. They're never looking at anything past what we have in front of us right now. That's been the consistency through these three years. You don't gain the success that we've gained without keeping that focus on today and taking two steps forward today. They're amazing in their consistency."
A 5:30 PM start time is scheduled.
Spencerport (Class A), Wheatland-Chili (C) and Kendall (D) will represent Section V in the upcoming New York State semifinals this weekend.
Here are all this weekend's matchups:
Class D 12:30 p.m.
Cincinnatus Central (20-0-1/No. 1 NYSSWA) vs. Kendall (16-5-0/No. 3 NYSSWA)
How they arrived here: Cincinnatus Central posted back-to-back shutouts in their last two games, winning the Section III Class D title against Poland 4-2 on penalty kicks after a 0-0 draw before prevailing over Downsville Central 1-0 in the regional final.
Kendall brushed off Alfred-Almond in the Section VI Class D1 quarterfinals, 4-1, shutting out upstart Arkport/Canaseraga 6-0 in the semi-final and defeating Fillmore 2-1 in the final. The Eagles went on to eliminate Hinsdale in the regional qualifier, following with a shutdown of North Collins 1-0 in the Far West Regional.
Total goals scored: Kendall (65), Cincinnatus Central (68)
Total goals allowed: Kendall (25), Cincinnatus Central (5)
Class C 5:30 p.m.
Little Falls (19-2-0/No.2 NYSSWA) vs. Wheatland-Chili (20-2-0/No. 3 NYSSWA)

How they arrived here: Little Falls beat Immaculate Heart Central of Watertown in the Section III Class C finals, 3-0. The Mounties kept their oppenents scoreless yet again, defeating Unatego in the Regional final, 1-0.
Wheatland-Chili started off the Section V Class C3 championship strong with a 3-0 blanking of Caledonia-Mumford, followed by a 2-0 shutout of Keshequa and 4-0 dismissal of York to win the sectional. W-C took down Avon 2-1 and handed Marion a 1-0 loss in the regional qualifier. The Wildcats topped Maple Grove 3-2 in the Far West Regional.
Total goals scored: Wheatland-Chili (77), Little Falls (50)
Total goals allowed: Wheatland-Chili (12), Little Falls (10)

Class A 5:30 p.m.
Jamesville-DeWitt (21-0-0/No.2 NYSSWA) vs. Spencerport (18-0-1/No. 1 NYSSWA)
How they arrived here: Jamesville-DeWitt took down Massena in the regional opener 4-0 after they topped Whitesboro 3-1 for the Section III Class A crown. The Red Rams finished off Averill Park 1-0 in the regional final.
Spencerport eliminated Churchville-Chili in the quarterfinal of the Section V Class A tournament, defeating Wayne Central 2-1 in order to eek out another one goal win over Our Lady of Mercy in the final, 3-2. The Rangers shutout Amherst in the Far West Regional, 3-0.
Total goals scored: Spencerport (62), Jamesville-DeWitt (95)
Total goals allowed: Spencerport (6), Jamesville-DeWitt (10)
Spencerport extended their unbeaten streak to 64 games after topping Amherst in the Far West Regional. The Ranger's last loss occurred in the 2015 Section V tournament and the unbeaten string landed them in the top three among girls high school teams nationwide.
The winners of the semifinals play on Sunday, November 11 for the New York State championship at either Cortland High School or Tompkins Cortland Community College.
*Game capsules prepared by WOLVERIDGE LANGAN.