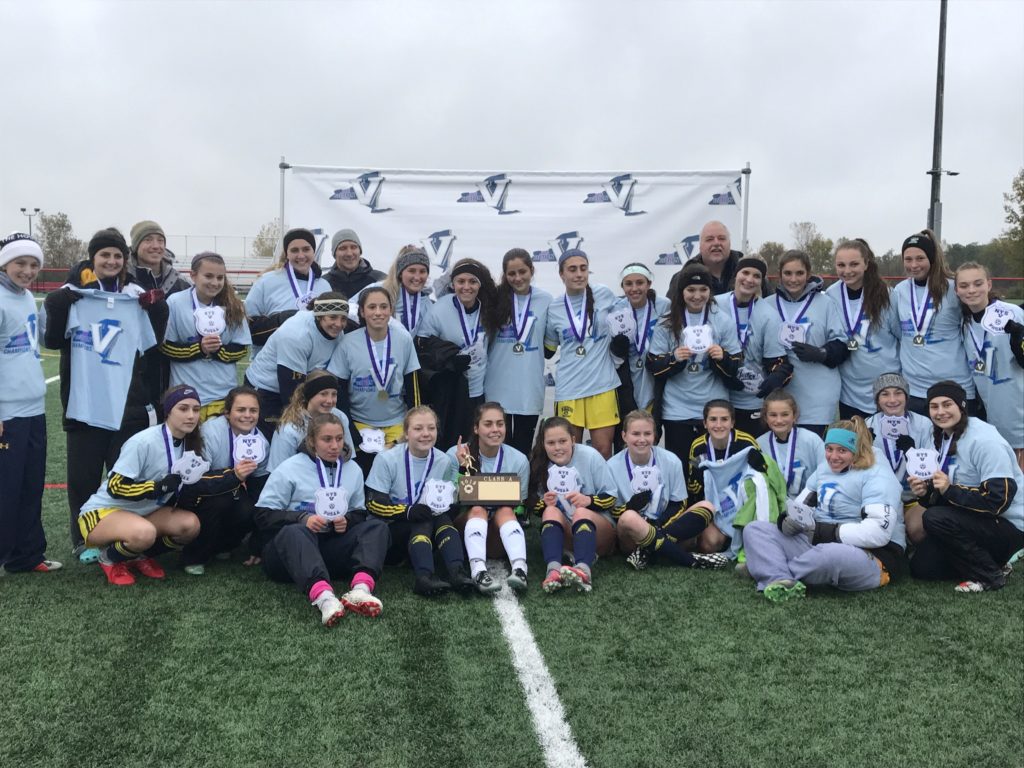 By PAUL GOTHAM
CANANDAIGUA, N.Y. — Erin Coykendall channeled the energy of a recent memory. Leah Wengender showed the savvy of an experienced senior. Jamie Schneider wanted his squad to avoid complicated matters.
And on a day where the weather was more suited for penguins and polar bears, the Spencerport girls' soccer team showed once again why they are champions.
"Probably the best one yet, to be honest," Coykendall said after Spencerport defeated Our Lady of Mercy, 3-2 in overtime for the Rangers' third straight Section V title. "The past three, we've obviously had a lot of success. This one was the most hard fought. They're such a good team. We've never had anyone play against us like that."
Coykendall's goal with 4:12 remaining in overtime was the difference in a back-and-forth affair.
That Coykendall scored came as no surprise. With 13 goals on the year entering Saturday's contest, the senior forward is second only to Wengender in the Spencerport lineup. The manner, though, might have raised a few eyebrows.
"We were in a pretty similar situation against Wayne," Coykendall recalled. "Obviously not overtime, but Wayne tied it on us. We were like 'let's just get it back quick,' get back at 'em quick. You know kind of like mute theirs out."
Fifteen seconds after Emily Tabone leveled the match for Mercy, Coykendall took a pass from Wengender inside the 18-yard box and found the back of the net.
"Leah and I have been playing together for so long since we were like nine," Coykendall noted. "Playing together and doing it for each other. That one felt good."
Coykendall's marker, though, may have been an equalizer instead of game winner had it not been for an earlier heads up play from Wengender.
With less than four minutes remaining in the first overtime, Lauren Kepes was called for a hand ball when the Mercy goalkeeper grabbed a clearing pass outside the 18-yard box.
Without any hesitation, Wengender put the ensuing free kick into the net.
"She set it down and everyone was confused," Wengender explained. "I was just thinking it's a free kick. I saw the whole open net.
"I just think everyone was so confused and that was to my advantage. Me and the goalie were really the only ones that knew what was going on. I just took advantage of the situation."
It was the senior midfielder's 26th tally on the season.
"That's just being really smart," Schneider said. "She had it. We tried to communicate to her hit it quick, hit it quick. Don't even let them get set. I knew they wanted to contest the call. Just put it down. Don't ask for 10 and hit it. Smart play."
Not to be lost in the mix, Spencerport goalkeeper, Cat Wall, denied Mercy's Dori Rizzo of what would have been yet another equalizer. The Monarchs leading scorer cut back along the right side of the 18 with less than 90 seconds remaining in overtime. She let fly with a left-footed strike that looked destined for the opposite-side netting.
Wall made a spectacular diving save to preserve the win.
"Cat's a phenomenal goalie," Wengender said referring to the PKs her teammate stopped when Spencerport beat Mercy during the regular season. "We were all there fighting to get it out. She's such a great goalie. I'm so happy she was there."
Mercy wasted little time grabbing an early lead in the match. Rizzo took a Tabone feed and scored in the third minute for a 1-nil advantage.
The Monarchs didn't stop there as they sent six shots at the Spencerport goal in the first 14 minutes including a direct kick just outside the 18 that created two chances and another opportunity on a near breakaway for Rizzo.
"It was tough," Schneider said of the weather which included temperatures in the mid-30s with  rain. "Skill-wise it definitely affected us. As far as the duration of the game just the energy output that we needed to have and the weather takes a toll on your body.
"We just told them let's keep things simple. Do the simple things."
Wengender knotted the match in the 16th minute when she converted a free kick from 35 yards out.
With the win, Spencerport increased its NYS record to 63 straight games undefeated.
"The streak is fun, but this was for the brick," Schneider said. "They know what they want. To get that sectional championship for this year's team was very important."
The Rangers move on to the NYS Far West Regional where they will meet the Amherst vs. Williamsville-East winner of the Section VI Class A championship.
"Obviously the Section VI team is always a hard regional matchup," Coykendall said. "Just to move out of Section V, the teams that are super familiar with us and play against a team that you just kinda got to play straight up. You don't really know much about them. They don't know much about you. It just shows if you got it in you."
One thing is for sure, neither of those Section VI teams will be as familiar with advancing to the state semifinal as Spencerport.