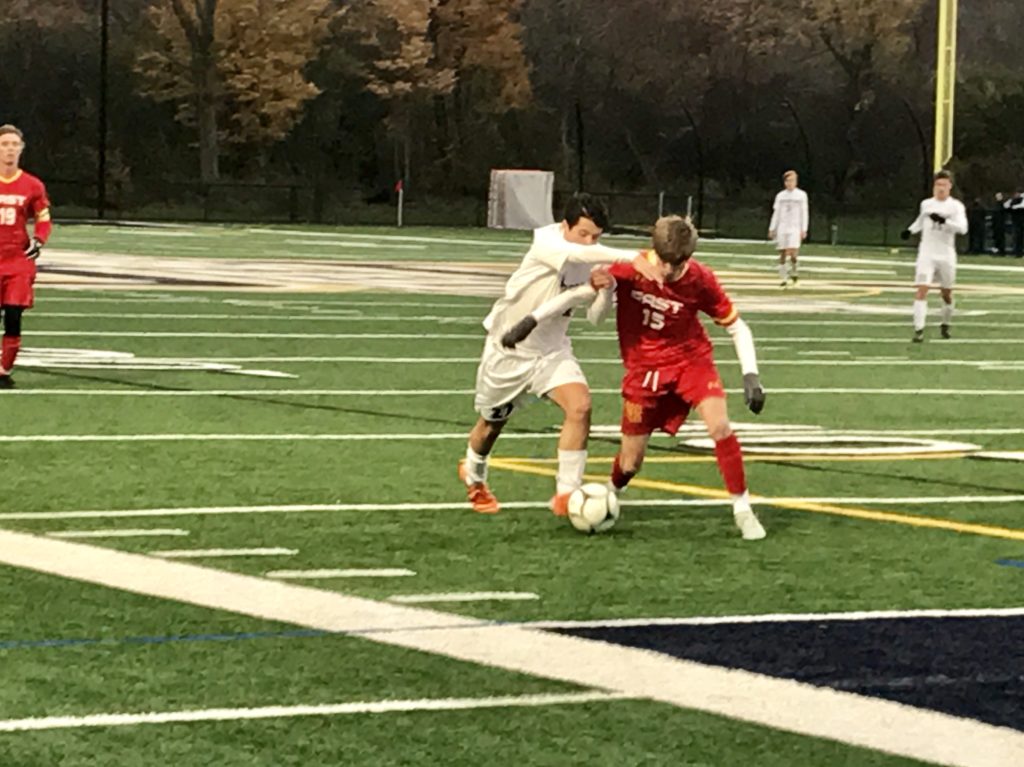 By PAUL GOTHAM
BUFFALO, N.Y. — Brighton's boys' soccer team hasn't allowed the memory of a season-ending loss to fade.
And the Barons have used that disappointment to fuel their run in 2018 that will continue next weekend in Middletown, New York – the home of the New York State semifinals.
Gabriel Barraclough-Tan connected from just outside the 18-yard box with 21:27 remaining in regulation, and the Brighton Barons went on to beat the Williamsville East Flames, 3-2 in the New York State Class A Far West Regional matchup at Sweet Home High School, Saturday evening.
With the wind coming out of the northwest, Barraclough-Tan gathered a pass from teammate Sam O'Connor and beat Williamsville East goalkeeper Jordan Polk with a right-footed strike.
"With the wind at our backs, we kinda opened up the midfield a little bit," the senior midfielder said. "They were pushing pretty heavily. Sam got the ball from the left wing, opened his hips. I called for it. He played a well-waited ball across the 18. I took a touch, kept my head down and just tried to put it on frame. Luckily, it kinda nestled itself in the bottom corner which is nice."
59' Gabriel Barraclough-Tan responds. @BCSDSports 3 Williamsville East 2 NYS Class A Far West Regional pic.twitter.com/7FJo4lCKpX

— Paul Gotham (@PickinSplinters) November 3, 2018
The goal was his ninth of the season.
"It felt good. I wouldn't say I knew it was going in right away, but when I lifted up my head and sawing sailing in, it was a good feeling."
A year ago, Brighton's season ended with a 2-1 loss to Brockport in the Section V Class A1 final. The current success took root in that disappointment.
"It feels good to make it out of this especially after last year, falling short in the finals. It is fresh in our memory," Barraclough-Tan said of the loss. "That's our drive. Knowing that we made it so far and then we were one game short. Every practice, with every step we go we kinda count down the games. Before the sectional finals, we had one more game. Now we have two more for hopefully a state title. We're working towards it."
7' Set pieces are dangerous. Sam O'Connor gets @BCSDSports on the scoreboard off the corner kick. NYS Class A Far West Regional pic.twitter.com/oOZEfgap4h

— Paul Gotham (@PickinSplinters) November 3, 2018
The win was the ninth straight for Brighton (17-4-0). The Barons had allowed just one goal in their previous seven games. Senior goalkeeper Christian Burkhart, though, was nothing short of spectacular bailing out the Barons with a pair saves in the first half with the wind in his face.
"We could have been down 3-1," Brighton head coach Adam Hiller said of his keeper. "He was really good."
Burkhart also nullified a late Williamsville East threat when a deep ball led the Flames leading scorer, Trey Buscaglia, into the open field. Burkhart alertly came out of the 18-yard box and headed the attempt away.
"I saw it was getting past my defender and I thought if I didn't come out for this, the forward is going to get it," Burkhart explained. "I just tried to get everything I could on it. Luckily, we were able to shoulder him to the side. That gave me enough time to get back in goal."
Nico Leone gave Brighton the lead in the seventh minute when he redirected Barraclough-Tan's cross from the right wing. But Williamsville-East tied the game when Cameran Townsend converted a corner kick opportunity. The teams went into the break tied at one.
"I knew when we got the wind in the second half, we'd be on," Burkhart noted. "In the second half up until the end, we had most of the play in their half. The wind was a big factor, but we really knew how to use it to our advantage."
Connor McQuillan and Sam O'Connor combined to free O'Connor inside the box where he was taken down on the play. O'Connor converted the ensuing penalty kick for a 2-1 edge.
The lead was short-lived. Buscaglia knotted the match with 24:27 remaining.
"They had three or four dynamite players that were skillful with the ball, but we hung tough," Hiller stated. "With the wind and the skilled players we have, we knew we could get a couple goals in the second half which we did."
Brighton (No. 15 NYSSWA Class A) started the week with a win over Churchville-Chili (No. 3 NYSSWA) in the Section V Class A final. Williamsville-East entered play Saturday night No. 8 NYSSWA.
Brighton moves on to play the Mepham (IIX/No. 10 NYSSWA) vs. Amityville Memorial (XI/No. 2 NYSSWA) winner in the NYS Class A semifinals. The last time the Brighton boys' soccer team reached the state semifinals was 2011 when they lost in a shootout.
"We're definitely coming in with some heat," Burkhart stated. "We're just keeping our mentality. We're confident in ourselves, but we're not taking anyone for granted."
A 9:15 AM kickoff is scheduled at Twin Towers Middle School in Middletown, N.Y.