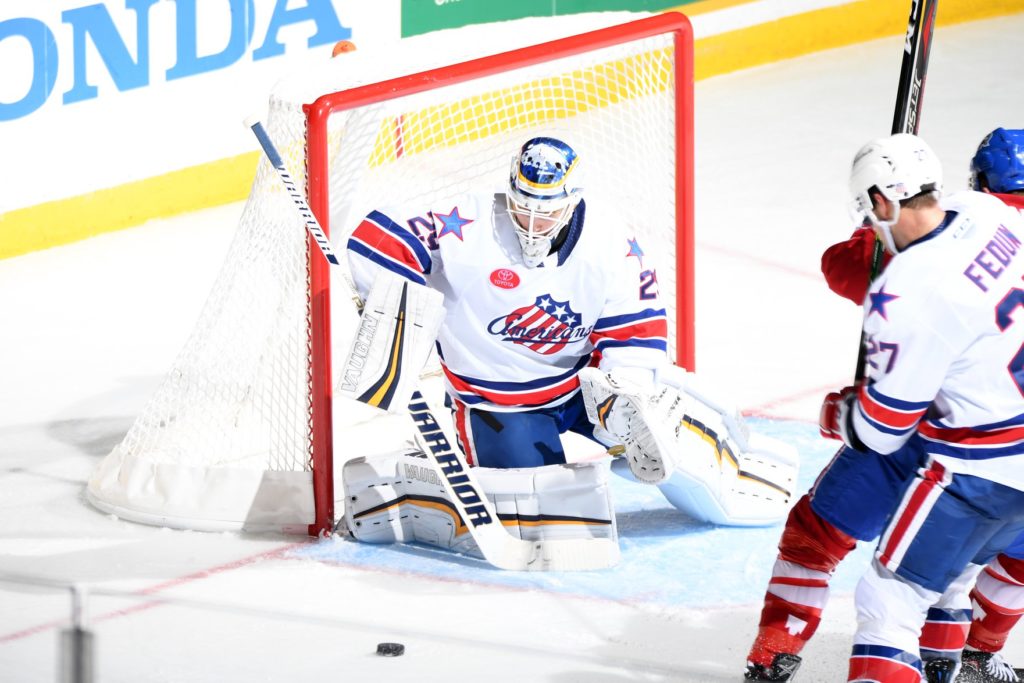 By KEVIN OKLOBZIJA
Derailed by injuries over the past year and half and then forced to do some soul searching after being traded twice in the first four months of last season, Scott Wedgewood said coming out of training camp he was going to need a little time to find his game.
Rochester Americans coach Chris Taylor is willing to give him as long as he wants — because right now just about every puck is finding Wedgewood's stick, glove, blocker, shoulder, skate, chest or whatever.
The seventh-year veteran made 37 saves on Saturday night as the Amerks, despite being short-handed 12 times, rallied to defeat the Laval Rocket 3-2 at Blue Cross Arena at the War Memorial.
On Friday, Wedgewood stopped 20 shots in shutting out the Utica Comets. Over his past five starts, he is 5-0 with a .933 save percentage and a 1.98 goals-against average.
"He's been good right from the start," Taylor said. "I don't look at his numbers from those first two games (10 goals against on 71 shots), no one should, because we didn't give him any help.
"He was there again tonight to bail us out."
Thanks in part to their goalie the Amerks have earned points in eight consecutive games (7-0-1) and continue to lead the AHL's North Division with a 7-3-1 record.
Indeed, the Amerks relied on their goalie for much of the first period (outshot 15-9, outchanced maybe 6-2) but the game was scoreless until a disputed power-play goal by Laval's Brett Kulak at 14:17 of the second period.
Wedgewood's stick was knocked out of his hand before Kulak even shot, but referees Ryan Jenken and Mathieu Menniti disagreed and allowed the goal to stand. There is no review process for goaltender interference in the AHL.
The Amerks came to life in the third period, scoring three times, but they also ended up short-handed seven times, including being down two men for a stretched of 1:21 early in the period and for 41 seconds midway through.
"A lot of battle," Wedgewood said of the team's effort. "I don't think that's what we wanted to do for the first two periods, obviously a lot of penalties taken, but guys stepped up their game.
"We've got a lot of guys eating pucks. Even on the five-on-four, (Justin) Bailey took one in the head and got right back up."
Over the past two nights, the Amerks penalty killers were 15-for-17.
"The penalty killing's starting to get back to where it was last year (84.1 percent)," captain Kevin Porter said.
The Amerks scoring came in a span of just 6:04. Zach Redmond steered home a terrific pass by Taylor Fedun at 8:02 for his sixth goal, and C.J. Smith then scored a short-handed goal 75 seconds later after a misplay by Laval goalie Charlie Lindgren.
When Yannick Veilleux swept in the rebound of a Dalton Smith shot at 14:06, the Amerks were up 3-1 and seemingly in control.
But Wayne Simpson took a double minor for high sticking at 15:07 and the Rocket converted on the first half, at 17:04. It's the last time Wedgewood let a puck get past him, however.
"You need your goalie to be your best penalty killer and 'Wedge' was again tonight," Taylor said.
Said Wedgewood: "I've said it before, the more I get out there, the more comfortable you're going to be. You get to see guys, their tendencies as a defensive corps and kinda of understand guys more and more and more.
"When we've been in some tough spots we've battled and that's going to build a lot of confidence going forward."
A long-time fixture at the rink says goodbye
Ray Slattery, who has worked at the arena for 48 years on security, worked his final game on Saturday. He's going to enjoy more time with family.