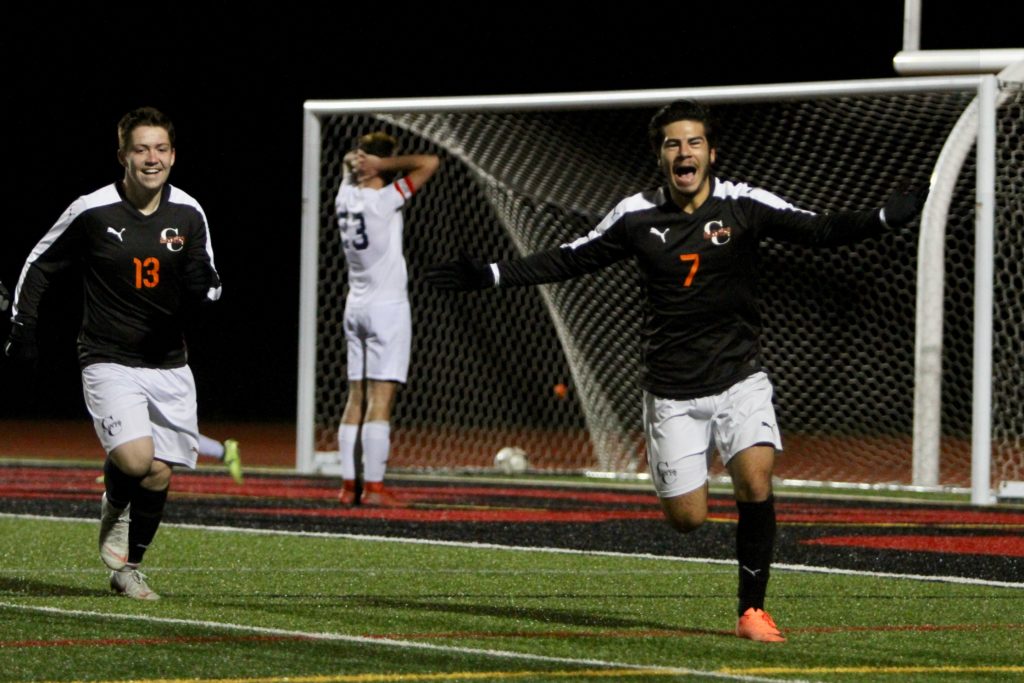 By PAUL GOTHAM
HILTON, N.Y. – John Mahoney's message to his Churchville-Chili Saints hasn't changed all year. It's a matter of being able to defend and counter.
Friday night, Mahoney also needed to make some early lineup adjustments.
Colby Egan and Andrew Vannest scored three minutes apart in the first half, and Churchville (17-2-0) outlasted the Wayne Eagles, 3-2 in Section V Class A semifinal action at LeBeau Field.
"It takes a lot of moxie to hold a team off like that," Mahoney said after the Saints 3-2 win. "You have to be mentally tough to win a game by one goal in the sectionals. There's no other way around it."
It also took absorbing Wayne's surge to start the game.
"They jumped on us," Mahoney stated. "I thought the first seven minutes they handled us. We took the pressure. I don't think they really had shots, but they were attacking us."
With four in his lineup accounting for 10 or more goals apiece, it was a matter of putting players in the right spots. Mahoney moved Vannest out wide and lined up Mario Cozzo on the opposite side of the field.
"Moving 'Vann' out wide just changed the game because one-on-one him and Cozzo on either side opened up everything for us," Mahoney explained. "We also moved Egan to offensive mid."
The decision reaped immediate results.
Egan took advantage of a second-chance opportunity in the 22nd minute and scored his 13th goal of  the season on a rebound off a Seamus Parker free kick. Moments later, Vannest drilled home 13th marker on a free kick of his own from just outside the 18-yard box.
22' Colby Egan takes advantage of a second-chance opportunity to give @CCCSDathletics a 1-0 lead. pic.twitter.com/UGf8uF4MZo

— Paul Gotham (@PickinSplinters) October 27, 2018
"As soon as we did that, we were attacking and attacking. I think that was our best defense all night long was us attacking them."
25' Andrew Vannest converts the direct kick to give @CCCSDathletics a 2-0 lead. pic.twitter.com/Y1qYLM7zVs

— Paul Gotham (@PickinSplinters) October 27, 2018
Wayne didn't go away. Winners of 14 in a row, the Eagles cut the deficit to one before halftime. James Flannery converted on a Matt Gentile direct kick to make it a 2-1 game heading into the break.
33' James Flannery gets @WCSD_Athletics on the scoreboard. @CCCSDathletics leads 2-1. pic.twitter.com/VITVQCGjl0

— Paul Gotham (@PickinSplinters) October 27, 2018
Churchville struck less than eight minutes into the second stanza when Cozzo connected on a spectacular volley to give the Saints a 3-1 lead. It was Cozzo's 12th of the year.
48' Mario Cozzo gives @CCCSDathletics a 3-1 lead. pic.twitter.com/CbagYrYxjO

— Paul Gotham (@PickinSplinters) October 27, 2018
But the Eagles responded five minutes later. Gentile spun a corner kick from the left flag into the opposite side netting to make a it one-goal game with more than 27 minutes on the clock.
52' Matt. Gentile. Sweetness! @WCSD_Athletics @CCCSDathletics lead cut to one at 3-2. We're just getting warmed up. pic.twitter.com/ulmfR3slBp

— Paul Gotham (@PickinSplinters) October 27, 2018

"It's mental toughness," Mahoney said. "Anybody can win by two or three. To hold on to that one goal lead it takes mental discipline."
Coming into the game, Wayne (16-2-1) had only trailed for a total of seven minutes during their previous 18 games.
"It was close," Mahoney added. "There was one that almost went in. At the same time, we had two that easily could have gone in.
"We gave them too many set pieces, and that's something they're really good at. They scored on two of their set pieces."
The Saints (No. 6 NYSWWA Class A) will move on to play Brighton (No. 14 NYSSWA Class A) in Tuesday's final.