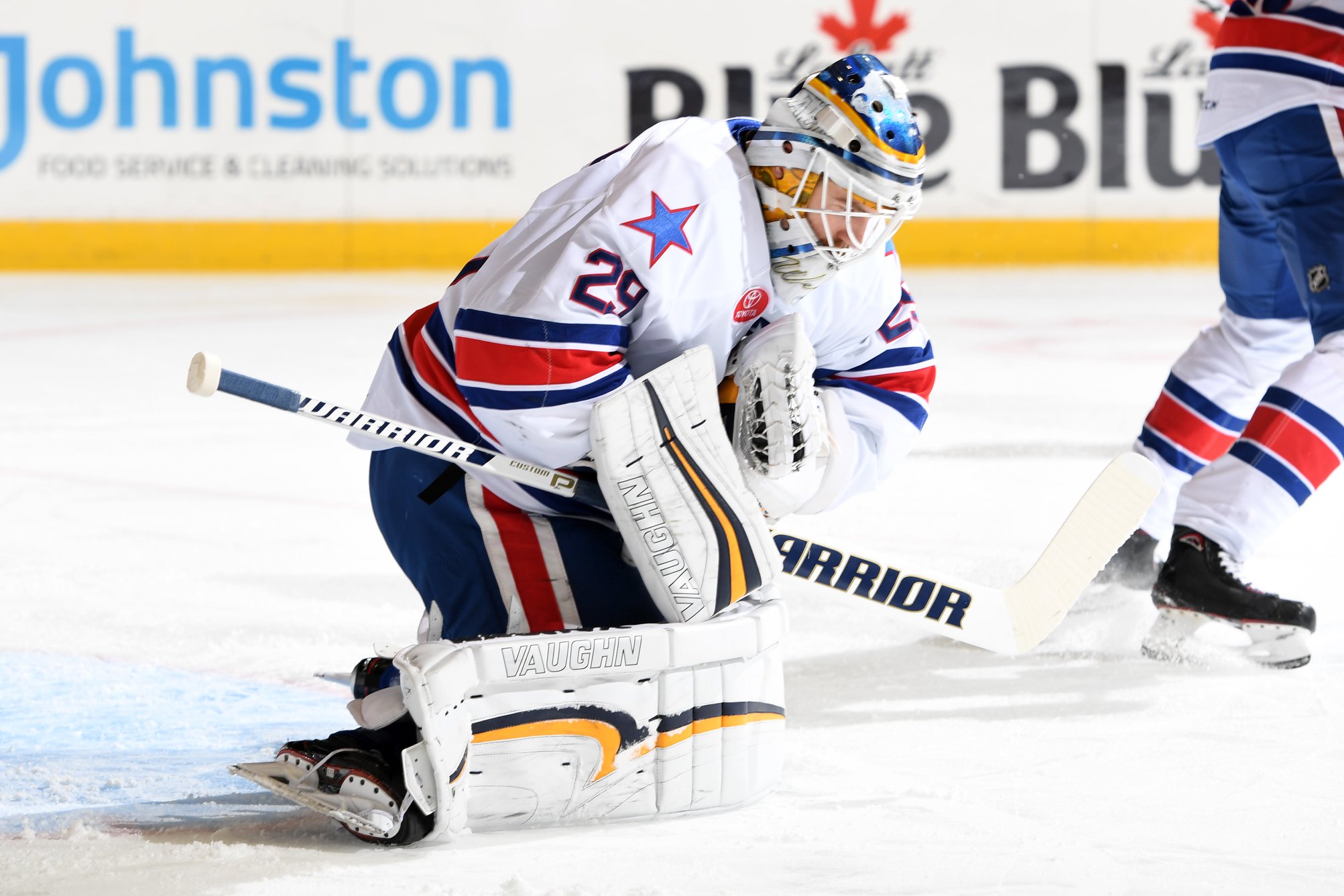 By KEVIN OKLOBZIJA
In defeating the Utica Comets 4-0 on Friday night, the Rochester Americans ran their point streak to seven games and increased their lead in the American Hockey League's North Division to two points over Cleveland.
And yet they weren't all that pleased about everything that happened.
Defenseman Zach Redmond, who scored the first goal, said the Amerks were far from perfect. "I think we can play a lot better — which is very exciting."
Coach Chris Taylor said "probably the first period and a half I didn't like too much of our game."
Mind you, the score was 2-0 Rochester after 24 minutes.
You know that means? This we-can-be-better attitude is what high-quality teams expect and demand. Yes, the Amerks won. Yes, goalie Scott Wedgewood posted a 20-save shutout. Yes, rookie defenseman Lawrence Pilut continued to pile points with three assists, his third three-point game of the season.
But, yes, they can be better.
"I didn't think my performance was really good today," Pilut said, "but I got a couple lucky points and that's a confidence-booster."
Pilut leads AHL defensemen in scoring with 2 goals, 11 assists and 13 points in just seven games. He's well aware, however, that he must play well at both ends of the ice, and he is.
"There's no doubt in my mind this is a temporary thing," Redmond said of Pilut's time with the Amerks. "He's kind of the new-age NHL package and sure he'll be wearing a Sabres jersey before too long."
The Amerks would certainly miss Pilut if and/or when he goes to the NHL for he first time. But they'd still have plenty of talent. They're 6-2-1, and 6-0-1 since losing twice on opening weekend to the team with the AHL's best record, the Charlotte Checkers (7-1).
"I've played on some good teams but this might be the best," said Redmond, an eighth-year veteran. "I don't want to jinx it but we're headed in the right direction."
The highlights
Rookie defenseman Will Borgen was a beast in helping the Amerks kill a five-on-three Utica power play midway through the second period. He had help from defenseman partner Andrew MacWilliam and center Kyle Criscuolo, although Criscuolo suffered an injury (lower body?) blocking a shot on that penalty kill and did not return. "Those are the things that our guys remember with how we won the game tonight," Taylor said.
Wedgewood made the necessary saves, especially early, and gave credit to the skaters who blocked plenty of shots as well. The shutout was the ninth of his AHL career; he also has two in the NHL, including one last season with the Arizona Coyotes. "The more and more I get out there and the more and more minutes I accumulate, I'm going to figure things out," he said.
Kevin Porter, Danny O'Regan and Alex Nylander scored the other goals for the Amerks. The Nylander goal came off a partial breakaway at 12:48 of the third period, but it never should have been allowed. Referee Beaudry Halkidis was calling a penalty because Nyander was held or hooked, and Utica's Jesse Graham swatted the rebound of Nylander's shot into the net. The touching and sweeping of the puck should have killed the play because of the delayed penalty. Instead, the officials allowed the goal to stand.
Winger Tyler Randell fought Utica winger Vincent Arseneau at 2:45 of the third period. The fight was in response to Arseneau's hard hit on defenseman Brendan Guhle on the boards at center earlier on the shift, and also because Arseneau took a long run — but missed — Pilot behind the Amerks net in the second period. "Our guys came out and took care of it," Taylor said. "It brings a team closer."
The Amerks have their most potent power play since the 2009-10 season. That team featured Jamie Johnson, Jeff Taffe, Clay Wilson, Taylor, Michal Repik, Evgeny Dadonov, Graham Mink, Mike York when he was healthy and Jason Garrison before he was called up. Redmond, Pilot, Victor Olofsson, Porter and Wayne Simpson are very creative, which Taylor stresses. As a team, the Amerks are 12-for-31 on the power play over the past seven games. "I love creativity," Taylor said. "I want them to bring it out, I don't want them to be robots. It's fun to watch."