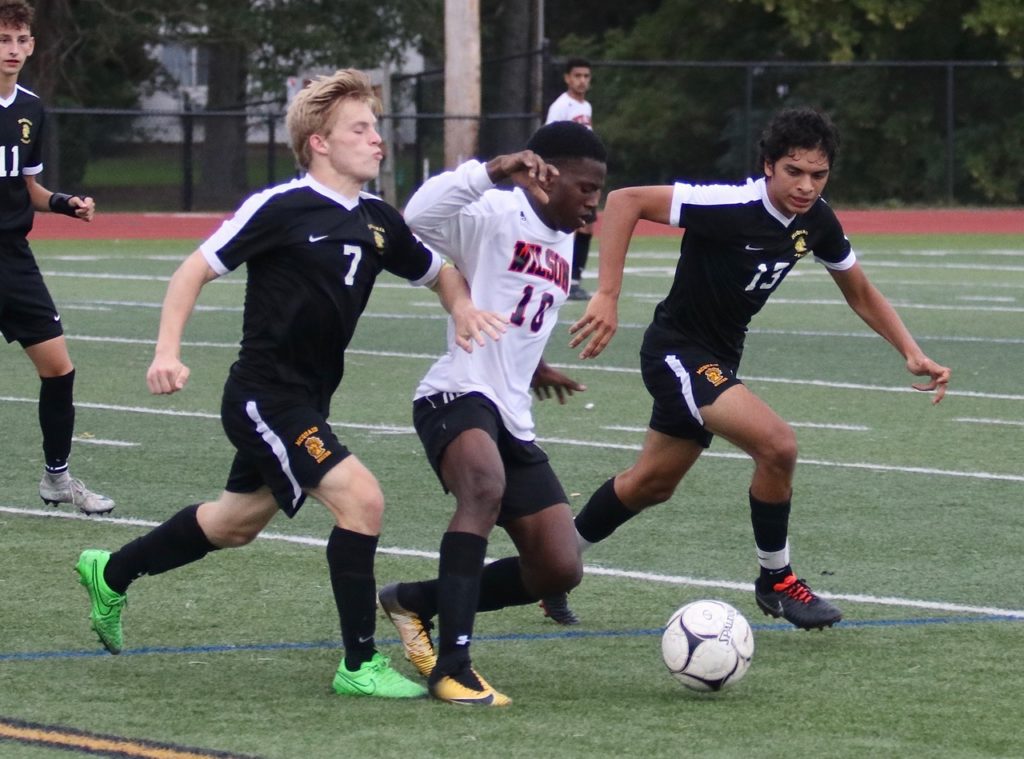 By MATT TRABOLD
TRABS KEEPS TABS
Defending Sectional Champions One Year Later in Postseason Play
Most of the time, barring a very surprising postseason run, the teams that win boys soccer sectional titles are high-profile programs historically, or at least in recent history, that are massive contenders to hoist championship hardware most years. That is the case for the most part this time around as well with a multitude of defending sectional champions boasting legitimate chances to repeat.
This discussion has to begin with the program that ended last season with a state title in the highest classification in one of the best scholastic soccer states in the country and a No. 3 national ranking in the Super 25 USA Today High School Sports poll. That would be the McQuaid Jesuit Knights. As this column pointed out a few weeks ago, the entire high-profile rotation from that storied squad, with the exception of Dan Malloy, graduated after that storybook season. Nino Pilato and his staff have done a magnificent job though quickly rebuilding, and the Knights find themselves firmly in the mix in the Class AA sectional bracket again. A versatile central defender for McQuaid Jesuit in the smiley Jeevan Deol frequently expertly gallops up from the back to facilitate and get the offense going. Deol also comes up into the attacking third many a time to take free kicks, which is a skill shared by both him and Malloy. The younger brother of the phenomenal starting goalie for that state title McQuaid Jesuit team Tommy Gallina in junior midfielder Matt Gallina is second on the present squad in assists with six helpers due to a penchant for adroit volley throughballs. This No. 2 seed in the current Class AA sectional bracket starts postseason play against Penfield.
Back on September 19, the Section V committee for this sport grouped together Class A1 and Class A2 into one Class A classification when it was solidified that Batavia would be competing in a Class B classification this season rather than a Class A one due to not mixing with Alexander athletes this time around. That moved the number for Class A teams in this sport to one below the threshold to qualify for splitting into two different classifications that would have their champions meet in a qualifier to see which team would represent the section in state play. Section V Class A boys soccer certainly has enough talent and depth to warrant two sectional champions this year, but this will at least make for one extra exciting race to lift that title brick at the end. One of the two defending Class A sectional champions has certainly fared better this go-around than the other.
One of those defending titleholders in Brockport enters this Class A sectional bracket seeded fifteenth. The Blue Devils only got their hands on three regular season wins despite returning stalwarts Vander Hart and Tyler Daly. Brockport will square off with a pleasant surprise in Spencerport this weekend. On the other hand, Pittsford Sutherland is seeded sixth in this wildly deep division. The Knights may have ended the regular season with a surprising tie against Eastridge, but Sean Hopkins and company picked up a pair of huge victories in the two games just before that versus Greece Arcadia and Greece Athena. Will Bowen is rightfully the more prominent player with his team-high eleven goals, but his little brother Ian Bowen has matured into quite the distributor as his sophomore campaign has progressed. Pittsford Sutherland hosts that same Eastridge side this weekend.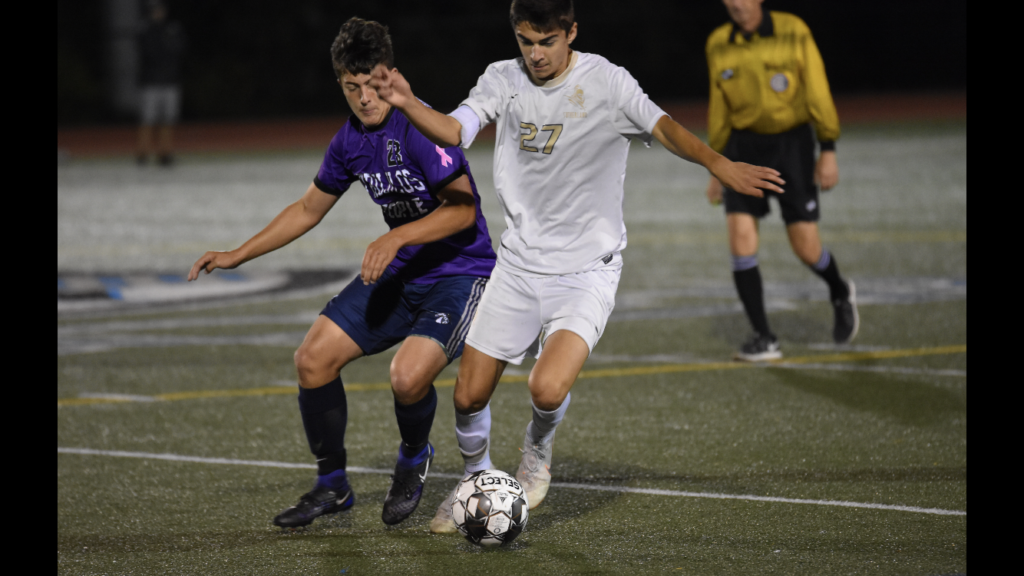 The other Section V boys soccer team to reach a state title game last season was Byron-Bergen/Elba. A twenty-win year for the Bees ended in the second overtime period in the Class C state championship game. Despite graduating one of the best players Section V Class C, and Section V as a whole, has ever seen in Kylar Chambry following last season, Byron-Bergen/Elba has been back to its dominant ways in 2018. Wade Thompson has become a national name in scholastic soccer due to what he has done for Global Premier Soccer in this country and abroad over the summers. Everything these Bees do offensively goes through Thompson. As you would expect, he is a very talented striker of the ball and dribbler, but his most wowing talent might be the way he frequently, calmly and very accurately executes powerful push passes all around the field. He might just be the best passer in Section V these days. Productive pure forward Sam Pringle does not rock the long hair that he had during the team's postseason run a year ago anymore, but that has not stopped him from putting away seventeen goals up to this point as a junior. Speaking of hair, quick defender Cory Bater has his majestic mullet blowing in the wind as he snuffs out the scoring opportunities of opposing teams. This No. 3 seed squares off with Cuba-Rushford on Saturday.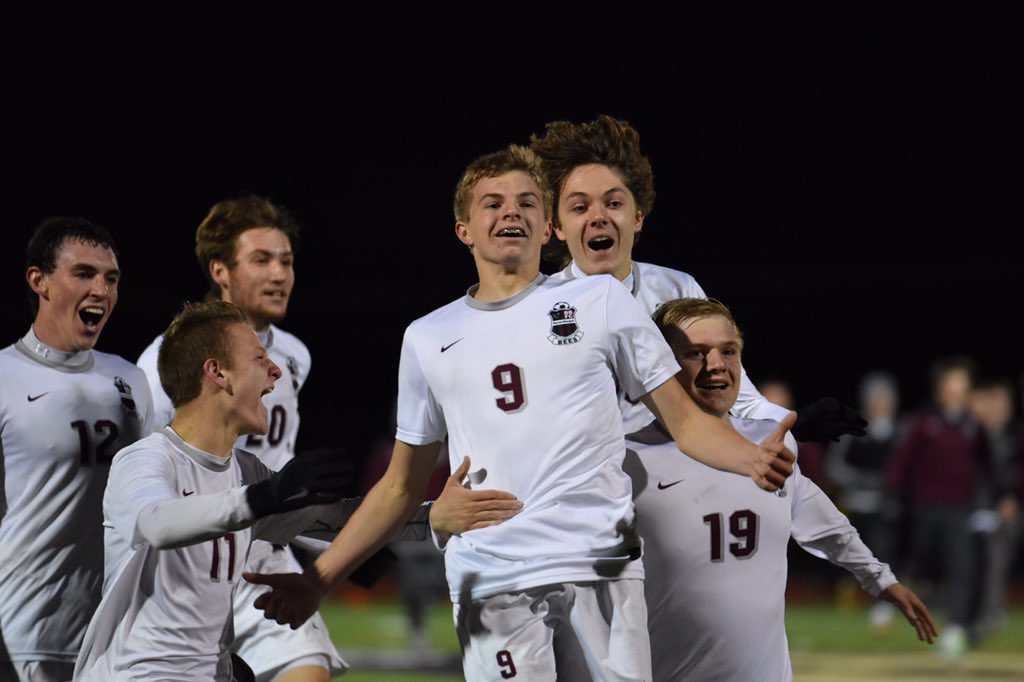 After winning three sectional titles in a row in Class C1, World of Inquiry moved up to Class B2 last season. Guess what? The Griffins won a fourth consecutive sectional title on top of fervently dispatching of mighty Livonia in the state qualifier just after that. Even though World of Inquiry is entering this batch of sectional play as a seven-win No. 5 seed, and Toyi Hakizimana is playing at Morrisville State rather than in one last year at his high school alongside his younger brother Isaac Hakizimana, history suggests that you can never count out this program when postseason time rolls around. Since World of Inquiry started up its now storied program a handful of years ago, city pitch battles between McQuaid Jesuit and the Griffins have rarely been one-sided. That trend continued in the regular season finale for both squads a week ago as the Knights narrowly pulled it out, 1-0. World of Inquiry travels to Le Roy on Saturday.
SLAP YOUR PEEPERS ON THIS TROIKA
Rush-Henrietta at Fairport—Fri., Oct. 19, 4:30 PM 
It was just two years ago when these two programs squared off in a sectional semifinal game at the venue now known as Marina Auto Stadium. That night, Zein Mohamed, Justen Polk, Sam Smyth and Rush-Henrietta ended up getting handily beaten by a nationally-ranked group of Red Raiders that went on to an appearance in the Class AA state title game. It is fairly safe to say that this present Rush-Henrietta squad does not have quite as much firepower as that very heralded one from a couple of seasons ago, but confident Curtis Rowe is at least one supreme scoring threat currently kicking for the Royal Comets. Another senior in Jason Pike assisted both of his goals on Tuesday afternoon in a sectional win over Gates Chili. When calls are not going his way, Rowe seems to play even better when it comes to fooling opposing players with his dribbling and separation skills. Current senior midfielder Billy Urbanski started on the Class AA sectional semifinalist Rush-Henrietta team mentioned above.
65' Curtis Rowe runs down a Jason Pike lead and gives Rush-Henrietta a 3-0 lead. pic.twitter.com/XOUl8a26za

— Paul Gotham (@PickinSplinters) October 16, 2018
This contemporary Fairport team certainly does not have as much sheer skill at its disposal than the one two campaigns ago, but the fact that these Red Raiders are so well coached thoroughly helps caulk those limited cracks. Fairport will always at least have that going for it as long as renowned Gianni Bussani is at the helm. The second-leading scorer right now for this side in Kingsley Malcolm came up a little hobbled late in regulation two games ago as Fairport handed Hilton its first defeat this year, but he can do some spectacular things in this sectional bracket with how quick to the ball he is and his finishing ability if he is able to suit up going forward in his junior campaign. The best player for Bussani and company right now might just be sophomore Jude Rouhana though due to his precision and fast-twitch maneuvers to stupefy defenders. That landmark victory over Hilton ten days ago was unfortunately bookended by a scoreless tie versus this same collection of Royal Comets and being upset by Canandaigua in the regular season finale.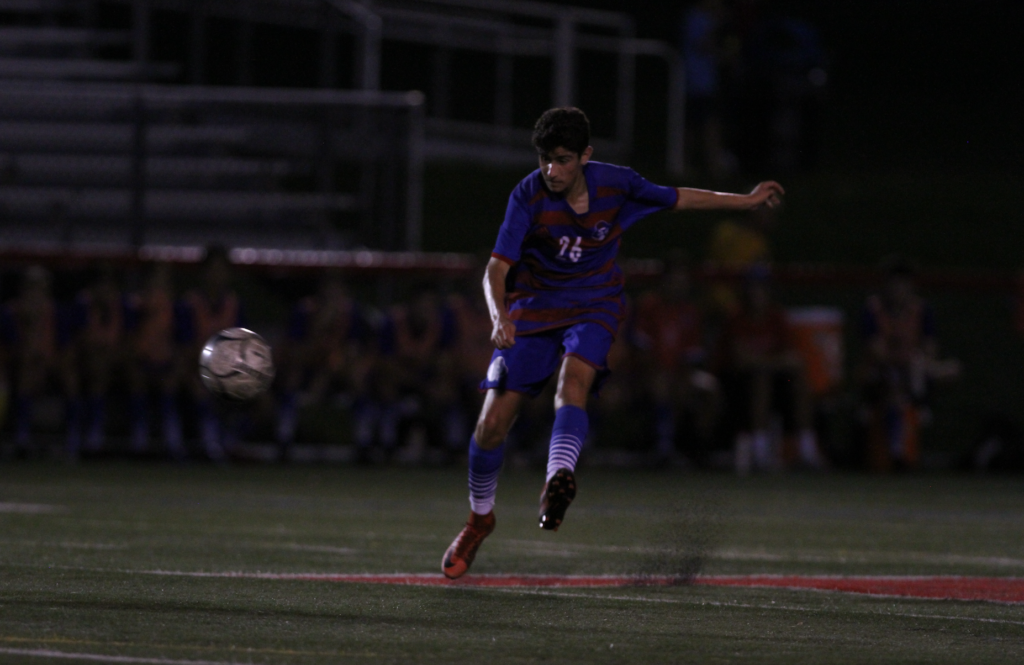 Honeoye Falls-Lima at Wayne Central—Sat., Oct. 20, 7:00 PM 
Even though upset chances in postseason play are not solely based upon how mighty a program has been in the foursome of seasons prior, that factor alone in regards to the lower seed in this battle should make soccer fans in this region very interested with this one. Honeoye Falls-Lima is seeded thirteenth in the Class A sectional bracket this time around, but the school in this sport won a sectional title in 2014, 2015 and 2016. The present personnel is not quite as lofty as the recent former likes of Alex Ptucha, Bryan Wager, goalkeeper Nico Coria, Parker Hotchkiss, David Goetz and Roth Wetzel, which is largely why the Cougars only accumulated four victories in the regular season that just wrapped up. The core for Mike Merrill and his staff these days consists of Blake Eby, Chris Goetz and sophomore midfielder Gunnar Wetzel. In this one, Honeoye Falls-Lima will be looking to avenge a six-goal loss against Wayne Central thirteen days ago.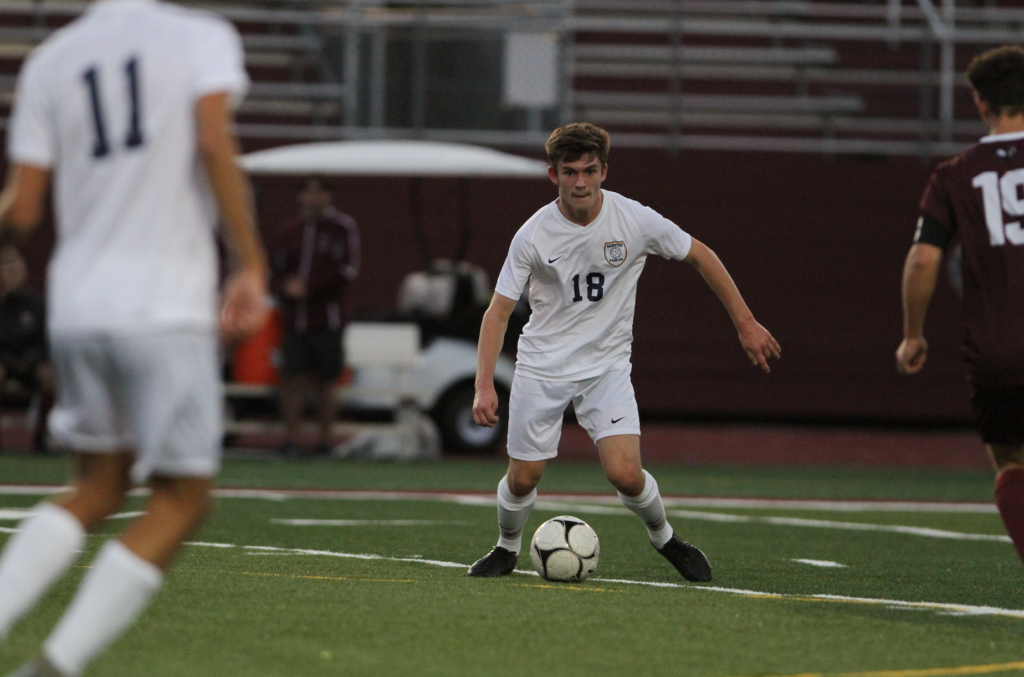 Speaking of Wayne Central, that squad this season boasts just about everything. The one-loss Eagles, seeded fourth in the Class A sectional bracket this time around, come into postseason play with a winning streak of twelve games. This club for Tim Mattle and his staff currently contains a trio of players with at least eleven goals through this point in juniors Cullen Bock, Matt Gentile and Devin LaDue. The former goalie Bock has illustrious summer experience under his belt with Rochester Futbol Club and Empire United Soccer Academy, plus he has really honed his skills on set pieces since consistently moving from the pipes to the field. Gentile was a member of the Global Premier Soccer 2002 National Team that won a national title at the 2018 San Diego Surf Cup this past summer. The starter in net for the Eagles this year in Branden Shugerts is third at the moment in Section V in goals against average.
29' Cullen Bock snipes the near post to give @WCSD_Athletics a 1-0 lead. pic.twitter.com/mmEIoottQR

— Paul Gotham (@PickinSplinters) September 26, 2018
Webster Thomas at Hilton—Sat., Oct. 20, 7:15 PM
Hilton is still the team to beat in the Class AA sectional bracket this year, but the Cadets went their last three ballgames of the regular season that just ended without a win. That stretch included shutout losses against Fairport and Greece Arcadia, which are hardly terrible defeats, on top of tying four-win Irondequoit. The one goal that Hilton scored during that span was by Tom Callery. That bruising senior is much more defensive a player than the other Cadets that don the captain armband this campaign with him. Similar to Cullen Bock from Wayne Central, junior Andrew Cavuoto is another Section V soccer name that has split his time over the years between the goalmouth and the field. The current backup goalkeeper for Mike Ellicott and his staff headed in the game-winning goal late in regulation against Webster Schroeder early on this year as one of his three scores in that regular season.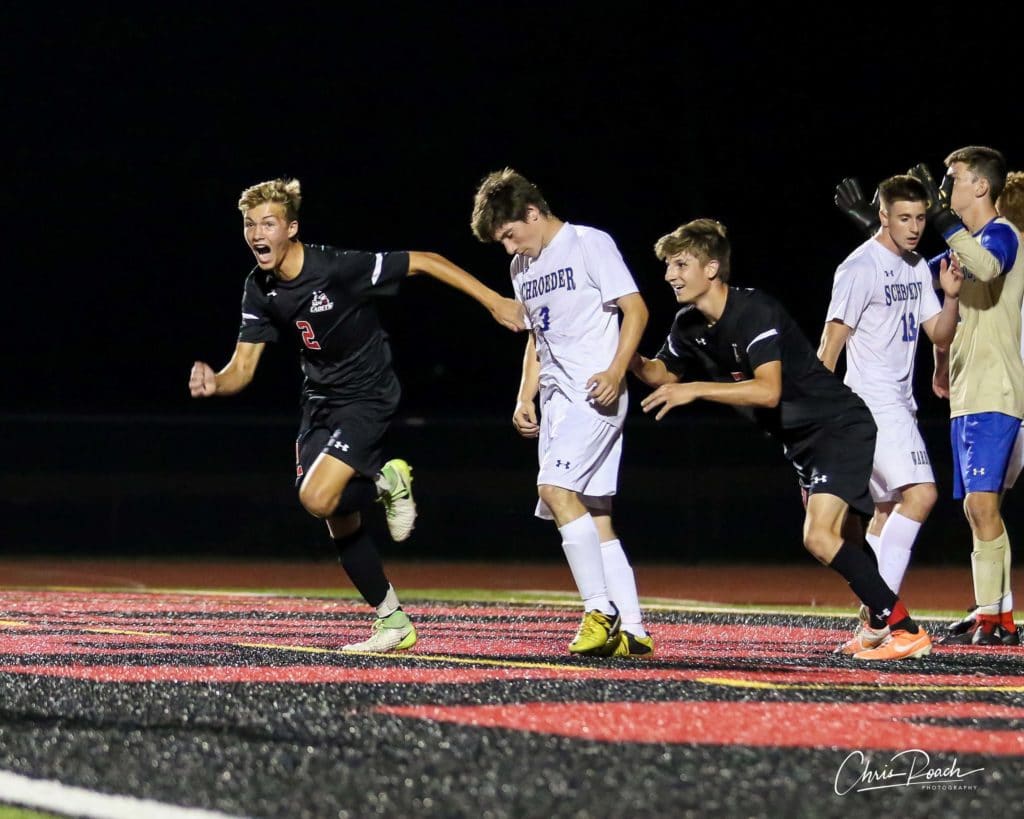 VIEW MORE CHRIS ROACH PHOTOS HERE. 
Webster Thomas is coming off of a three-goal shutout victory on Tuesday over a solid and much underrated School of the Arts/Northeast and Northwest College Preparatory High School combination team in its sectional opener this go-around. The starting goalie for Steve Grose and his staff in Frank Fullone used his verbal skills on the pitch just as much as his hands to not let any of the many scoring chances that night for the Silver Hawks find pay dirt. Sophomore forward Zach Wolfe leads the Titans in scoring this season with seven goals. He began the scoring three nights ago for his squad with a scoring strike off of a personal run with the ball at his feet that went from one half of the field to the other. The prettiest goal of that contest though came from fellow sophomore Isaac Buckley. After Buckley had a pass attempt sent back to him by a defender, he decided a couple moments later to crank the ball up and over the limbs of the goalkeeper into the far top corner of the net. This Webster Thomas group carries a lot of its foot talent in its wingbacks. Also, do not worry; this program has continued its long tradition this season of players sporting bleached blonde hair come postseason time.
.@RushAthletics, @ThomasTitans, @ganandagirlssoc, @letchsports, @BishopKearneyHS all get wins in Section V soccer playoffs https://t.co/IktJrx0kAf

— 13WHAM (@13WHAM) October 17, 2018

SECTION V IN DIVISION I UPDATE
Lukas Fernandes—Jr., Temple (Churchville-Chili)
Fernandes has definitely become the most dominant and consistently productive Section V product for his individual current Division I soccer side. After not scoring a goal in the overtime loss against South Florida last Friday, Lukas came back to his scoring ways with gusto on Monday versus Pittsburgh. An assist from him just after the halftime break tied the score against the Panthers at one goal each. Then, he accomplished a scoring strike of his own in the 79th minute to raise his team-leading points total to fourteen of those bad boys. That was the second instance this season for the Owls so far in which the former Saint had a role in all of the Temple goals of a game.
80′ | TEMPLE GOAL by the one and only Lukas Fernandes, assisted by Elias Hellgren Villegas!!!!

Temple 2, Pitt 3

— Temple Men's Soccer (@Temple_MSoc) October 16, 2018