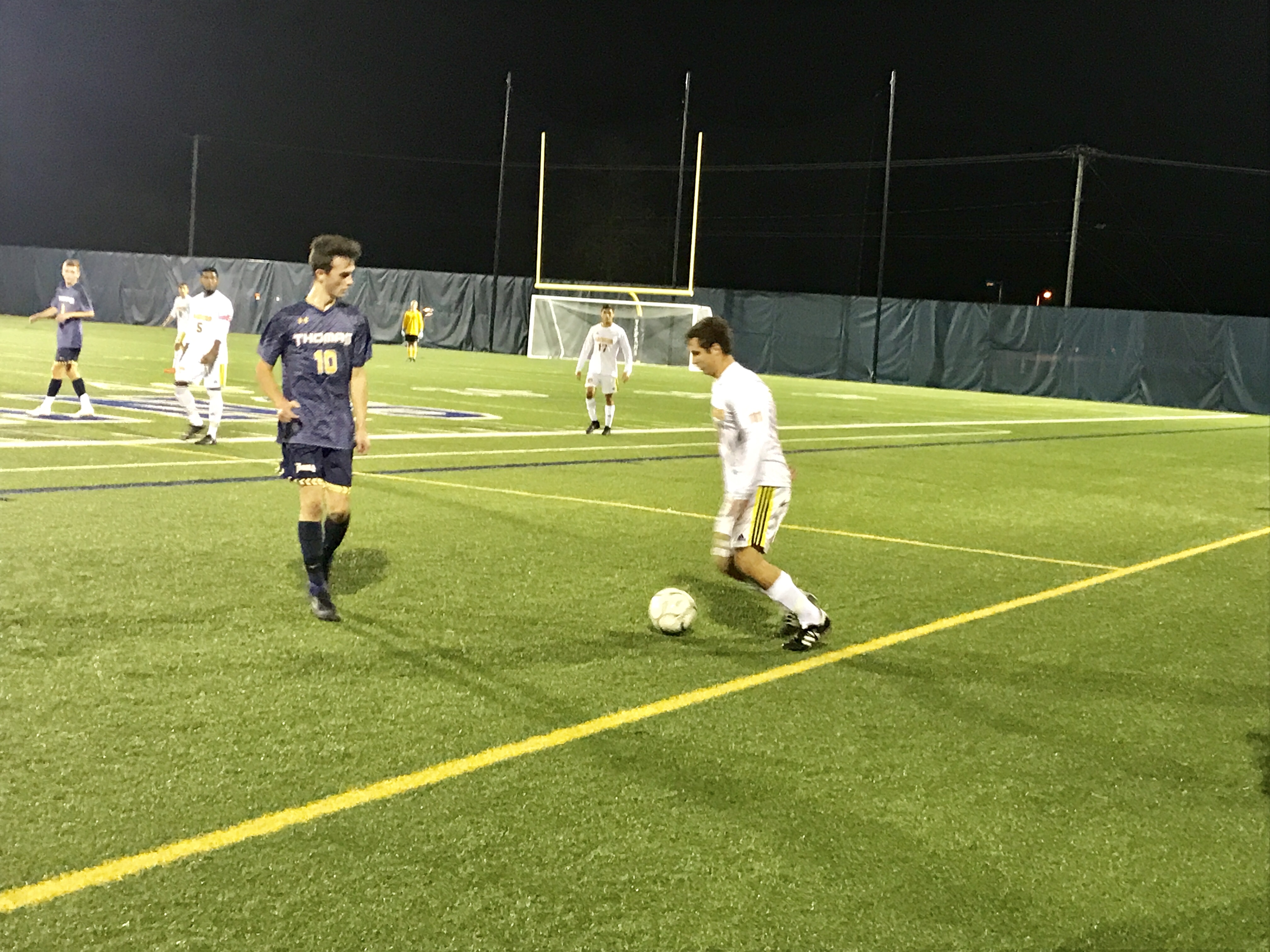 By PAUL GOTHAM
WEBSTER — The crowded room otherwise known as the contenders for the upcoming Section V Class A boys' soccer crown will need to find space for one more squad.
Left for dead five games into the season, Spencerport's Rangers clinched at least the share of the Monroe County Division II Tuesday night with a workmanlike 2-nil victory over the Webster Thomas Titans. Tom Etsler's club also owns the unofficial No. 2 seed if the postseason started today.
"Like I told them, they did enough to get the job done," the 24th-year coach said echoing his post-game speech. "Not to take anything away from Webster. They played hard. They played a good game, but it's got to get better. It's always got to get better."
Justin Hockenberger connected on his team-leading ninth goal of the season less than 13 minutes into the match. The senior attacker also set up Spencerport's second tally in the 57th minute as the Rangers (11-3-1/9-1-0) won their fourth straight and remained undefeated in the last 10.
"Going from losing 8-1 to Churchville then beating them 1-nothing and keeping this streak going feels pretty good," said Hockenberger. "Just to be co-champs feels pretty good right now."
A five-win team a year ago, Spencerport exited in the A1 first round – the second straight season without a sectional win. When they opened 2018 with three losses in their first five games, it appeared this group was heading for another sub-.500 finish.
Tuesday night, Spencerport showed swagger.
"Almost the entire practice last night we did all things in and around the box, all finishing," Etsler said. "Just because we haven't been finishing enough balls in and around the box. We did some combination play and just pumping balls on goal. We scored a million yesterday. It was nice that we got two of them. It's nice when something that you worked on in practice comes to fruition."
The midfield of Tristan Szczepanski, Max LaRosa and Greg Ranieri combined to move the ball in tight spaces with clean touches allowing the Rangers to possess the ball for lengthy stretches.
Then there was senior Ajan Rajamohan switching fields and keeping Thomas in retreat.
The shutout was the sixth over this recent stretch and eighth this season.
"We changed a few guys around," Etsler noted. "We made a few adjustments in the lineup, but it's just the kids working hard. I don't even keep track of the streak, honestly. I can't tell you how many shutouts we've had."
Szczepanski threaded a pass through the Thomas backline and caught Hockenberger in stride. Thomas goalkeeper Frank Fullone stopped the first attempt but couldn't corral the rebound. Hockenberger was there for the second-chance opportunity and an early advantage.
13' Justin Hockenberger takes advantage of a second chance opportunity on a Tristan Szczepanski lead to give @RangersBSoccer a 1-nil edge. pic.twitter.com/OtgE7qs06l

— Paul Gotham (@PickinSplinters) October 9, 2018

"Tristan played a good ball through," Hockenberger explained. "I just knew I had to beat the backline. I just played it and the goalie let it up. Just a quick finish."
Senior defender Robbie Streicher started a counter attack for the second goal when he redirected a Thomas cross. Hockenberger gathered the ball and led Ivan Valodzka along the right wing. Valodzka found Max LaRosa on the opposite side of the field for an insurance marker.
58' Max LaRosa gives @RangersBSoccer a 2-nil advantage. Waiting for Justin Hockenberger to run behind Ivan Valodzka to give us a soccer version of the 3-man weave. pic.twitter.com/53qkn2wNgY

— Paul Gotham (@PickinSplinters) October 10, 2018
"All year it's been working hard to get the ball, turning and trying to create chances,"Hockenberger explained. "As soon as I turned, I knew to dish it out to one of the wings, and they'll take care of it.
"Ivan was making a run along the side. As soon as he played it, I knew  it was going to Max and he was going to score."
The win was Spencerport's second over Thomas this season. The two teams met on September 20th when the Rangers won 2-1. Thomas scored its lone gal that night :14 into the contest. Tuesday night, the Titans Chris Riek had a point blank chance :10 into the game and another opportunity on the rebound.
Jadon Schlierf turned away both shots.
Kickoff: @RangersBSoccer at @ThomasTitans That's Jason Schlierf with two early saves. pic.twitter.com/2jtAWRur5O

— Paul Gotham (@PickinSplinters) October 9, 2018
"I couldn't believe it," Etsler said. "I'm like, what? Almost again? I think I would have subbed 11 guys if they scored. Ten seconds into the game, your keeper shouldn't have to make two big saves, but he did."
Section V announced on September 17th, that Classes A1 and A2 will combine. Churchville-Chili (13-2-0), Brighton (11-4-0), Greece Athena (7-4-3) and Greece Arcadia (7-4-3) were already lining up for a competitive bracket with Pittsford Sutherland (10-5-0) moving up from A2. The combining of the two brackets into one puts Wayne (12-1-1) into the middle of the fray. The Eagles have won 10 straight and beat Spencerport earlier in the season.