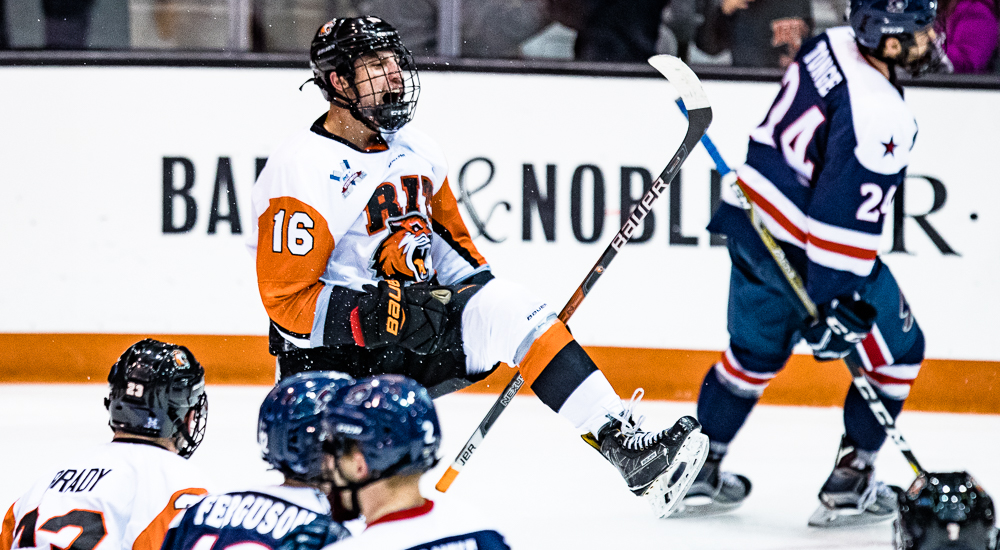 By KEVIN OKLOBZIJA
On the front of Erik Brown's hockey sweater it says RIT.
On the back is a bullseye.
That's the reward for finishing tied for second in the nation in goal-scoring as a junior in 2017-18.
Brown and his returning linemates, center Gabe Valenzuela and winger Abbott Girduckis, are ready for the responsibility that comes with being the target as the Tigers officially open the season this weekend at UMass-Lowell.
RIT isn't expected to be a power in the Atlantic Hockey Association. The league coaches picked the Tigers to finish seventh in the preseason poll.
Which is just fine with Brown and his teammates.
"Most people enjoy the underdog role," said Brown, who scored 29 goals and assisted on 13 last season. "Everybody in our dressing room has that mindset 'They picked us seventh, we're going to show you what we've got.' "
Atlantic Hockey already knows what the Tigers top line has, especially Brown. He's has scored 52 goals in his first three seasons, just three shy of RIT's Division I record held by Simon Lambert and Tyler Brenner.
At 6-foot-2, 201 pounds, the Keene, Ontario, native can establish net-front presence, adept at finding rebounds and can also play sniper. Valenzuela and Girduckis have been the perfect complement with the puck skills, puck pursuit and creativity.
"They'll probably be the top line in our league," said RIT coach Wayne Wilson, who is in his 20th season at the Tigers head coach. "The thing that makes that line special is they are very, very unselfish."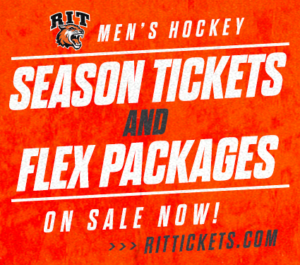 But Wilson is looking for more that just offensive production from Brown and Girduckis. They're his captains, and that "C" on the sweater carries responsibility.
"They are the rudder for our team," Wilson said. "As coaches, you can only say so much. The senior captains have to take over and deliver the message."
The Tigers top line is already familiar with the bullseye feel. They were the Tigers go-to unit last season and drew plenty of attention down the stretch.
That was especially true for Brown, who often had a defenseman fronting him or shadowing him.
"Definitely at times we did notice some teams putting a lot of stress on us," Brown said. "But if they're paying attention to you, it means there has to be open ice somewhere else."
RIT's season ended far too early last spring. After a sixth-place regular-season finish, the Tigers were bounced out of the AHA playoffs in the first round by Sacred Heart.
But standings showed how important every league game can be. Mercyhurst won the regular season title with 36 points, Canisius was second at 34 and then just eight points separated third-placed Holy Cross and Army (30 points) from last-place Sacred Heart (22 points) in the 11-team league.
"I don't think the top teams have changed that much," Wilson said, "but the bottom end of our league has really come up."
RIT's last AHA championship came in 2016. Under Wilson, the Tigers won regular-season titles in 2006-07, '08-09, '09-10 and '10-11, and playoff titles in 2009-10, '14-15 and '15-16. Every player that has played four years at RIT has won either a regular-season or overall AHA championship.
"We got ours as freshman," Brown said of the senior class, "but we're not settling with one."
First time on "home" ice
The annual Brick City Homecoming game at Blue Cross Arena at the War Memorial is Oct. 20. Colgate is the opponent for the 7:05 p.m. game.
The Tigers then spend the next two weekends in Pennsylvania (at Robert Morris Oct. 26-27, at Mercyhurst Nov. 2-3). They finally play at the Gene Polisseni Center on Nov. 9-10 vs. American International.