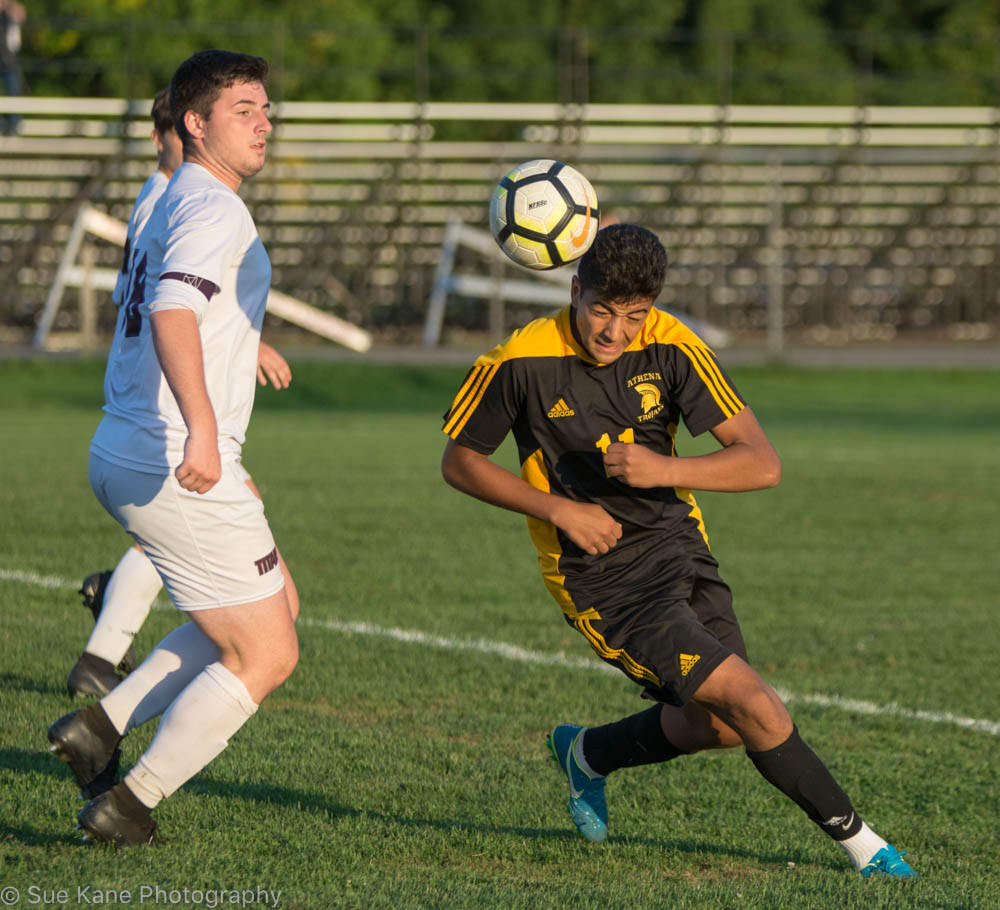 AQUINAS 0
GREECE ATHENA 7
Othman Belhseine scored two of his three goals in the first half as Athena (7-3-3) jumped to a 4-nil advantage after the first 40 minutes of play. Gavin Rice started the scoring in the first minute with an assist from Michael Tracey. Ryan Burns scored the fourth goal of the opening stanza. Dylan Rice scored two goals in the second half to go with two assists. Yakup Simsek added two assists. Brian Piendel also had a helper.
EAST ROCHESTER 0
WILLIAMSON 3
Justin Eaton netted a pair of first-half goals to lead Williamson (13-0-1/10-0-1) to a season sweep over their Wayne County rival. Luis Hurtado added a marker. Williamson (No. 2 NYSSWA Class C) led 3-nil at half. Josh Bailey, Hunter Byron and Adam Fisk had an assist apiece.
MARION 3
GANANDA 1
Andrew Gabbard scored the lone Gananda goal.
WELLSVILLE 0
BATH-HAVERLING 4
Austin Stratton and Alec Sestak both scored in the first half as Bath-Haverling (No. 1 NYSSWA Class B) jumped to a 2-nil advantage and cruised to their 14th win without any defeats on the season. Thomas Binkowski added a goal and an assist. Nick Strong also scored for the Rams. Sam Arnts and Keefer Calkins had an assist apiece.
PAL-MAC 2
LIVONIA 0
Nick Sapienza found the back of the net twice in the second half and Pal-Mac (11-3-0) won for the seventh time in their last games. Jake Gallina assisted on both goals.
WHEATLAND-CHILI 0
BYRON-BERGEN/ELBA 1
Greyson Huntington scored in the second minute, and Byron-Bergen/Elba (No. 16 NYSSWA Class C) held on for the season sweep in Livingston County-Geneses Region action. Kyle Foeller had an assist on the play.
SODUS 0
MYNDERSE 0
Sodus (7-5-2) is undefeated in its last four games.
KENDALL 0
NORTHSTAR CHRISTIAN 1
Joe Hinds netted the eventual game winner in the 13th minute. Kevin Anderson assisted on the play.
KESHEQUA 5
CUBA-RUSHFORD 2
Riley Rease netted a hat trick. Aidan Wood added two goals and an assist to lead Keshequa. Hudson Vasile had two assists. Reese Powers also had a helper.
HINSDALE 6
WHITESVILLE 2
Spencer Sklar scored four goals and had two assists to lead Hinsdale. Joshua Tuttle added two goals. Isaac Howell. Conner Phillips tallied twice in a losing effort.
FABIUS POMPEY 6
RED CREEK 0
HONEOYE 10
ROCHESTER ACADEMY CHARTER 0
Britton Schultz collected three goals and two assists to lead Honeoye. Austin Snyder scored twice. Sam Berger and Trent Schaff added a goal and two assists apiece. Ethan Ball had a goal and an assist. Chris Lopez and Joey Morsheimer had a goal apiece.