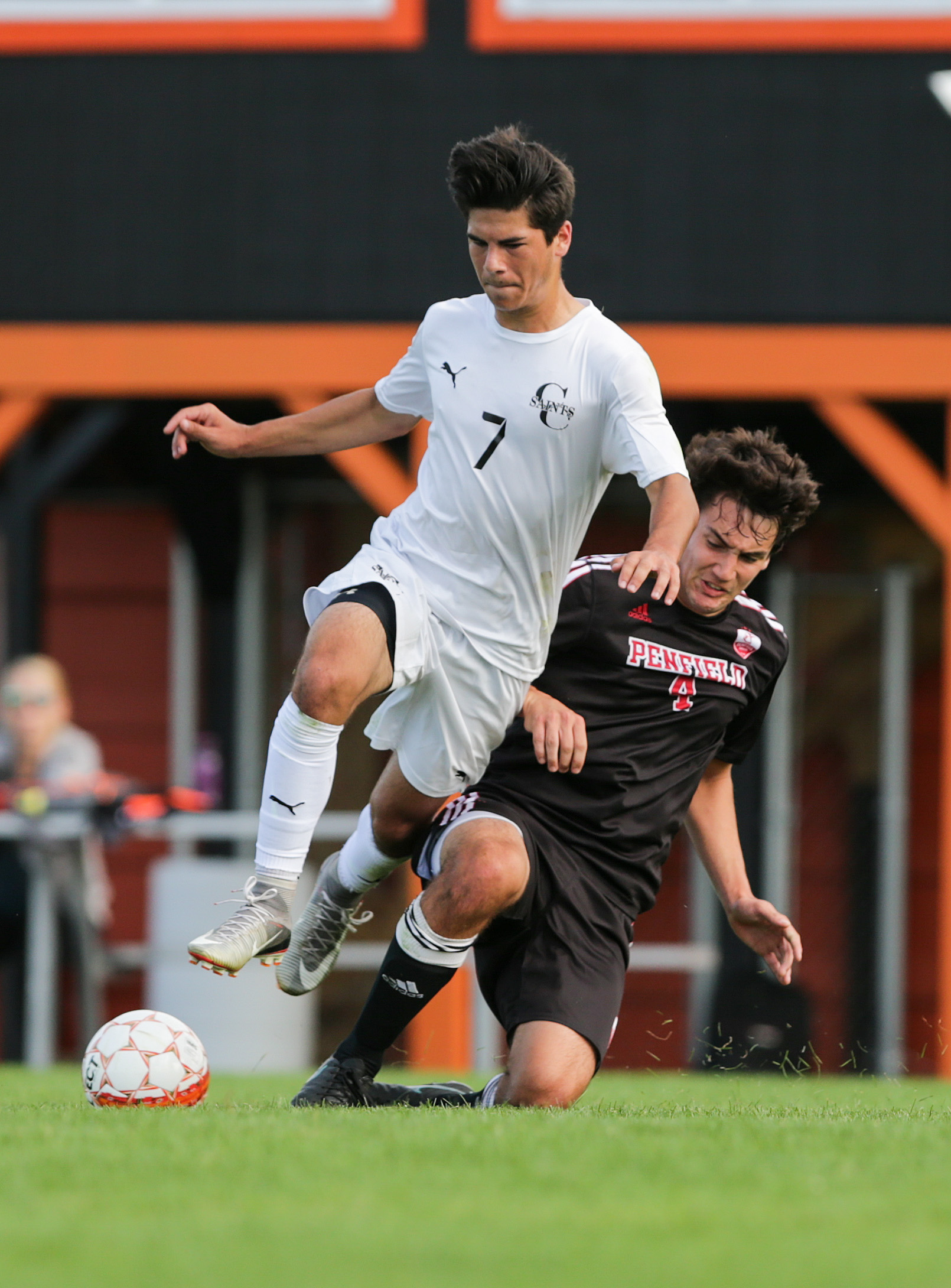 By PAUL GOTHAM
A half dozen Section V teams enter the final week of the regular season undefeated. Those six are part of 13 local squads earning spots in the October 8th NYSSWA poll.
Hilton (12-0-1), Bath-Haverling (14-0-0), Letchworth/Warsaw (12-0-2), Williamson (13-0-1), C.G. Finney (13-0-0) and Avoca (14-0-0) will all look to enter sectionals without a loss.
McQuaid and Wayne debuted in the state rankings for the first time this year while Churchville-Chili continued its roller coaster ride.
With wins over Brighton, Penfield and Victor, Hilton stayed at No. 5 Class AA. The Cadets clinched back-to-back Monroe County Division I titles for the first time in program history. Mike Ellicott's 11-man gang is outscoring opponents 30-7 on the season. They face stiff competition to end the regular season with a tilt at Fairport on Tuesday before ending the week at Irondequoit on Thursday and at Greece Arcadia to close the season on Friday.
Bath-Haverling defeated Hornell (1-0) and Livonia (4-0) to keep the top spot in Class B. With two games remaining, the Rams have outscored opponents 60-2. Matt Hill's squad plays at Dansville on Wednesday before ending the season against Mount Morris (No. 15 NYSSWA Class D).
VIEW MORE CHRISTOPHER CECERE PHOTOS HERE. 
Despite wins last week over Pavilion/York (7-0), Avon (1-0) and Wayland-Cohocton (4-1), Letchworth/Warsaw (12-0-2) dropped two spots to No. 14 Class B. They play at Attica on Wednesday before closing the regular season slate on Friday against Byron-Bergen/Elba (No. 16 NYSSWA Class C).
Williamson won its lone game last week over North Rose-Wolcott (5-2). The Marauders play at Gananda on Wednesday before hosting reigning Section V Class B champion World of Inquiry on Friday.
Finney moved up two spots in Class D to No. 2 with victories over Vertus (8-0) and Fillmore (3-0). The Falcons take to the road to finish the season with games at Northstar Christian and Bishop Kearney.
Avoca beat Bradford (2-1), Jasper-Troupsburg (4-3) and Prattsburgh (2-0) to keep the No. 12 spot in Class D. Avoca finishes against Hammondsport and Alfred-Almond.
With three wins last week, McQuaid (10-1-1) made it six straight triumphs and move into the Class AA rankings for the first time this year at No. 17. The reigning NYS champs play at RCAC rival Wilson Magnet on Tuesday in a rematch of an overtime game from earlier this season. The Jesuit Knights then play at World of Inquiry.
Wayne has won 10 straight. The Eagles vaulted to No. 14 Class A with victories last week over Pal-Mac (4-0), Mynderse (3-1) and Honeoye Falls-Lima (6-0).
Churchville-Chili took out its frustrations on Canandaigua last week. After dropping a 1-nil decision to Spencerport (a team that was undefeated in seven straight at that point), the Saints inexplicably plummeted from No. 8 to unranked week ago. John Mahoney's group responded with a 9-1 drubbing of Canandaigua – a game in which Mario Cozzo matched a program record with four goals. C-C (12-2-0) checks in a t No. 7 this week. They play at Gates-Chili before hosting Webster Schroeder to end the season.
Geneseo (11-3-0) dropped four spots to No. 20 Class C. Mount Morris (13-1-0) moved up one and Jasper-Troupsburg (12-1-1) two into a tie at No. 15 Class D.