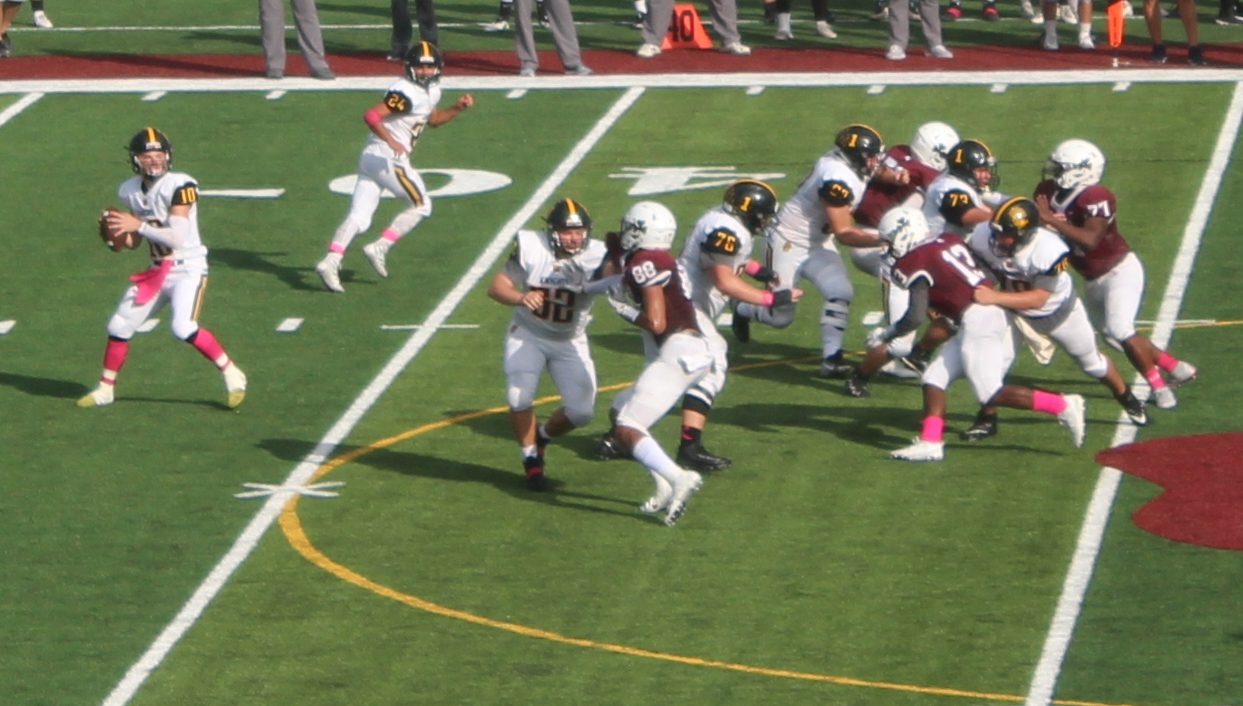 BY PAUL LIOTTI
The season wrapped up its penultimate weekend of the regular season, and teams have one last push to make a statement. Complete league standings are below.
In this weekend's action:
Monroe County
Eastridge clinches the MC 4 division; Canandaigua shuts out Victor and Irondequoit holds serve against Brighton to remain undefeated in MC3; Greece Arcadia loses its first game; Penfield gets its first win of the season with a late field goal.
RCAC
East's defense continues to shut down opponents, but McQuaid can't get by Aquinas – again. A huge showdown looms for the Eagles and Knights, as they square off for the RCAC title Friday night. Monroe levels record at 3-3.
Independents
HFL may be the hottest team in Section V, winning its 5th straight in upsetting undefeated Greece Arcadia; UPrep bounces back to improve record to 5-1; Aquinas set up to clinch top seed in AA.
Finger Lakes
Penn Yan's victory over Wayne and ER-Gananda's win puts the FL East in a tizzy as all three teams are 5-1 and each has a 1-1 record against each other. Mynderse shuts out Dundee to win the FL West crown.
Livingston County
The Batavia freight train just keeps gaining more steam and clinches Livington County 1; Letchworth/Warsaw clinches LC 2 with another strong defensive performance; Alexander shuts down ND-Batavia to win the LC4 crown.
8-Man
Oakfield Alabama/Elba is 4-0 and continues to drop 60+ points per game; Marcus Whitman avenges and early-season defeat at the hands of Holley.
A complete recap of all the games played this weekend:
MONROE COUNTY
GREECE ATHENA 7 (2-4)
HILTON 36 (No. 26 NYSSWA Class AA) (5-1)
If defense wins championship, the Hilton Cadets are dialing up all the right moves. READ MORE.
EASTRIDGE 32 (4-2)
SPENCERPORT 26 (0-6)
The Eastridge defense that stopped Spencerport on fourth down at the 5-yard line with less than :30 to play to secure a 32-26 victory in a back and forth game. The win secures Eastridge's Monroe County 4 title. But the way this one went you would have never guessed the hosts hadn't won this year. READ MORE.
VICTOR 0 (4-2/No. 9 NYSSWA Class A)
CANANDAIGUA 12 (6-0/No. 20 NYSSWA Class A)
In a showdown of Ontario County rivals, the Braves' Jack Johnston completed 8/12 passes for 112 yards and 2 TDs – one to Mitch Pfeiffer and one to Matt Vierhile — in the second quarter to keep the Braves undefeated. It was a defensive battle all night long as the Blue Devils held the Braves to 222 total yards of offense while Canandaigua held Victor to 232 yards; 104 of which came from Joey Pezzimenti on the ground. Backup QB James Knapp was 5/15 for 52 yards for Victor.
PENFIELD 13 (1-5)
RUSH-HENRIETTA 12 (1-5)
Patriot kicker Chris Barnett split the uprights with 1:37 left in the game to give Penfield its first win of the season. Wide receiver Javion Monroe had 6 catches for 141 yards and 1 TD and 1 INT on defense. Joey Cocozza had 9 1/2 tackles and a sack in the win.
IRONDEQUOIT 35 (6-0/No. 5 NYSSWA Class A)
BRIGHTON 14 (2-4)
Jimmy Clements led the Eagles on defense with 16 tackles and Jaden Turner had 21 carries for 82 yards and 2 catches for 42 yards and 2 TDs – one on the ground and one through the air to keep the Eagles flying and maintain their unblemished record.
PITTSFORD 16 (4-2)
GATES-CHILI 0 (2-4)
Wyatt Molinich hauled the ball 21 times for 115 yards and 1 TD as the Panthers locked down the Spartans, sending Gates-Chili to its third-straight loss. Since scoring 59 points against Leadership in Week 3, the Spartans have scored 0, 8, 0 points in their next three games, respectively.
FAIRPORT 34 (5-1)
GREECE OLYMPIA/ODYSSEY 12 (2-4)
Quarterback Mike Pellittiere carried the ball 8 times for 89 yards and 2 touchdowns and was 6-17 for 132 yards passing as Fairport defeated Greece Olympia/Odyssey 34-12, snapping Spartans 2-game winning streak. Running back Dante Coccia had 19 carries for 110 yards and a touchdown. Jair Ford and Klay Stuver each had 4 carries of their own as Ford rumbled for 52 yards and Stuver ran for 20 yards. Kaevon Rice chipped in with 2 carries for 13 yards. Wide receiver Jenks caught 5 passes for 122 yards and 2 touchdowns while Harmon had 1 catch for 10 yards. On defense, Andrew Copeland and Sam Eigen each had 2 sacks. Eigen also contributed six tackles. Onome Kessington and Cory Salera both had a sack while Andrew Pickett chipped in with a pick of his own.
CHURCHVILLE-CHILI 25 (0-6)
BROCKPORT 31 (3-3)
Brockport's Kyle Palka put on an offensive showcase by throwing four touchdown passes in the first half. Jose Solis caught three of the four touchdown passes and Dez McMillan caught the fourth. Brockport was held scoreless in the second half but were able to hold off Churchville-Chili late in the game to secure the win and send the Saints to their 6th loss of the season.
WEBSTER SCHROEDER 21 (3-3)
WEBSTER THOMAS 7 (2-4)
Schroeder gets bragging rights for another year, in a game that was 2 years in the making. The teams had not played since 2016.
RCAC
LEADERSHIP ACADEMY 6 (0-6)
EAST 32 (5-0)
East's defense continues to shut down its opponents. In 6 games this season the Eagles have allowed just 31 points (5.1 p/gm) and will play McQuaid for the RCAC title Friday. The loss is Leadership's 13th straight dating back to Week 1 in 2017.
We've had some incredible plays this year in @SectionVFB, but nothing quite like this TD return by @GoEastEagles Jr. @FreddieBrock6. 😲 And his teammates never stopped blocking! 💯👏. @EastEpo @coachflagsEAST @coachvannEAST @HSSportsBeat @PickinSplinters pic.twitter.com/UEM15bQEYi

— Varsity Media (@VarsityMedia) October 8, 2018
HIGHLIGHT COURTESY OF VARSITY MEDIA
EDISON/SWW 12 (1-5)
MONROE 42 (3-3)
Monroe evens its record at 3-3 and is alive for a Class B Sectional slot.
NON LEAGUE
MCQUAID 19 (5-1/No. 12 NYSSWA Class AA)
AQUINAS 22 (5-1/No. 8 NYSSWA Class AA)
Aquinas holds off late McQuaid rally, continues its dominance over the Knights. READ MORE
GREECE ARCADIA 14 (5-1)
HONEOYE FALLS-LIMA 26 (5-1)
Mason Ferrara gained 239 yards from scrimmage — 174 on the ground and 65 receiving – and scored 1 touchdown as the Cougars knocked Greece Arcadia from the ranks of the unbeaten.
WILSON 20 (3-3/No. 26 NYSSWA Class A)
UPREP 34 (5-1)
Surprising UPrep tops Wilson and hurts Wilson's chances to return to the Section V playoffs this year and defend its Class A crown.
BOLIVAR-RICHBURG 6 (1-5)
BISHOP KEARNEY/ROCHESTER PREP 26 (3-3)
Running back Nathan Carter carried the ball 26 times for 108 yards and 3 TDs as Bishop Kearney snapped its 2-game losing streak with a convincing 26-6 win over Bolivar-Richburg. Fellow running back Jawann Perry contributed 14 carries for 103 yards and a touchdown of his own. Wide receiver Kidtrell Blocker caught 4 passes for 62 yards. Quarterback Azavier Ross completed 8 passes in 13 attempts for 103 yards.
RED JACKET 6 (3-3)
WAYLAND-COHOCTON 62 (4-2)
Red Jacket's Logan Keifer raced 66 yards on the first play from scrimmage, but after that it was all Wayland-Cohocton who scored the 2nd-most points in a 11-man game in the Section this year. Hunter Fitzpatrick added 44 yards on the ground for the Indians.
CLYDE-SAVANNAH 14 (2-4)
THOMAS EDISON (III) 24
ST. MARYS 41 (1-4)
DANSVILLE 12 (3-3)
FINGER LAKES
WAYNE 21 (5-1/No. 10 NYSSWA Class B)
PENN YAN 49 (5-1/No. 19 NYSSWA Class C)
Penn Yan QB Will Rogers completed 28-of-36 passes for 465 yards and 6 scores to lead the Mustangs to a 49-21 over previously unbeaten Wayne. READ MORE
MIDLAKES 6 (0-6)
EAST ROCHESTER/GANANDA 40 (5-1/No. 15 NYSSWA Class C)
Jayden Castrechini rambled for 178 yards and 4 scores on just 13 carries as the Bombers cruised to the victory, sending Midlakes to its 11th straight loss dating back to last season.
DUNDEE 0 (3-3)
MYNDERSE 22 (4-2)
Mynderse's Trent Youngs had a touchdown run in the second quarter to give Mynderse the lead at the half. Thomas Santana had a rushing touchdown in the third and Kaleb Stenquist had added a passing touchdown to Darren Miller for Mynderse who snapped Dundee's 3-game winning streak and clinched the Finger Lakes East title.
NEWARK 13 (2-4)
GENEVA 12 (3-3)
A furious 4th quarter rally was capped with a 44-yard TD pass with 33 seconds left to lead the Reds to a stunning victory over Geneva. Matt Card's legs, hands and toe led the way.
Trailing 12-0 heading into the last stanza, Newark's Matt Card scored on a 23-yard pass from Nic Bernardi with 10:01 left in the game. Card then kicked the extra point. Then, with less than a minute remaining in the game, Card blocked a Geneva punt setting the Reds up on the Geneva 44-yard line. He scored on the very next play making a one-handed grab 44 yard TD pass from from Bernardi to seal the game. Card then kicked the ball through the endzone on the kickoff preventing any return.
But Geneva was not done and marched down the field and where in scoring position when Newark's Devin Agosto intercepted a pass in the end zone on the last play of the game to secure the game.
The Reds were led by senior LB Aidian Elliott who had 13 tackles, 1 sack, 2 tackles for a loss, 1 pass break up and 1 hurry. Billy VanDusen- Senior DT- made 9 tackles 2 of which were Tackles for a loss. Also on defense, the Reds intercepted Geneva 2 times in the fourth quarter – including a
PALMYRA-MACEDON 14 (1-5)
WATERLOO 22 (3-3)
LYONS/Sodus 28 (3-3)
SOUTH SENECA/ROMULUS/TRUMANSBURG 22 (1-5)
LIVINGSTON COUNTY
BATAVIA 61 (6-0/No. 8 NYSSWA Class B)
WELLSVILLE 7 (1-5)
Batavia Ray Leach touched the ball 5 times and scored 4 TDs as the Blue Devils rolled to the 3rd-highest point total in 11-man football in the Section this year. Leach rushed 4 times for 141 yards and had 3 TDs and had 1 catch for 58 yards that went to the house. Batavia QB Ethan Biscaro accounted for 194 total yards on 6-of-7 passing and 3 TDs and 2 carries for 77 yards and 1 TD.
LIVONIA 33 (5-1/No. 18 NYSSWA Class B)
CALEDONIA MUMFORD/BYRON-BERGEN 20 (2-4)
Livonia trailed at the half, but thanks to an 18-point third quarter, were able to pull off a victory on the road. Livonia's Jalen Marshall ran for three touchdowns. Marcus Lewis and Joel Smith each had one. Caledonia Mumford/Byron-Bergen's Joe Laursen had a rushing touchdown and added a passing touchdown to Ethan Pies.
YORK/PAVILION 48 (3-3)
GENESEO 8 (3-3)
A strong offensive performance leads to a convincing victory for York/Pavilion against its rival Geneseo. York/Pavilion's Sebastian Hackett had 13 carries for 82 yards and 4 TDs – 2 rushing, 1 receiving and one on an INT return. Nate Swede had 17 carries for 81 yards and two touchdowns. James Kennedy also added a touchdown on the ground. Matt McFarland went three of eight for 25 yards and a passing touchdown. Y/Ps defense held Geneseo to just 111 total yards – 27 rushing and 84 passing – with Colby Tilltson (8 tackles/3 sacks) and Keith Muckle (8 tackles/1 sack) leading the way. Geneseo's defense turned in a fine performance limiting Y/P to just 232 yards, but York/Pavilion made the most of its offensive opportunities.
NOTRE DAME OF BATAVIA 6 (3-2)
ALEXANDER 26 (6-0/No. 2 NYSSWA Class D)
Alexander's Terrez Smith had 20 carries for 208 yards and four touchdowns filling in for injuryed Clint McClinic. Dylan Busch had 3 carries for 62 yards. Jed Reece had the only score for Notre Dame on a TD run. The win clinches the Livingston County 4 title for the Trojans and puts them in the driver's seat for the top slot in Class D Sectionals.
AVON 14 (1-5)
ATTICA 58 (4-2)
Attica's Mason Compton led the team with 172 yards rushing and 3 TDs. Zachary Strzelec, while Luke Krawczyk, Parker Wildey, Edward Strzelec, and Marco Magarelli each added a rushing TD of their own. Mitchell Cook went 2-for-4 passing with a TD that was hauled in by Dawson Nelson.
HORNELL 14 (3-3)
LETCHWORTH/WARSAW 35 (5-1)
L/W did allow more than one score, but it wasn't enough as the offense turned up the heat against the Red Raiders. In the 5 wins this season, Letsaw has allowed just 27 points.
PERRY/MT. MORRIS 30 (4-2)
CUBA-RUSHFORD 14 (1-5)
Perry/Mt. Morris' victory sets up a showdown with Alexander. A win by Perry/MM would give it a home-field game in the upcoming Sectional playoffs.
LEROY 27 (3-3)
HAVERLING 8 (1-5)
Jake Hill completed 9 of 14 passes for 189 yards and 4 TDs, and Reece Tresco had 179 yards from scrimmage and all 4 TD receptions in the win.
PEMBROKE 14 (2-4)
CANISTEO-GREENWOOD 48 (4-2)
8-MAN
OAKFIELD-ALABAMA/ELBA 68 (4-0)
C.G. FINNEY/NORTHSTAR ACADEMY 22 (1-3)
OAE topped the 60-point mark for the third consecutive game, running roughshod over Finney/Northstar. In those three games, the Hornets' average margin of victory is 64-21. Ty Mott led the way for Oakfield-Alabama/Elba with 8 carries for 150 yards and 2 TDs. Maalik Thomas had 25 rushes for 219 yards and 2 scores.
HOLLEY 6 (1-3)
MARCUS WHITMAN 54 (2-2)
Dylan Howell 216 yards/5 TDs) and Austin Smith (159/2 TDs) combined for 374 yards rushing and 7 TDs for the Wildcats, who avenged an opening-game defeat, shutting down Holley in all phases of the game. MW lost earlier this season 58-52.
Monroe County 1
Div
CL
GP
W
L
W
L
PF
PA
Strk
Fairport *
MC1
AA
6
5
1
5
1
152
59
2
Hilton
MC1
AA
6
5
1
5
1
158
67
5
Webster Schroeder
MC1
A
6
3
3
3
3
117
111
1
Penfield *
MC1
AA
6
1
4
1
5
108
186
1
Rush Henrietta
MC1
AA
6
1
5
1
5
115
157
-5
Monroe County 2
Div
CL
GP
W
L
W
L
PF
PA
Strk
Victor *
MC2
A
6
4
2
4
2
147
70
-1
Pittsford
MC2
AA
6
4
2
4
2
89
95
4
Gates-Chili
MC2
A
6
1
4
2
4
132
151
1
Webster Thomas
MC2
A
6
2
4
2
4
62
128
-3
Churchville-Chili
MC2
A
6
0
6
0
6
71
165
-6
Monroe County 3
Div
CL
GP
W
L
W
L
PF
PA
Strk
Canandaigua
MC3
A
6
6
0
6
0
198
58
6
Irondequoit
MC3
A
6
6
0
6
0
203
86
6
Greece Arcadia
MC3
A
6
5
1
5
1
158
102
-1
Brighton
MC3
A
6
2
3
2
4
101
142
-1
Spencerport
MC3
A
6
0
6
0
6
107
223
-6
Monroe County 4
Div
CL
GP
W
L
W
L
PF
PA
Strk
Eastridge +
MC4
A
6
4
2
4
2
181
138
3
Brockport
MC4
A
6
3
3
3
3
124
126
1
Greece Athena
MC4
A
6
2
4
2
4
91
172
-3
Greece Olympia
MC4
A
6
1
4
2
4
118
183
-1
RCAC
Div
CL
GP
W
L
W
L
PF
PA
Strk
East
RCAC
A
6
5
0
6
0
170
31
6
McQuaid Jesuit
RCAC
AA
6
3
0
5
1
227
146
-1
Wilson *
RCAC
A
6
2
2
3
3
185
92
-3
Monroe
RCAC
B
6
2
2
3
3
122
123
1
Edison/SWW
RCAC
AA
6
1
3
1
5
59
201
-4
Leadership/NE/NW
RCAC
AA
6
0
5
0
6
60
202
-6
Independents
Div
CL
GP
W
L
W
L
PF
PA
Strk
Aquinas
IND
AA
6
 –
 –
5
1
224
129
1
Honeoye Falls-Lima
IND
B
6
 –
 –
5
1
120
100
5
University Prep
IND
B
6
 –
 –
5
1
170
84
1
Bishop Kearney/Roc Prep
IND
C
6
 –
 –
3
3
96
159
1
Finger Lakes East
Div
CL
GP
W
L
W
L
PF
PA
Strk
E.Rochester/Gananda ±
FLE
C
6
5
1
5
1
223
152
5
Penn Yan ±
FLE
C
6
5
1
5
1
234
174
3
Wayne ±
FLE
B
6
5
1
5
1
248
143
-1
Waterloo *
FLE
C
6
3
3
3
3
162
163
1
Newark
FLE
B
6
3
3
3
3
151
112
1
Geneva
FLE
B
6
2
4
2
4
158
123
-3
Pal-Mac
FLE
B
6
1
5
1
5
66
191
-1
Midlakes
FLE
B
6
0
6
0
6
43
227
-6
Finger Lakes West
Div
CL
GP
W
L
W
L
PF
PA
Strk
Mynderse +
FLW
C
6
4
2
4
2
182
108
1
Dundee *
FLW
D
6
3
2
3
3
94
114
-1
Red Jacket
FLW
D
6
3
3
3
3
162
182
-2
Lyons/Sodus
FLW
D
6
2
2
3
3
142
152
2
Clyde-Savannah
FLW
D
6
2
2
2
4
136
150
-4
S.Seneca/Romulus/Trum
FLW
C
6
0
5
1
5
84
142
-2
Livingston County 1
Div
CL
GP
W
L
W
L
PF
PA
Strk
Batavia +
LC1
B
6
5
0
6
0
265
67
6
Livonia
LC1
B
6
4
1
5
1
162
111
-1
Dansville
LC1
C
6
2
0
3
3
92
142
-1
Hornell
LC1
B
6
3
3
3
3
126
121
-1
Bath
LC1
C
6
1
5
1
5
72
201
-3
Wellsville
LC1
C
6
1
5
1
5
43
213
-4
Livingston County 2
Div
CL
GP
W
L
W
L
PF
PA
Strk
Letchworth/Warsaw +
LC2
C
6
5
1
5
1
133
67
3
Wayland Cohocton
LC2
C
6
4
2
4
2
197
95
2
LeRoy
LC2
C
6
3
3
3
3
124
96
1
Cal-Mum/Byron-Bergen
LC2
C
6
1
4
2
4
94
116
-1
Avon
LC2
C
6
1
5
1
5
140
192
-2
Livingston County 3
Div
CL
GP
W
L
W
L
PF
PA
Strk
Canisteo/Greenwood *
LC3
D
6
4
1
4
2
149
95
4
Perry/Mt. Morris
LC3
D
6
3
2
4
2
154
107
-2
York/Pavilion *
LC3
D
6
3
3
3
3
170
137
2
Geneseo
LC3
D
6
3
3
3
3
116
241
-1
Bolivar-Richburg *
LC3
D
6
1
5
1
5
90
168
-5
Cuba-Rushford
LC3
D
6
1
4
1
5
62
181
1
Livingston County 4
Div
CL
GP
W
L
W
L
PF
PA
Strk
Alexander +
LC4
D
6
4
0
6
0
282
47
6
Attica
LC4
C
6
2
2
4
2
138
89
1
Notre Dame-Batavia
LC4
D
5
3
2
3
2
105
70
-2
Pembroke
LC4
D
6
2
3
2
4
99
182
-1
8-Man
Div
CL
GP
W
L
W
L
PF
PA
Strk
Oakfield/Elba
8M
 –
4
 –
 –
4
0
242
88
4
Marcus Whitman
8M
 –
4
 –
 –
2
2
196
160
2
CG Finney/Northstar *
8M
 –
4
 –
 –
1
3
134
198
-2
Holley
8M
 –
4
 –
 –
1
3
92
218
-2
 + Clinched division
 ± –  3-way tie; 1-1 with other teams
 *  – Won head-to-head match up