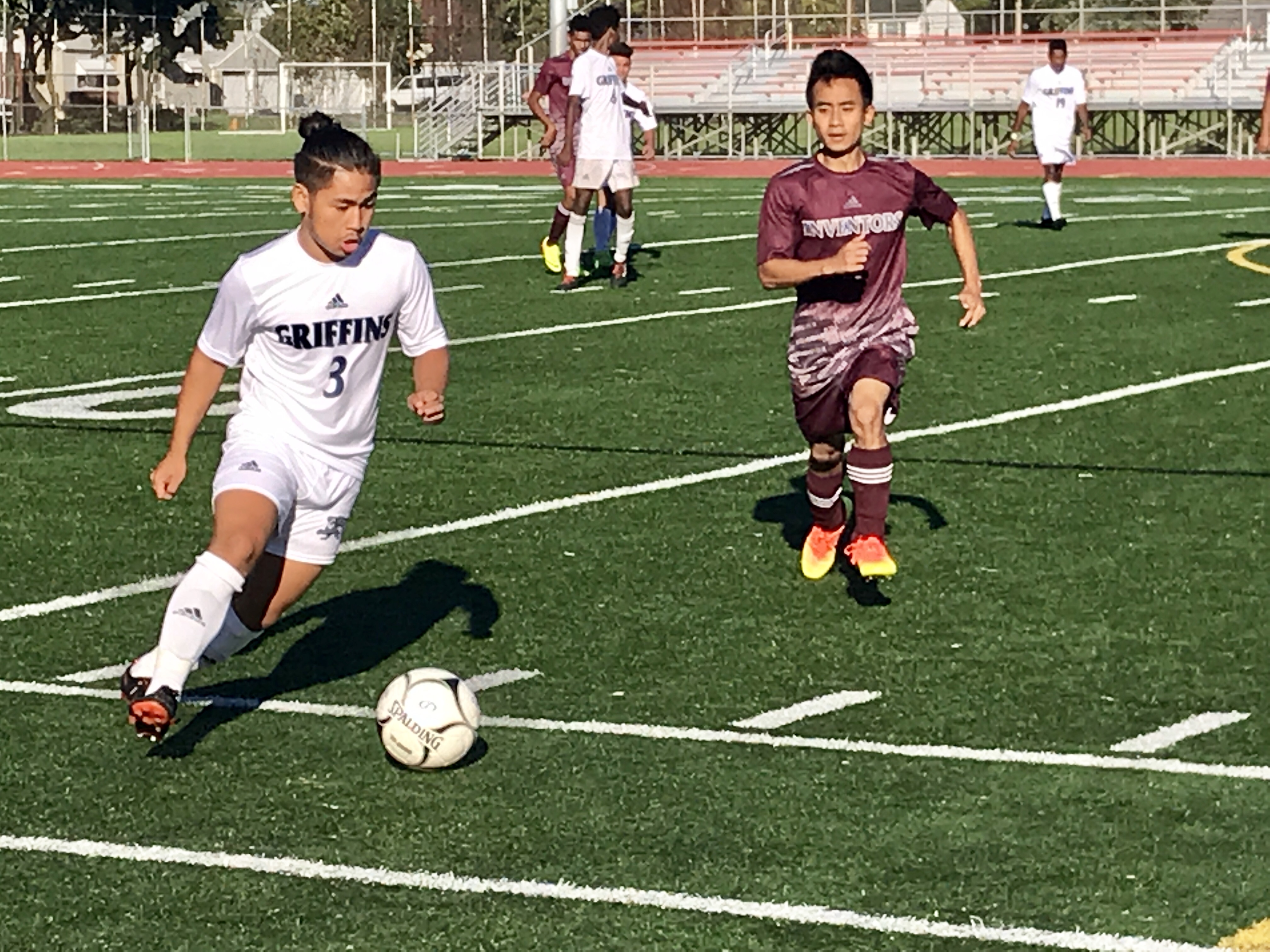 By PAUL GOTHAM
ROCHESTER, N.Y. — Rey Arizmendi finished with a goal, an assist and set up another. Mabrook Saleh found back of the net twice, and Edison Tech came from behind to complete a season sweep with a 4-3 win over World of Inquiry in RCAC action at  Trent Jackson Athletic Complex, Thursday.
"We're having one heckuva year," Edison head coach AJ Maio said after his squad's sixth straight win. "We didn't play as crisp as I would have liked, but that's the way it happened. We dug ourselves an early hole and battled back."
Arizmendi leveled the match in the closing moments of the first half.
With the Inventors trailing 2-1, Esam Saleh's bicycle kick attempt went long and Arizmendi was there for the finish.
"The near-post run, I was supposed to make it," he explained "But I saw my teammate get it. So I just went to the back. I thought he was going to take a shot. It was off goal. I saw it late and finished with my left foot."
39' Rey Arizmendi takes the bicycle feed from Esam Saleh and levels the match. World of Inquiry 2 Edison Tech 2 pic.twitter.com/Y29aNLh2LQ

— Paul Gotham (@PickinSplinters) October 4, 2018
Saleh scored twice in the opening moments of the second half.
"It's a very good felling beating them twice," Saleh said of the reigning Section V Class B champions who advanced to NYS Class C finals in 2016. "I remember all the players they had on that team that went to the states. To beat them twice in one season feels good."
Saleh combined with Malik Musa less than two minutes into the second stanza to give Edison (9-2-2/5-1-0) its first lead of the game. The duo has scored 23 of Edison's 41 goals on the season.
"They have that confidence," Maio said of his senior midfield tandem. "They possess the ball. The ball is always on their foot. They do a good job of finding each other and settling everybody down."
Fourteen minutes later, Arizmendi was taken down in the box. Saleh converted the subsequent penalty kick.
"We worked hard," Saleh said of the win. "On defense we played as a team. That made the difference."
Joe Mohamed gave World of Inquiry (6-6-0/4-3-0) an early lead. Yusuf Jeylani intercepted a clearing attempt and fed Mohamed who connected from 25 yards out for a 1-nil advantage in the 11th minute.
11' Joe Mohamed takes advantage of a second-chance opportunity to give World of Inquiry a 1-0 lead over Edison Tech. pic.twitter.com/PFYdAbBGXS

— Paul Gotham (@PickinSplinters) October 4, 2018
Less than two minutes later, Arizmendi fed Punjan Rai for the equalizer.
Jeylani weaved his way through a trio of Edison defenders to set up a left-footed strike for a 2-1 WOI edge with 6:11 to go in the half.
34' Yusuf Jeylani gives World of Inquiry a 2-1 edge. pic.twitter.com/bEXqTiSERL

— Paul Gotham (@PickinSplinters) October 4, 2018
WOI's Emmanuel Nsengiyumva converted a penalty kick with 18:48 left on the clock for the final margin.
"I didn't think this could happen," Arizmendi said of the second win over World of Inquiry. "I can see the scoreboard now. I'm happy."
Edison finishes their season with games agains SOTA/NE Douglass next Tuesday and Wilson Magnet on Thursday. Edison started their streak on September 18th in the first meeting of the two teams. On that day, the Inventors won 6-3. Since then they have wins over SOTA/NE Douglass (1-0), Webster Thomas (3-2), Wilson Magnet (3-0), and Gates-Chili (4-1).
This Weekend! @ldelyser #ChloeDeLyser plus #McQuaidInvitational @BrightonXCTF @GreeceArcadia @BrockportTrack & @PickinSplinters @dyates66 ONLY on @13WHAM pic.twitter.com/6FuWG7EDVx

— HS Sports Beat (@HSSportsBeat) October 5, 2018
WOI plays at Lackawanna (VI) on Saturday in a rematch of last season's NYS Class Far West Regional. The Griffins host East next Tuesday and McQuaid on Thursday before finishing their season at Williamson (No. 2 NYSSWA Class C) on Friday.