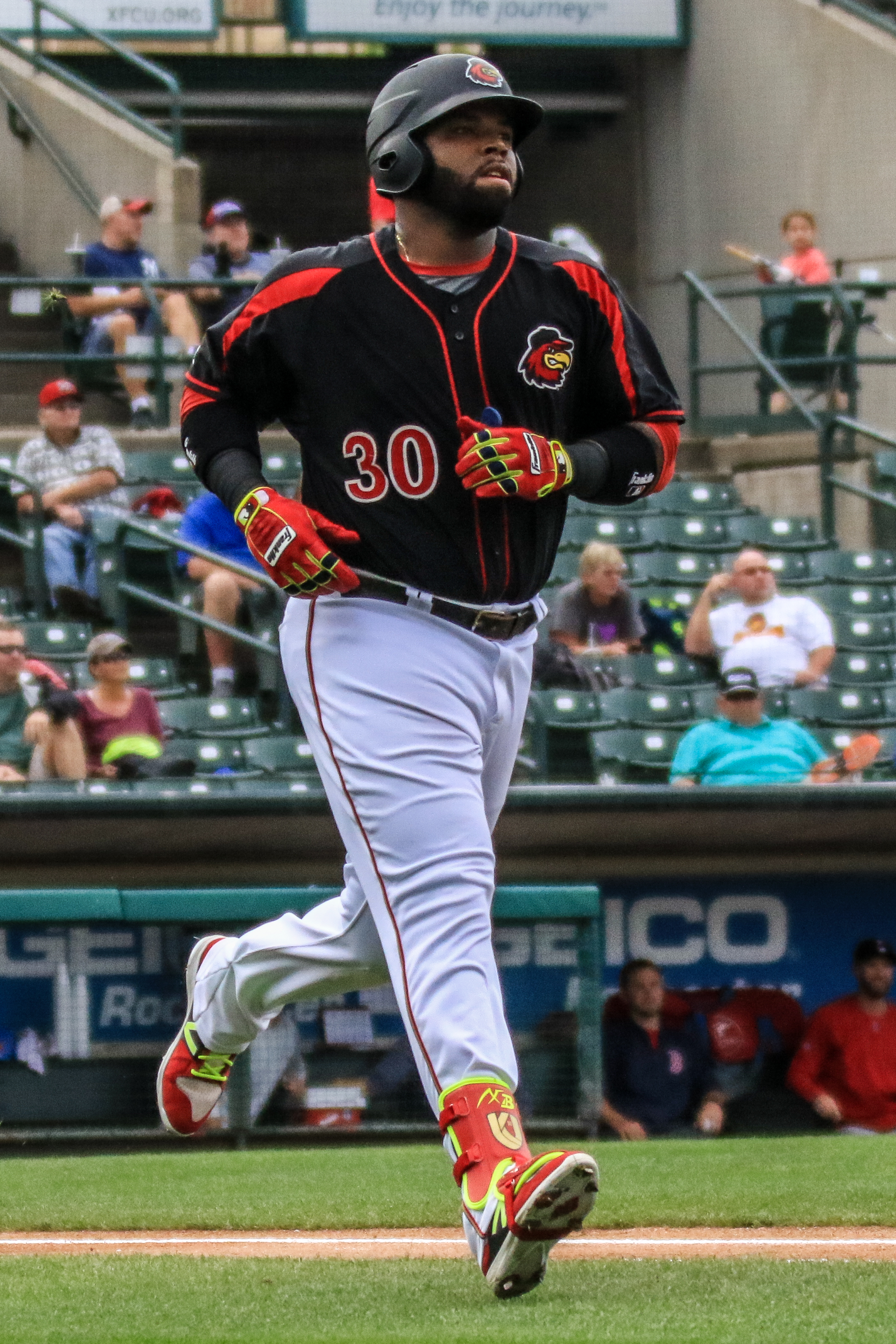 By KEVIN OKLOBZIJA
The real Kennys Vargas has returned to the Rochester Red Wings.
That impostor who was wearing No. 3o the first four months, yeah, he left the building.
The power-hitter who was a constant threat for the Red Wings the previous 2 1/2 seasons — and even for the Minnesota Twins in 2016 and 2017 — is once again anchoring the Rochester lineup.
OK, it's a little late for him to carry the team into playoff contention. The club's season-long woeful hitting — the likes of which the International League has rarely seen in the past four decades — had taken too large of a toll by mid-July. They're just 57-70.
But it's not too late for Vargas to show his big bat should still be feared, that while the Twins lopped him off the 40-man roster in March, he might still help another team in 2019.
"I put in my mind I want to finish strong this season," he said Wednesday night following a 7-2 loss to the Pawtucket Red Sox at Frontier Field, when he went 2-for-3 and drove in both runs.
For the switch-hitting Vargas, that pushed his average up to .233, a significant (considering it's August) climb of 21 points over the past 14 games. He is 20-for-51 over that span with seven home runs and 21 RBI.
Yet he wasn't taking all the credit for the hot streak, which shows 1) modesty, 2) professionalism, and 3) realism.
"The pitchers, they're starting to get a little tired, all the pitchers," Vargas said. "It's late in the season and everybody's a little tired and they make more mistakes."
Of course, you still have to hit those mistakes, and Vargas has done that. He mashed a Josh D. Smith mistake 470 feet — with an exit velocity of 117 mph —on Tuesday night. The blast was his 20th home of the season, second most in the International League.
"You can see the damage he can do when he squares one up," Wings Manager Joel Skinner said.
The problem for much of the summer is that he didn't square up a baseball on the bat barrel nearly enough.
"I was swinging at too many (bad) pitches," he said. "Now I'm hitting the pitch I want to hit."
Part of that process is related to confidence. He clearly didn't have much for long stretches of the season. Maybe that was related to coming off the 40-man roster.
"That was on my mind early in the season," Vargas said. "But you have to play baseball; those things I can't control."
This is a guy who homered 10 times in 152 official at-bats for the Twins in 2016, hitting .233. He hit 11 homers in 241 at-bats in 2017, when he hit .253.
His swing has been reborn this month. Skinner said part of the success is a byproduct of using the entire field, especially when he's hitting left-handed.
A revival of confidence plays into the equation as well. For a guy who always finds a reason to smile, he wasn't all that happy in June and July.
"I think it's managing your frustration more than anything; embracing the struggle," Skinner said. "In 10 at-bats, you're only talking about one hit. You get three hits, that's .300. You get two hits, you're at .200. So which one of those eight at-bats are you trying to figure out?"