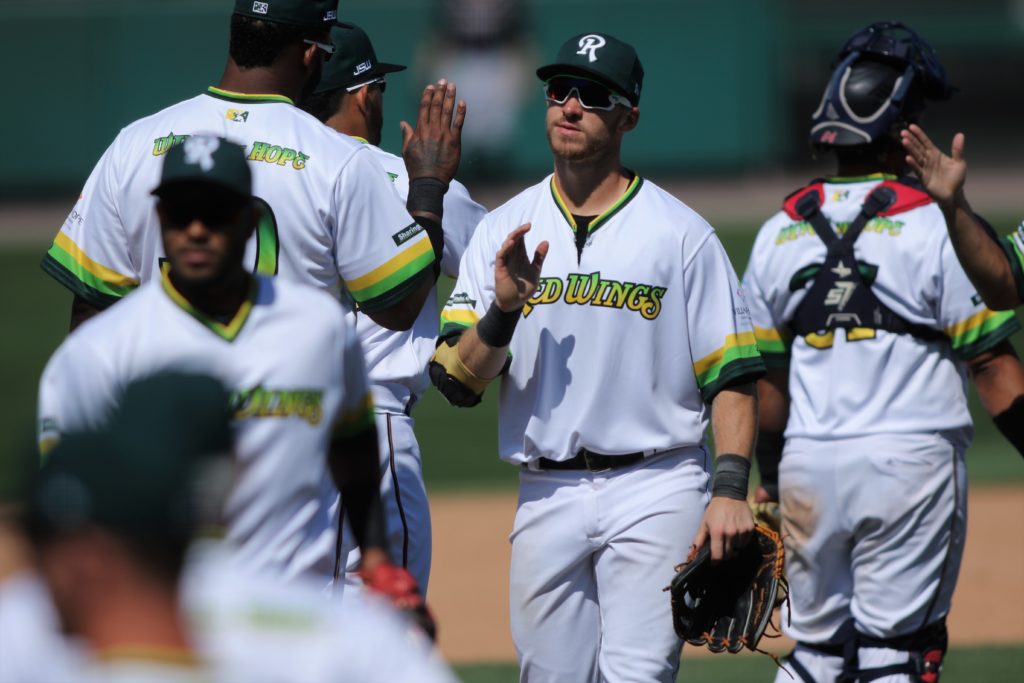 By KEVIN OKLOBZIJA
If it was possible to plot a path to professional baseball with a GPS device, Jon Kemmer still wouldn't be playing for the Rochester Red Wings.
Garmin couldn't have pointed the way to MLB. Tom Tom could not have done so either. Even Google Maps wouldn't have directed Kemmer from tiny Shippenville, Pa., — population 449 in the 2016 census — to the Houston Astros organization and now the Minnesota Twins system.
Yet here he is, somehow taking one of the most unlikely itineraries ever to a job in Triple-A baseball.
And on Sunday he delivered one of his biggest hits since joining the Red Wings, delivering a two-out single to beat the shift and drive home Nick Gordon with the go-ahead run in the sixth inning as Rochester defeated the Charlotte Knights 3-2 at Frontier Field.
That Kemmer is even playing pro ball seems a little unlikely, considering he grew up in the rural Pennsylvania and attended some colleges that aren't known for first-round draft picks.
The next time the U.S. Marshals needs to find a fugitive, they should call a baseball scout. Those guys can find anyone.
"I took the tough way," Kemmer said.
No kidding. First, he played high school baseball for Clarion Area High School and summer ball for the American Legion team that no longer exists because there aren't enough kids.
VIEW MORE JOE TERRITO PHOTOS HERE. 
He had a solid performance in the high school state tournament as a senior in 2009, catching the eye of a scout from the Chicago White Sox.
"I talked to more pro scouts than college scouts," he said. "No colleges were coming to watch Clarion High School."
The pros never drafted him out of high school, however, so off to Allegany College of Maryland, a junior college in Cumberland, Md., for two years.
Then it was back home for a year at Clarion University, followed by a summer playing for the Olean Oilers in the New York Collegiate Baseball League (and earning MVP honors), before a final year of collegiate ball at Brewton-Parker College, an NAIA school in Mt. Vernon, Ga.
"There were about 700 kids in the whole school," Kemmer said.
This definitely wasn't the six-lane expressway to baseball's big-time bonus money. This was the cut-the-brush and portage-the-stream to the meandering dirt byway to rookie ball.
"I stayed off the beaten path," he said.
But the Astros saw him. And liked him, drafting him on the 21st round in 2013. He worked his way to Triple-A Fresno by his fourth season, played there again last year and started this season with the Grizzlies before he was acquired by the Twins for cash on July 6.
"I've got nothing but good things to say about the Astros, they treated me well and allowed me to develop," Kemmer said.
Now the Twins want to see what he can do. The corner outfielder is hitting .186 in 23 games for the Wings with two home runs and 11 RBI.
"You kind of step in and do your job," Kemmer said of joining a new organization. "You play defense and hopefully get some hits here and there."
Kemmer's was the second of two clutch hits for the Wings, both by outfielders acquired in July. Jeremy Hazelbaker belted a two-run, two-out homer in the fifth to give the Wings a 2-1 lead. It came after a walk to Andy Wilkins. That ended a streak of 15 consecutive scoreless innings by the Wings, who were blanked 8-0 by Charlotte on Saturday night.
Proof, once again, that walks do haunt.
"They find a way of scoring," Wings manager Joel Skinner said. "Jeremy hitting that home run really picked us up."
The Knights tied the score on a home run by Jose Rondon off Zack Littell in the top of the sixth but Kemmer retaliated in the bottom half of the inning.
Littell allowed five hits, two runs and one walk while striking out seven in his six innings. Jake Reed worked two scoreless innings before Alan Busenitz pitched a 1-2-3, two-strikeout ninth for his seventh save.
NOTES: The Wings welcomed their 10 millionth fan to baseball at Frontier Field during the game. Kaitlin Clementi of Greece was determined to be No. 10,000,000 since baseball began in the downtown ball park in 1997.