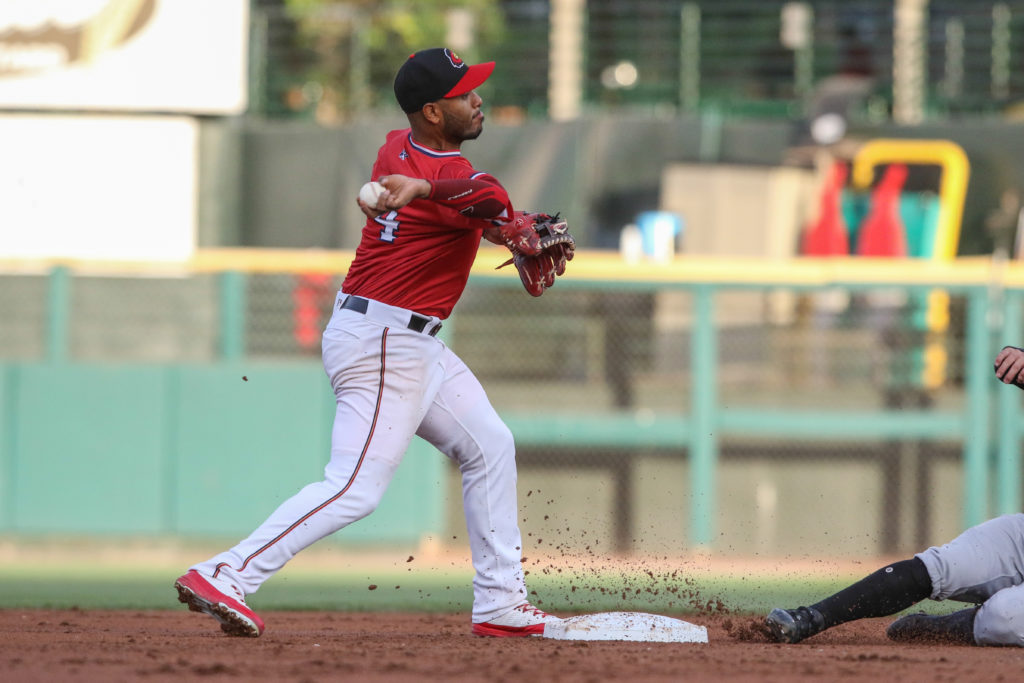 By BILLY HEYEN
ROCHESTER, N.Y. — When a reporter mentioned to Red Wings manager Joel Skinner postgame that if the second and third innings hadn't happened, Rochester would've won, he put his head in his right hand. The reporter chuckled, and said, "Can't do that."
"No you can't," Skinner replied.
It's true that Rochester outscored Charlotte across the game's other seven innings on Friday night at Frontier Field. But across the second and the third, the Knights scored eight runs, enough to pull away and stay ahead in an 8-2 win over Rochester. The Wings were forced to rely on the bullpen as scheduled starter Kohl Stewart was scratched to keep him in the mix to pitch for Minnesota, and the early bullpen workers got shelled.
"That's Triple-A baseball," Skinner said of the tough situation. "It's nothing new. It's just something that you have to go through, and we did that tonight."
Rochester's D.J. Baxendale, activated Friday from the disabled list, made the start and worked a 1-2-3 first inning. But in the second, he faced three batters, all of whom got hits. Jose Rondon led off with a single, and Matt Skole followed with another knock. Then Seby Zavala hit a ground-rule double to right center to score the game's first run. Skinner went to Luke Bard out of the pen at that point, and he proceeded to allow four more runs to score in the inning, albeit two unearned after an error by Andy Wilkins at first base.
The Knights tacked on three more runs in the third. Rondon led the third off as well with a hit, this time an estimated-385 foot home run into the left-field bullpen. Then Zavala singled and Jake Elmore doubled. Charlie Tilson delivered with a two run single with two outs to get the Knights to the "crooked number," the symmetrical 8 on the scoreboard.
From there, finishing the game seemed not much more than a formality. Rochester was able to get two runs back in the fifth inning, courtesy of a single from Edgar Corcino, walk from Jordan Pacheco, single from Nick Gordon and Willians Astudillo extending the inning via Charlotte error.
But that was all Rochester could muster against Knights' starter Jordan Guerrero. The 6-foot-3 lefty pitched six innings and struck out seven. That lowered his Charlotte ERA to 2.66. Even when Rochester put the ball in play, nothing was hit especially hard and the ball just wouldn't carry.
A lone bright spot remained for the Red Wings: reliever John Curtiss. After allowing a 109-mile per hour double to Eloy Jimenez to start the sixth, Curtiss retired the next nine batters he faced.
"It's a situation where you're also trying to make sure to be as efficient as possible," Skinner said, "and John really picked us up tonight."
Rochester used five relievers on Friday. Three of them didn't allow runs, but two did, and the night after the Red Wings scored 14 and won by 11, there just weren't enough runs in the cards in the series opener with Charlotte. Fernando Romero starts for the Wings on Saturday, and after he threw eight innings his last time out, Rochester will need him to pick up a bunch of innings again to save the bullpen that just fired all nine against Charlotte.
The loss guaranteed Rochester a losing record at home in 2018. Sometimes after wins, players sit in the clubhouse and relish in loud music for a while before heading home. Friday, most of the Red Wings hustled out of the clubhouse quickly. An Elvis-impersonator performing under fireworks was the only music at Frontier Field after Rochester's 63rd loss of the season.
Curtiss ended with one short thought before he, too, rushed home.
"You win some. You lose some," Curtiss said. "It's tough. Hopefully we win tomorrow."