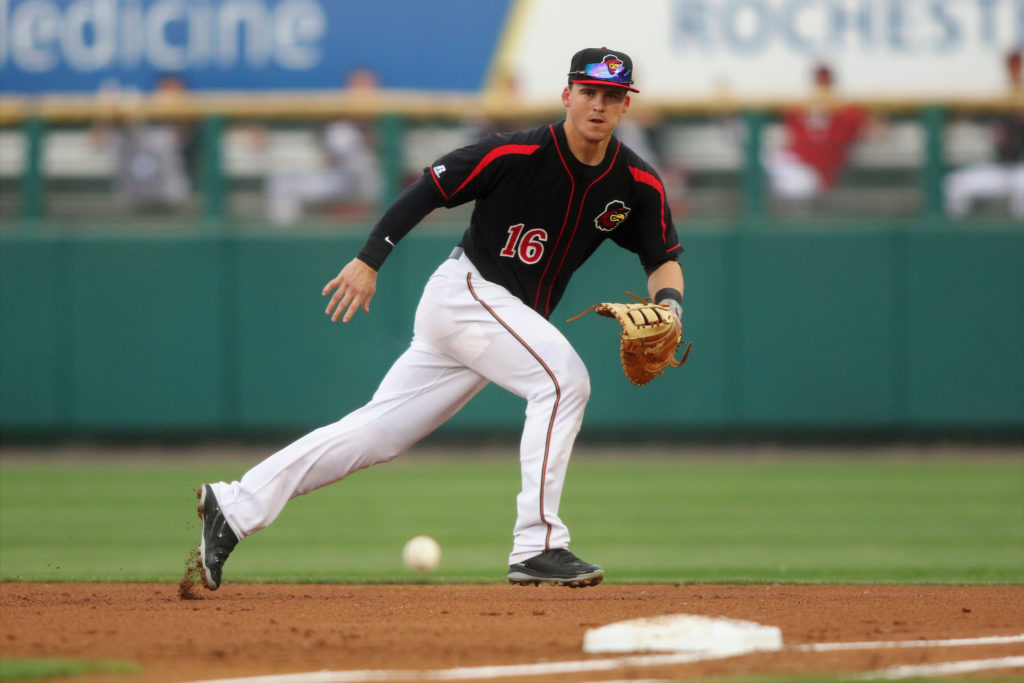 By KEVIN OKLOBZIJA
First, Tyler Austin said goodbye to his teammates in the New York Yankees organization, some of whom he had played with for five and six years.
Then he walked through the downstairs hallway at Frontier Field over to the Rochester Red Wings clubhouse and said hello to his new teammates.
It was a strange Monday night for Austin, to be sure. One minute he's playing for the Scranton/Wilkes-Barre RailRiders, the next he's being taken out of the game and told he has been traded to the Minnesota Twins.
On Tuesday, still learning names of his new teammates, Austin made his Red Wings debut — against the RailRiders.
Talk about making a first impression.
Austin hit a monster 454-foot home run in the third inning and helped power the Wings to an 8-3 victory, the first time they've won back-to-back home games since a four-game winning streak between June 19-22.
Jon Kemmer belted a three-run homer in the third for a 4-1 lead, and Tyler Motter's three-run shot in the seventh made it 8-3 after SWB scored two in the top half.
"It was kind of nice to push back there," Wings manager Joel Skinner said.
While Kemmer went 3-for-4, including his first homer for the Wings, Austin made the biggest splash, and did so against a lot of friends.
"I'm pretty close to everyone of those guys so it was pretty fun," said the 26-year-old first baseman who hit 6 home runs in 26 games with the RailRiders and 8 in 34 games with the Yankees this season. "I squared a few balls up today so that's the big thing."
VIEW MORE JOE TERRITO PHOTOS HERE.
While the trade means he leaves behind a lot of friends, he also has been reunited with a childhood buddy and teammates.
Austin and Wings reliever Alan Busenitz grew up in Georgia learning the game together on a youth team, the Rockdale Rhinos. Austin was born and raised in Conyers, Ga.; he still lives there. Busenitz grew up 37 miles away in Madison. That's also still his home.
"I came in the locker room after the first game (on Monday) and somebody said, 'Tyler Austin's coming here?' " Busenitz said. "I haven't played with him in 10 years."
They were teammates from age 9 to 14 or 15 at least, and the memories haven't faded.
Austin could always hit. "Everyone knew he was going to be something special," Busenitz said. "I could just throw hard."
That's sort of how Austin remembers those days on the Rockville Rhinos, as well.
"When you came up," he told Busenitz, "we all would say, 'Let's get our gloves.' But we liked when you were pitching."
Bro-bashing at it's finest. But Austin also endeared himself to the rest of the Wings with his performance. He hit a scorching 105-mph line drive to right center in his first at-bat. In his third at-bat, he hit a 113-mph liner to shortstop. He finished the game 1-for-4 but couldn't have swung the bat much better, and fans will certainly remember the long homer.
"You always want to try to get a little something with your new team," he said of the debut. "But it doesn't matter how far they go. When they go over the fence, they go over the fence. A homer's a homer."
BUXTON AILING AGAIN: Center fielder Byron Buxton didn't play. He was pinch-hit for in the eighth inning of Monday's second game because, Skinner said, he had reached a pre-determined at-bat limit for the day.
Buxton came off the disabled list on Friday after his bothersome left wrist had taken him out of action.
Twins manager Paul Molitor is telling a different story in Minnesota, however. Media covering the Twins reported that Molitor said another stint on the DL is possible because of the wrist problem. Skinner was more ambiguous, saying, "I don't know where we're at exactly. We're just trying to figure this out."