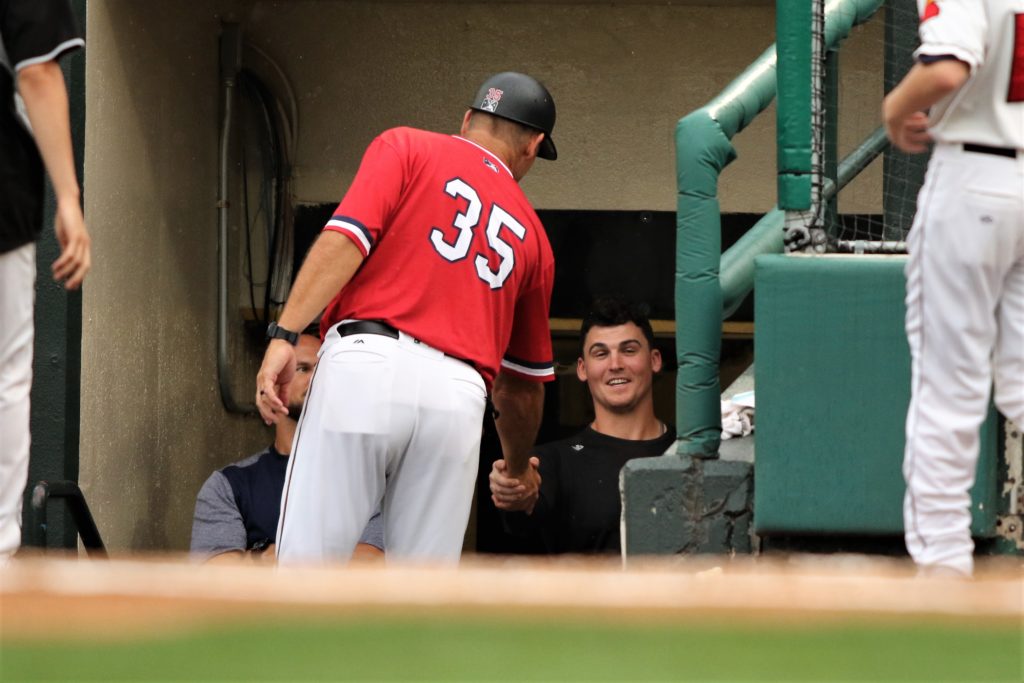 By KEVIN OKLOBZIJA
The night began with a bit of baseball intrigue, when the Scranton/Wilkes-Barre RailRiders pulled Tyler Austin from Monday's first game against the Rochester Red Wings after just a half-inning had been played.
The night ended with walk-off heroics and a Gatorade shower for one of the newer Red Wings, Jeremy Hazelbaker. Actually, he was given both a water and Gatorade shower between first and second base, after his bases-loaded drive to the gap in right-center provided a 1-0 extra-inning victory for the Wings, who had been no-hit for six innings by Chance Adams.
"That was super-cold, too," Hazelbaker said. "But you get that, it means something good happened."
First, the way the evening began: with Austin taken out of the first game before a full inning had been played.
With Tuesday's 4 p.m. MLB trade deadline fast approaching, there was instant speculation at Frontier Field that the New York Yankees had traded Austin.
That indeed turned out to be the case, as the world learned 90 or so minutes later when the game — the resumption of a suspended game from June 24 — was completed and  Scranton/Wilkes-Barre had defeated the Wings 4-3.
VIEW MORE JOE TERRITO PHOTOS HERE
Austin was traded to the Minnesota Twins. While he hasn't been assigned anywhere yet, he spent the first three or four innings of the regularly scheduled game in the Red Wings dugout, getting to know his new organizational teammates. He's likely to join Rochester Tuesday.
"When they took him out, I figured he might have gotten traded," Wings manager Joel Skinner said. He had no idea it was to the Twins.
Hazelbaker certainly could relate; he's been traded twice this year. The first time was in early April, when the Arizona Diamondbacks sent him to the Tampa Bay Rays for cash considerations. Then on July 19 he was traded to the Twins, again for cash.
Trades are usually never easy, and Hazelbaker admits he's still adjusting to his new organization. But he's a little more at ease after Monday's extra-inning heroics.
Hazelbaker pinch-hit for Byron Buxton in the bottom of the eighth, the first extra-inning since the game was scheduled for seven innings. Taylor Motter was the free runner and, after an Andy Wilkins ground out moved him to third, the RailRiders issued back-to-back intentional walks to load the bases.
Buxton was due up but Skinner said the speedy outfielder was on an at-bat limit (apparently five) because he just came off the disabled list on Friday. "We had to stick to our guns," Skinner said.
So Hazelbaker pinch-hit and delivered on a 3-2 pitch after falling behind 1-2 in the count. His two-strike approach was simple:
"Just battle," he said. "They kind of put me in a good situation to succeed."
The hit was certainly his biggest with the Wings. Before that at-bat, he was hitting just .133 (4-for-30) in the 11 games since coming over from the Rays. The adjustment hasn't been easy.
"I'm still working on it," he said. "Clearly the numbers aren't where I'd like them to be; they haven't been all year (.210 in 62 games with Triple-A Durham before the trade). That's probably why I've bounced around a bit.
"But hopefully that changes and I can contribute more to this team and this organization."
Hazelbaker's clutch hit ensured Kohl Stewart's superb outing on the mound wasn't wasted. Stewart went seven innings, allowing three hits and a walk while striking out four.
Over his past three starts he has allowed just four earned runs and 20 hits in 24 innings, lowering his ERA to 3.60. That's after allowing 10 runs and 17 hits in his first two Triple-A starts of the season following a July 1 promotion from Double-A.
"When you move up a level, sometimes you have some jitters and you try to maybe do too much," he said. "Once you realize the game's the same, you just have to make your pitches and you'll keep your team in the game."
Nick Anderson pitched the eighth, retiring the three batters he faced on 13 pitches.
"I was telling the players you have to play perfect when you don't score," Skinner said, "and the guys played perfect."