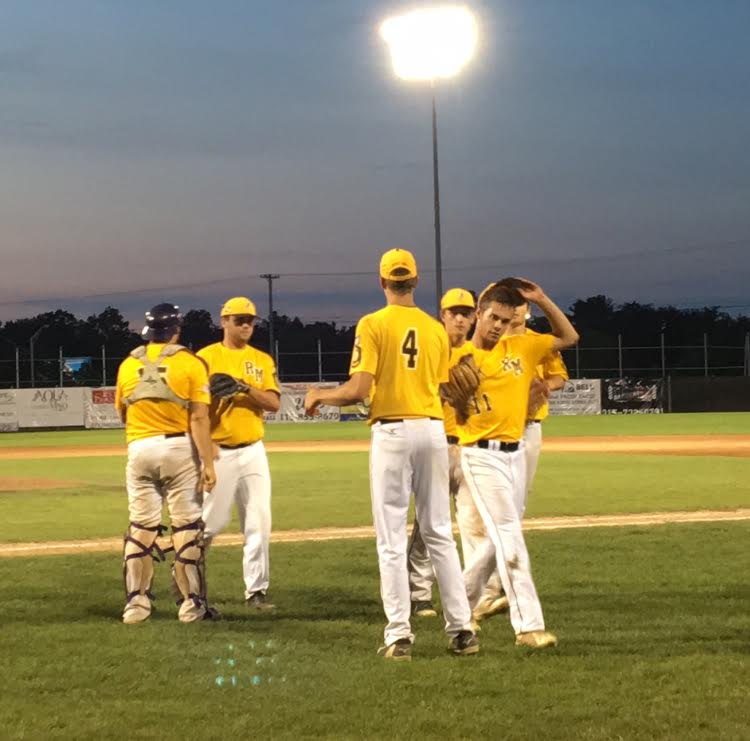 By BILLY HEYEN
UTICA, N.Y. — It's hard to win a baseball game with zero hits. It's impossible to win a baseball game with zero runs.
Unfortunately for Rayson Miller, Sunday night ended with a zero in both columns on the scoreboard. Rockland's Colton Stemkowski had Rayson Miller's number all night long.
"You gotta give it to him, a no-hitter is pretty good," said Rayson Miller catcher Jourdan Plaisted. "But we're better than that. And I know we'll be able to fight back. I think the problem was having trouble seeing the ball and just out front, not waiting."
It took Stemkowski just 73 pitches across seven innings to throw a no-hitter in a pitchers' duel, 1-0 victory for the Rockland Pirates over Rayson Miller at Murnane Field. He outdid Rayson Miller's Sam Cestra, who allowed just one run on four hits to the two-time defending state champions. The loss for Rayson Miller means no more margin for error in the double-elimination state tournament.
"I think they're fired up," said Rayson Miller head coach Tom Sapienza. "They have maybe, believe it or not, a little more confidence in themselves, and we're looking forward to playing tomorrow at 4."
Cestra allowed a hit to the game's first batter, but that was the only hit to come in the first three innings. After saving Saturday's game for Rayson Miller, Cestra looked comfortable on the mound from the get-go.
He filled the zone with fastballs and dropped in his curveball for strikes as needed. He got help from a few double play balls, including a lineout double play to end the second. Cestra also got assistance from his battery-mate, Plaisted, who gunned out two runners stealing. Against the 2016 and 2017 state champions, Cestra gave Rayson Miller a shot.
"That was the best performance I've seen in years," Sapienza said. "… Sam was just a warrior. Just battled, battled, battled. You won't see a better pitched game. I'd take Sam over the other kid, and the other kid threw the no-hitter."
But Rockland was able to put together one small rally to score the game's lone run. Ahead 0-2 on the fourth inning's leadoff hitter, Cestra allowed a single up the middle on a curveball that hung up and caught too much of the plate. The next man up, Stephen Greeley, hit a shot to the centerfield fence to drive the run home.
That run was all Stemkowski needed to work with. He pitched efficiently throughout the ballgame, never throwing more than 13 pitches in an inning. That didn't stop him from striking out seven batters, relying often on a wide outside corner to work ahead in the count.
"He's a big, impressive, imposing guy," Sapienza said. "And I think he just attacked our guys, and he was very good."
Rayson Miller had one real shot to score. In the bottom of the sixth, Cestra reached on an error to start the frame, and AJ Nestler bunted him to second. A balk moved him to third. Sapienza called for a squeeze with Owen Jones hitting, but bat and ball didn't connect. Cestra was hung out to dry, and Rayson Miller's best shot to tie the game was tagged out less than 90 feet from his destination.
"That particular pitch, the pitcher beat us," Sapienza said.
The nature of a double-elimination tournament is such, that on Sunday, Rayson Miller could play the powerhouse Pirates with almost nothing to lose. But on Monday, everything will be on the line.
Sapienza sensed a mood of optimism among his team. Rayson Miller had been close to upending Rockland, the presumed favorites of the tournament. It would take a Rockland win and two Rayson Miller victories for the teams to meet in the championship. Plaisted, for one, wouldn't mind that.
"They're the two-time state champs and we were one run away from winning that game," Plaisted said. "We know what we can do. If that's their best, then we're ready for more."