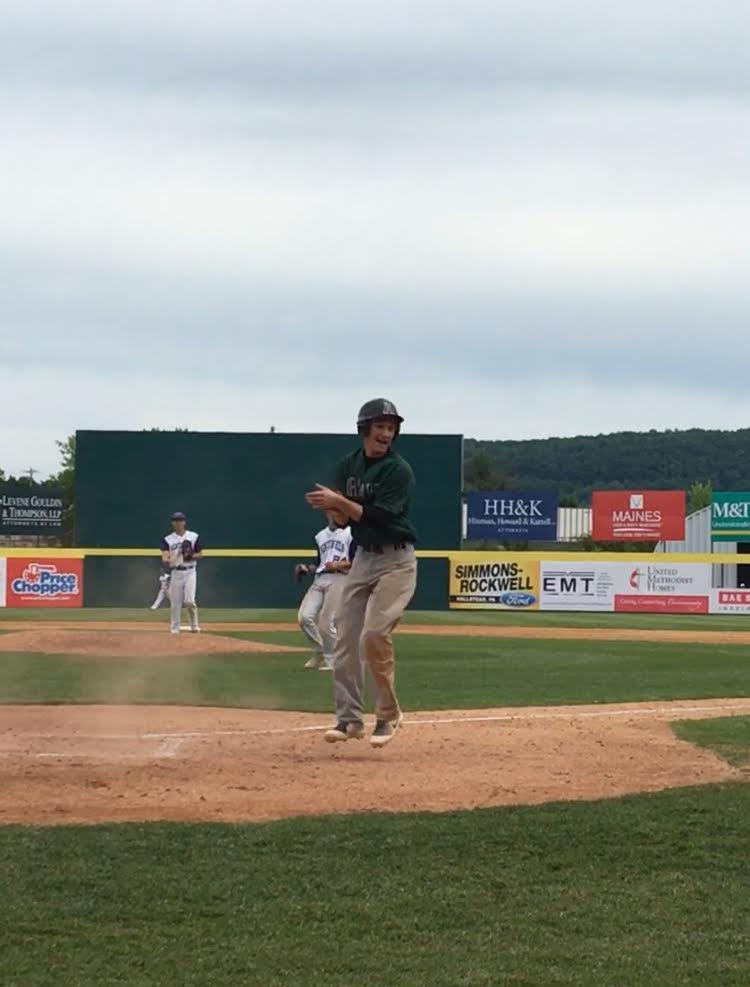 By BILLY HEYEN
Beginning when Maxx Countryman was 3 or 4 years old, he and his father, Mike, developed a routine for each evening after Mike got home from work. They'd roll out the little, red wagon that held all their baseballs and tennis balls and head to the backyard. There, Countryman would hit, pitch and field.
"I can't remember a time I didn't play baseball," Countryman said. "It went back that far. We talk about how (my dad) couldn't wait for the day I started walking, because he wanted to take me out back and play some catch."
As Countryman grew, the backyard became too small for his burgeoning abilities. Both he and his father referenced clogging their neighbors' gutters with balls. But the daily routine paid off in the long run.
About 15 years later, Countryman has played on many bigger stages than his backyard. He started for three years at Avon, winning three sectional titles and making it to the final weekend of the season each time. As a senior, he led the Braves to the Class C state title and was named New York State Class C Player of the Year. This weekend, he'll get to make one more bonus run at a state title in American Legion baseball for Rayson Miller before heading off to Finger Lakes CC in the fall. Through all the youth leagues and coaches and teammates, Countryman couldn't help but think back to the days in his backyard.
"That's really where it started," Countryman said. "Pull the wagon out, play until we couldn't see anymore. Do it again the next day."
'Head and shoulders above'
From early on in team baseball in Avon, Countryman proved to be one of the best players around. And from that early age, it started with his work ethic.
Brian Hall coached Countryman for a few years, culminating in "minors" when Countryman was 9 and 10. Hall would hold optional practices, letting his team know he'd be down at the field if any players wanted to come down and work out.
"He was always that kid that was always there," Hall said. "Always first in line. Would show up 15, 20 minutes early to get extra batting practice. Extra pitching. I could tell when he was young that he was gonna be probably one of the premier baseball players in our county."
The first time Countryman pitched for a team, it was with Hall as his coach. Prior to that, he'd just played tee-ball and coach pitch, so he hadn't had the opportunity. He said that normally in "minors," the older kids got to pitch. But Mike convinced his son to ask Hall to let him try and pitch.
One day after practice, Countryman did just that and asked. Hall obliged and stayed late that day to work with him.
"I remember the exact field, exactly where it happened," Countryman said. "And he gave me the basics. He used to say knee on a string. That was the mechanics that he taught me. It really started there."
It didn't take much time for Countryman to take to pitching. By then, he had started to realize how good he was, too. Countryman said his teammates started talking about him. It wasn't in a negative way, though. They were talking about how good he was.
That made Countryman a bit uncomfortable, he said, because he never liked talking about himself. But between the whispers he heard among his teammates and his presence on an area all-star team when he was 9, he knew other people thought he could play.
In the all-star game that season, though, he found himself in a jam. He had walked a couple batters, and Hall went out to speak with him.
"I just tried to get his mind off of baseball," Hall said. "Asked him what he had for breakfast, didn't even talk baseball with him at all. And went back to the dugout and he proceeded to strike out the next two batters to get out of the inning. I was like man, this kid just gets it. He just calms himself down."
By the time Countryman was 11, everyone knew who the best player in town was. Jon Ghent, father of Countryman's Avon classmate Aaron, was coaching a team in the Avon Little League. The coaches drew numbers out of a hat to see who would pick first in their draft to select teams. Ghent won the first pick.
"Everybody knew what you did with the number one pick," Ghent said. "You take Maxx."
What's in a name?
When Mike Countryman, full name 'Michael,' writes a check, he said it all becomes a scribble by the time he gets to the 'm' in his last name. When his first child was born, he had that in mind. A name shorter than Michael would be ideal.
Mike's grandfather had the name Max.  Mike had always loved the name, calling it "bold." With his son, he just decided to do something a bit different with it. Thus, the second 'x.'
"Maxx is different all the way around," Mike said. "We're old school."
It didn't take long during Countryman's Avon career to see how "old school" one part of his game was. All a spectator had to do was wait for the Braves' leadoff hitter to come to the plate. Then maybe do a double-take as the onlookers wondered if what he was holding in his hand was truly a wooden bat and not aluminum. Countryman had swung wood since he was 13. To him, it was no big deal.
In fall ball during his first year on regulation fields, Countryman waited in the on-deck circle as Mike walked over with a wooden bat in hand. He told his son to try it, because the stakes were low.
"He looked at me like I had two heads," Mike said.
But Countryman walked up to the plate with the bat his father handed him. He proceeded to hit a "laser" to left field for a double, Countryman said. From that point on, it's all he wanted to swing.
Mike and his son both said it created some controversy. People wondered if he was doing it just to get attention. Avon head coach Rob Fries told Countryman that if he was hitting .400 with wood, he'd hit .600 with aluminum, Mike remembered. Nothing stopped Countryman from hitting with wood. And wood didn't stop him from hitting .400 with four home runs and slugging .706 as a senior for the Braves.
Countryman just thinks back to that first hit with wood, fitting the mold of "different" and "old school" that his name and father attest.
"Right then, I was like, you know, I think I could get used to this," Countryman said. "I was standing out on second base happier and surprised and a whole lot of emotion going through. Because I was like wow, that was kind of awesome."
'Third time's the charm'
Avon's head man, Fries, knew Countryman long before he made it to varsity. In the fifth- and sixth-grade group at Fries' summer baseball camp, Countryman won the home run derby and stood out among his peers.
"I can remember saying, 'Boy I can't wait to get this kid,'" Fries said.
By the time Countryman was a freshman, Fries thought he was ready to gain some late-season experience with the varsity team, but he mostly pinch hit, Fries said. As a sophomore, Countryman became the Braves' leadoff hitter and pitched occasionally, a key member of a team that lost in the state finals.
Fries worried Countryman's last pitching appearance as a sophomore might set him back, though. In the first round of sectionals, Countryman allowed a "monster" home run and didn't seem to regain his composure against the hitters the followed. He was Avon's top returning pitcher as a junior, though, and Fries wondered how his new ace would respond.
"He pitched us all the way back to the state semis where he ran out of pitches on the mound or else we might've won," Fries said.
Question answered, but Avon had come up just short again. Mike remarked that the drives back from Binghamton, site of the state tournament, weren't ideal after the losses. But the Braves' returners believed that 2018 would be different, going so far as to name their group text "2018 state champions."
Countryman struggled early in the year to find his offspeed stuff, Fries said. He got hit hard a few times, both Fries and Ghent said. Early on in his senior year, it seemed Countryman might not live up to the Avon group chat's name.
But by the time the big games came around, he answered the bell. He pitched and hit the Braves all the way to the state championship. Countryman always had the answer for the high stakes.
"I love playing for these games," Countryman said. "Once we get here, the energy around, you can feel it."
By the end of his Avon career, Countryman stood mostly in a class of his own. Three state final fours and a state championship. A state player of the year award. Standout numbers on the mound and at the plate.
Fries didn't feel like he could put Countryman at the top of any list of Avon greats. But he had no problem putting Countryman in the discussion.
"We've had some really good athletes come through Avon," Fries said. "We had guys back in the old days who were drafted. I wouldn't venture to say where he ranks. But he's definitely in the conversation of the top player to come through."
Picking up where he left off
Countryman pitched five no-hit innings in his first start for Rayson Miller, soon after Avon had won the state title. It was his first Rayson Miller appearance, although not his first American Legion start, as he'd played for Ely Fagan for four-plus years.
When that post couldn't field a team this season, Rayson Miller brought over a few of the best players from Ely Fagan. Countryman. Lukas Haefner. Jason Bocklage. AJ Nestler. They've been a huge part of sending this Rayson Miller team to the state tournament. Currently, only Countryman is a state champion, but in Utica this weekend and into next week, that could change.
"In years past, it was always Rayson Miller was the team to beat," Countryman said. "They were always dominant. And now Ely Fagan, we couldn't get enough players to bring a team together. Still wanted to play. We kind of combined all into one. It was kind of funny talking to the guys on Rayson Miller. It was almost a feeling of glad to have you on our team now."
When summer turns to fall, Countryman will be walking the halls and stepping between the lines at FLCC. He had other options, but he picked FLCC because he saw in the program what he's so long embraced in himself: hard work.
The extra swings Countryman so often seeks out, like when an Avon teammate would get a drink of water and he'd take their spot in line. The pitching practice he put in on his own time, back as a 9-year old playing for Hall. All the way back to those first games of catch, those first swings, those first pitches in his backyard.
Countryman has always been about taking one more of whatever rep it was on a ball field. For him, it's just because baseball is fun and there's nowhere he'd rather be, he said. That love of the game is what made him the first pick in his little league drafts, the baseball camp home run derby champ, the freshman-year call-up to varsity, the state champion, the state player of the year. Collegiate baseball is just the next step.
Ghent, who coached Countryman more than five years ago, knew he was special then. Ghent watched his son and Countryman hoist trophies together for Avon. He knows talk of anything beyond FLCC is a longshot. But that didn't stop him from believing in Countryman's future, in much the same way all of Avon believed in him whenever he toed the rubber.
"I believe Maxx has all the tools and all the intangibles, too, that could make him a major leaguer someday," Ghent said. "I know that sounds crazy to say that, but somebody's gotta do it, and if anybody can, Maxx can do it."