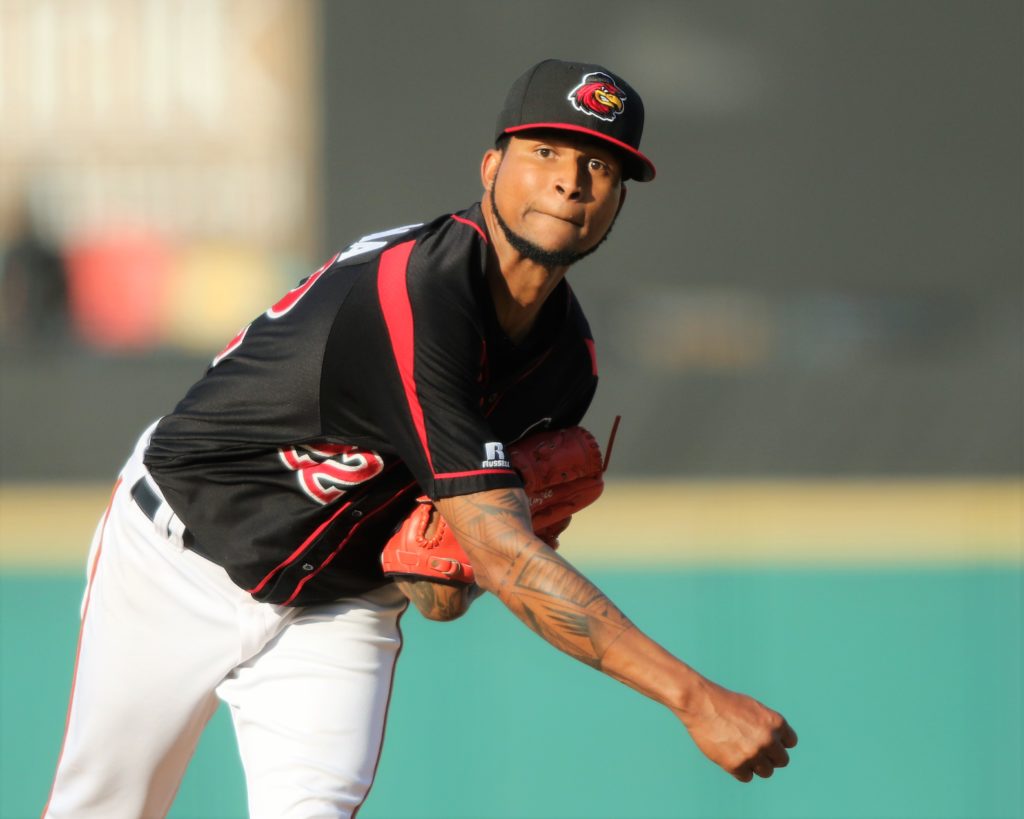 By KEVIN OKLOBZIJA
First, Ervin Santana went out and pitched on Friday night like he's ready to rejoin the Minnesota Twins' rotation.
Then, when he was done pitching, he said he's ready.
Of course, the player doesn't really make the ultimate decision. It will be up to the Twins to say whether Santana's rehabilitation stint with the Rochester Red Wings is over.
"It depends how I feel and it depends how they think," Santana said after his six-inning outing against the Norfolk Tides at Frontier Field.
And how does he feel? "Everything's good," he said. "Whenever they need me, I'll be there."
Santana sure pitched like that's the case, though the bullpen wasn't good and the Wings lost yet again, this time 7-2.
The veteran right-hander allowed just two hits, walked three and struck out one. The run was on a wind-aided, second-inning home run into the bullpen in left field by Mike Yastrzemski.
"Six good innings, minimized the damage, one run — can't do better than that," Santana said after his second rehab start for the Wings.
He needed just 66 pitches to shut down the Tides (51-46) for those six innings, throwing 46 strikes.
"The good thing is, I was down in the zone," Santana said, "and if I missed, everything was close to the strike zone."
VIEW MORE JOE TERRITO PHOTOS HERE.
The bad thing is, he was scheduled to leave after six innings or 90 pitches. The six innings came first.
Santana hasn't pitched for the Twins this season. He underwent surgery to remove a calcification on his middle finger in February. Optimistic guesses says he'd miss 10 to 12 weeks.
But Santana said on Friday that his doctor told him he'd be out until after the All-Star break.
"He was right," Santana said. "It was difficult because I thought everything would go fast," he said of his rehab."
In two starts for the Wings, Santana threw 11 2/3 innings, allowed six hits, four runs and three walks and struck out eight.
"Obviously everything went well tonight," Wings manager Joel Skinner said.
The moment Santana came out, the game went south for the Wings, who have lost 11 of the past 14 and are falling fast at 44-51.
Reliever Luke Bard gave up five hits and four runs in two-thirds of an inning as the Tides turned a 1-1 deadlock into a 6-1 lead that became a fifth consecutive loss for the home team in front of 10,823 fans. They've been outscored 23-7 in those games.
Bard did get a second out and was trailing only 4-1 when he allowed a RBI double to Cedric Mullins and RBI single to Luis Sardinas and the deficit was 6-1.
Edgar Corcino's ended the Wings scoreless-inning drought at 28 with a home run leading off the fifth inning. The other run scored on a Juan Graterol double in the eighth.
"That got a little bit of the monkey off the backs," Skinner said. "Any time you have a streak like that, you try not to put extra emotions on yourself."
Notes: Infielder/DH Miguel Sano rejoined the Wings after a month in Class-A but arrived too late to play Friday. He will play Saturday night against Norfolk but isn't expected to be in the lineup every game. Skinner said there is a schedule to help Sano get into baseball shape, since there are lingering issues from surgery in November on his left leg.