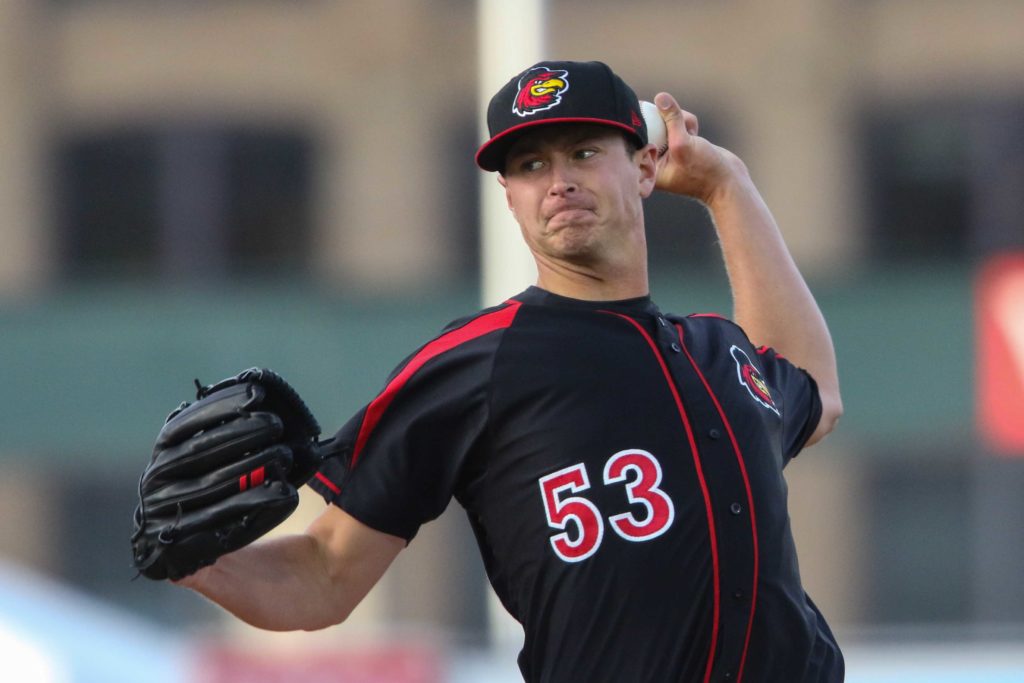 By BILLY HEYEN
ROCHESTER, N.Y. — Each of the last two seasons, Stephen Gonsalves has been a top-100 prospect in Baseball America's rankings. In 2007 and 2008, Homer Bailey's final two seasons eligible for prospect rankings, Baseball America ranked him a top-10 prospect.
On a minor-league rehab start in Rochester, Bailey won the pitchers' duel between former top prospect and current, himself against Gonsalves. Neither allowed a run, but it was Bailey who lasted an extra frame and had his bullpen finish off the job.
Behind Bailey and two run-scoring swings from cleanup hitter Phillip Ervin, the Louisville Bats beat the Rochester Red Wings, 2-0, on Wednesday night at Frontier Field. Gonsalves threw six scoreless innings. Bailey tossed seven. And in what might have been Bailey's final tune-up before heading back to the major leagues, he got the 'W' next to his name in the box score.
"It was a good battle," Gonsalves said.
Right from the get-go, the pitching duel was on. Gonsalves retired the first three batters he faced on seven pitches total. Bailey threw six balls to start his outing but then got a double play, and a strikeout two batters later.
Gonsalves didn't remain economical in his pitch count after that first. He didn't have his best stuff, relaying after the game that he threw only 18 of 40 fastballs for strikes.
"Tough to do anything without a fastball," Gonsalves said. "We were able to grind through it."
But Gonsalves said the game-changer for him on Wednesday was his changeup. He threw 30-for-37 of those for strikes, he said. So even as Gonsalves walked five guys and only struck out three, he was able to keep the Bats off balance enough to hold them off the board.
Gonsalves also extended a remarkable streak. Going back to his June 16 start, he's allowed 14 hits across his last six outings. All 14 of those hits have been singles.
"They're not hitting it so I've just got to trust myself to throw it over the plate," Gonsalves said.
Bailey matched Gonsalves out for out. He touched 96 miles per hour with his fastball in the sixth, which Gonsalves called "impressive." Even with 99 pitches through six, Bailey came right back out for the seventh and worked an 11-pitch, 1-2-3 inning. He didn't out-strikeout Gonsalves, as both finished with three. But before Bailey had finished that seventh, he and the Bats got the run they needed.
John Curtiss relieved Gonsalves and proceeded to walk the eight batter, Stuart Turner. He gave up a single to the nine batter, Chadwick Tromp. After a sacrifice bunt, Blake Trahan attempted a suicide squeeze bunt, but Curtiss charged off the mound and dove to tag Turner trying to get home.
"That was a phenomenal play," Skinner said. "It was probably one of the best plays I've seen a pitcher make in this league all year."
It would have been a game-saving play, if not for the fact that he walked the next guy and then Ervin hit a ball to Kennys Vargas at first that didn't remain in his glove, scoring the game's first run.
"It was one of those games where the way both sides were pitching, the first team to score was probably gonna win," Skinner said. "That's how it turned out."
Louisville tacked on another run in the ninth, and Jimmy Herget and Kevin Quackenbush both pitched clean innings out of the Bats' bullpen. Bailey received the one thing that Gonsalves couldn't lay claim to on Wednesday: a clean bullpen.
Gonsalves has been a top-100 prospect for a few years now. He should make it to the big leagues sooner rather than later. But on Wednesday night, it was the major-league veteran gracing a minor league field with his presence once again. Bailey might receive a call-up in the coming days, as MLB returns from its All-Star break. If so, he'll be heading to the show on the right note.
"It was fun to watch him," Gonsalves said. "Watch him throw 96 in that sixth inning at 100 pitches, it's pretty impressive. It's always fun going up against big leaguers."