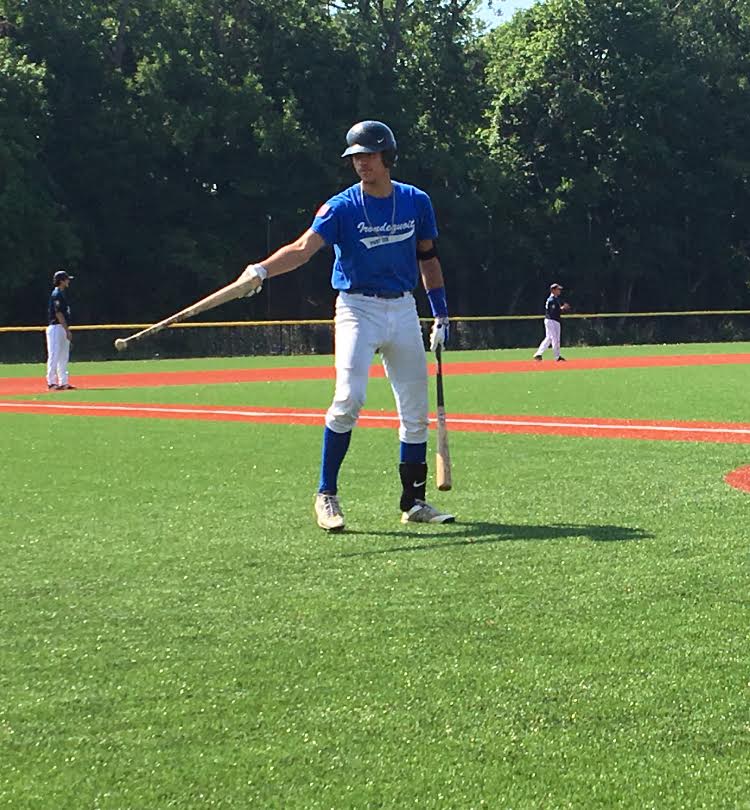 By BILLY HEYEN
EAST IRONDEQUOIT, N.Y. — Irondequoit Post head coach Joey Kuhn heard rumblings from his players that Anthony Quinones was back in town and looking for a team to play with over the summer. Then Quinones texted Kuhn, letting him know he wanted to play.
"I lit up," Kuhn said. "He was one of my favorite kids I ever coached."
That was before Kuhn saw Quinones, who had just finished his first year in college. Kuhn hadn't seen him grow up since Quinones moved after his freshman year at Irondequoit High School.
"I saw him this summer when he came back looking 6'2" and throwing like 89," Kuhn said, "and I was like okay, you can really play for me this summer."
Fast forward a little more than a month, and Quinones was closing out a clinching game two of the District 7 semifinals for Irondequoit Post, blowing a fastball right by the batter to get his team a berth in the championship series. A spot in the state tournament will be on the line in the best-of-three finals.
Quinones closes it out. Irondequoit heading to the finals with a 5-4 win and a sweep over James Cooke. Butler's homer turns out to be the decisive blow. @PickinSplinters pic.twitter.com/5yOwQ0qcTc

— Billy Heyen (@Wheyen3) July 15, 2018
Quinones has a shot to make it to states as the teammate of players he grew up playing with: AJ Gartland, Nick Serce, Chris Butler, Matt Brennan, Shawn Brooks. It had been a while. He'd moved to North Carolina after his freshman year at Irondequoit, eventually graduating from Mallard Creek High School before spending a year at Catawba Valley CC in Hickory, North Carolina. But now he's back home, hoping to go to school at Niagara County CC in the fall, and getting one more shot to win baseball games with his childhood friends.
"It feels great to be back," Quinones said. "Fitting back in, these guys made it easy on me. Taking me back in, all my buddies. AJ, Chris, Nick. All of them."
In regards to his move, Quinones spoke matter-of-factly. His family had moved to North Carolina following his first year of high school, so he moved with them. At some point, he decided that it'd be better for him to play ball back "home," the word he used to refer to New York, so he moved back and is living with his grandmother. That's when he texted Kuhn. That's when he lined up an opportunity at NCCC. That's when he became the shortstop and closer for District 7's eventual No. 2 seed.
Quinones began the season with a cold stretch. In Irondequoit Post's first seven games, he went 4-for-20 (.200) at the plate. That coincided with three Irondequoit Post losses. Since then, Quinones has batted 10-for-24 (.417) across 11 games and Irondequoit Post has lost twice since opening the season with a 4-3 record.
Antonio Quinones follows with a shot to left and it's 4-3 Irondequoit Post after five. @PickinSplinters pic.twitter.com/lwrRbIYxG1

— Billy Heyen (@Wheyen3) July 15, 2018
It didn't take Quinones as long to become a weapon on the mound. He's 5-1 on the season with two saves. His ERA is 2.19. He's started thrice and appeared in relief seven times, all while striking out 32 batters in 22.1 innings, good for a 12.9 strikeouts per nine innings ratio.
On Sunday, Quinones said that his closing mindset was simple: Let the ball be put in play. He had "confidence in everyone in the field." He'd played with them for years. That trust came in handy when his long-time teammate, Gartland, slid to pick a tricky ball at first base and save a run.
Can add to the who says @ajgartland22 is a pitcher only thread with this slick play at first to save a run on Sunday. pic.twitter.com/oOFhhABbVF

— Billy Heyen (@Wheyen3) July 17, 2018
Kuhn added that Quinones is only ever hard on himself. When he'd miss the strike zone Sunday, Quinones sometimes dropped his shoulders a bit before receiving the ball back. Once or twice, he kicked his leg out a bit, as if hoping for a strike call that wouldn't come. But Quinones is "great to everybody" else, Kuhn said.
"He's never hard on anybody else when they mess up," Kuhn said. "He's good to people, he encourages others. And he wants to work, he's here early and he's grinding. He's a fun kid to be around."
As Quinones was interviewed after securing Irondequoit Post a championship series spot, AJ Gartland walked by. Gartland has played with Quinones since they were 9, as he remembers, and played with him every year until Quinones moved.
"He's a freaking stud," Gartland said as Quinones was answering a question.
Moments later, when Butler was asked about Quinones, his sentiments were almost identical: "He's just a stud. He's an all-around stud."
When Quinones blew a strike-three fastball past Sunday's final batter, securing an opportunity to play more baseball with the guys he grew up playing with, he didn't pump his fist. He didn't immediately smile, or scream, or make any gestures. He just strolled off the mound, business as usual. There was still a championship to play.
And whether it's top-seed Rayson Miller or four-seed Greece Post awaiting when the championship series begins Thursday, Quinones won't much mind. He played years in an Irondequoit jersey with some of his current teammates by his side. Closing out Sunday's game two just guaranteed him two more games with his childhood friends.
"I'm ready and so excited to go and play with everybody I played this season with," Quinones said.