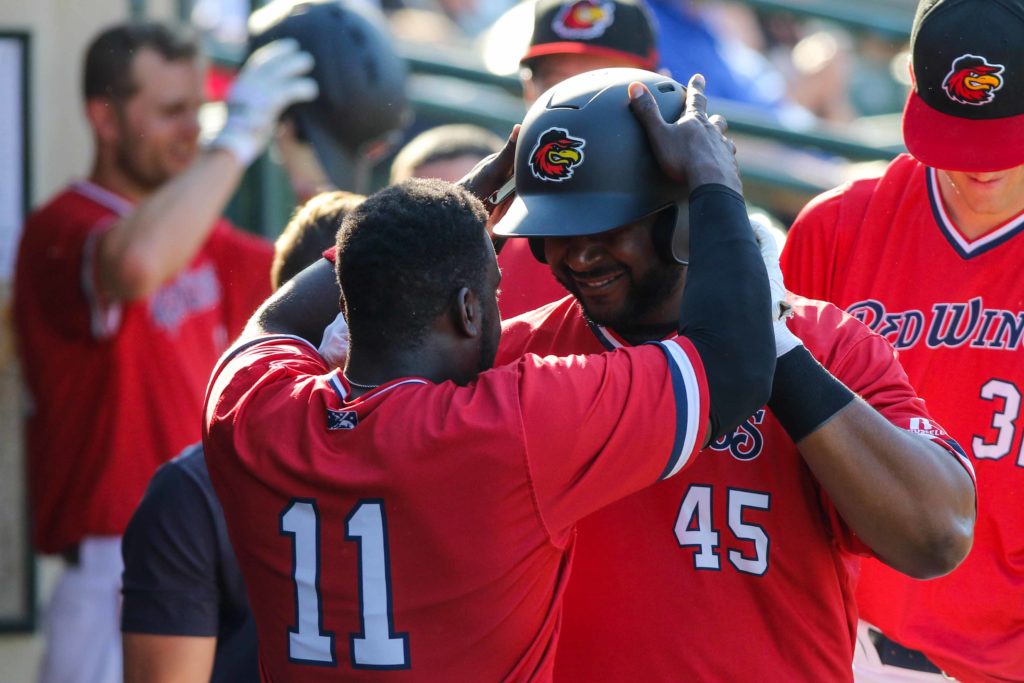 By KEVIN OKLOBZIJA
When the Minnesota Twins traded for Chris Carter in late May and signed Cameron Rupp in early June, they knew they'd see strikeouts but expected both players to provide power bats for the Rochester Red Wings.
They got the strikeouts but not the power, which is why both players are no longer in the organization.
Carter was cut loose on Saturday and the Twins on Wednesday released Rupp, four days before the veteran catcher could have opted out of his deal.
Rupp batted just .141, hitting three home runs and driving in six runs in his 20 games. He had a distressing on-base percentage of .267 and, even worse, struck out 32 times in 75 plate appearances. That's a strikeout percentage of 42.67 percent.
His final game was a microcosm of his short stay with the Wings: 0-for-4 with four strikeouts and an error.
A veteran of 296 major league games with the Philadelphia Phillies, Rupp was signed after the Twins lost catcher Jason Castro for the season because of a knee injury. Rupp had opted out of his Triple-A contract with the Texas Rangers after hitting .274 with eight home runs and 45 Ks in 126 plate appearances (35.71 K percentage).
But he never did get his bat going with the Red Wings and, while he could throw out base stealers, he didn't have a great glove behind the plate.
A year ago, he hit 14 homers and hit .217 with the Phillies, striking out 114 times in 331 plate appearances (34.44). In 2016 he hit 16 homers and batted .252, fanning 114 times in 419 plate appearances (27.21).
Carter, meanwhile, hit just .187 (.296 OBP) and didn't show signs of finding the power stroke that enabled him to share the National League home run lead (41) in 2016 while with the Milwaukee Brewers.
In 36 games for Rochester, he hit 7 homers but struck out 43 times (30.28 K percentage). This came after hitting 13 homers with a .255 average and .329 OBP in 38 games for Triple-A Salt Lake City before the May 22 trade from the Anaheim Angels for cash.
Strikeouts are nothing new with Carter. He led Major League Baseball in 2013 with 212 for the Houston Astros, and led the National League in 2016 with 206 for the Brewers. Of course, he was hitting home runs then, too.: 29, 37, 24 and 41 from 2013 through 2016.
Last year the New York Yankees gave him a test drive before releasing him in July. In 62 games he hit eight homers, batted .201 and struck out better than once every three at-bats (36.5 percent).
The Wings (41-44) return to the diamond on Thursday night to start a four-game series at Scranton/Wilkes-Barre. They're 9 1/2 games out of first place in the International League's North Division and six games back in the wild card standings.