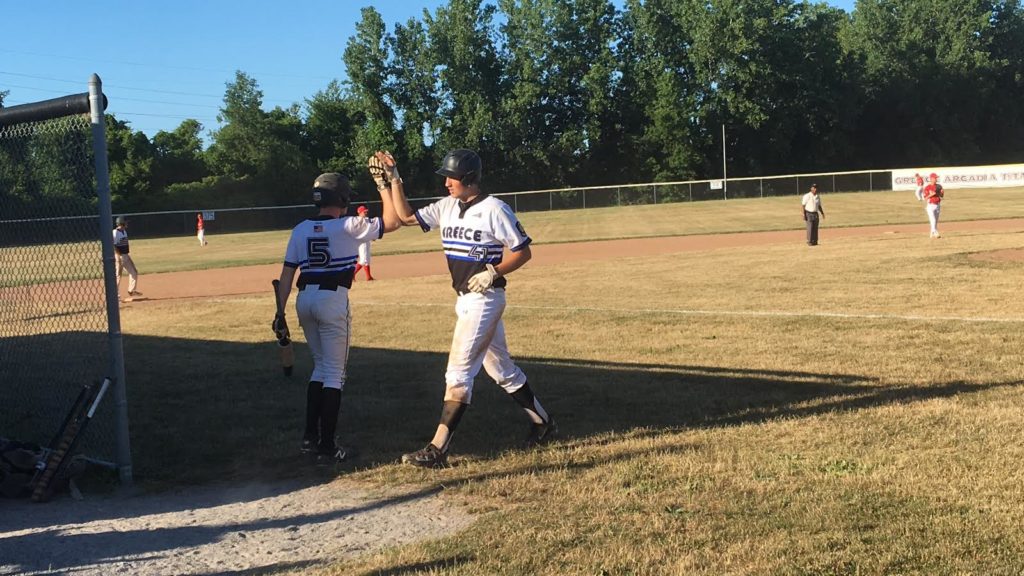 By BILLY HEYEN
GREECE, N.Y. — Greece Post looked poised to blow the game open in the bottom of the third on Wednesday. Four runs had already scored. Runners were on first and third. Ryan Ballard took off for second.
He slid in just as the tag came in. His foot appeared to hit the bag just before the tag to his shin. Ballard was called safe, and the Brooks Shepard middle infielders and head coach looked to protest. As the protests were going on, James Sciortino began inching off third and took off sprinting for home. Brooks Shepard realized too late, and he slid home safely with the fifth Greece Post run, which turned out to be the decider.
"It was funny," Ballard said. "I didn't even see him start taking off. I just saw some commotion and then he scored, so that was good."
A birthday steal for @ryanballard0. Looked just safe when I zoomed in. Then Sciortino snuck home while Brooks Shepard argued and Yorker drives in Ballard. @greecepostball has blown it open, 6-0, bottom third. @PickinSplinters pic.twitter.com/Ha25bwbB5m

— Billy Heyen (@Wheyen3) July 11, 2018
Greece Post tacked on a few more for a seven-run third, added one in the fourth and put up five more in the fifth. That middle of the game outburst led to a 13-4 win over Brooks Shepard at Greece Arcadia High School, in a play-in game for the fourth and final playoff spot in District 7. The Greece Post pitching staff limited Brooks Shepard to a lone hit and, combined with 11 hits from the offense, sends the four-seed into Sunday's playoff doubleheader against top-seeded Rayson Miller on a high note.
"Rayson Miller is a good team," Greece Post's Thomas Finnerty said. "They've beat us up a couple times, but I think we're up for the challenge."
The first two and a half innings seemed to foreshadow a similar result to the three regular-season meetings between Greece Post and Brooks Shepard: one-run differentials.
Connor Hong had come out firing for Greece Post, blowing his fastball by people and throwing his curve for strikes and then swings-and-misses late in the count. Jackson Sullivan matched him pitch-for-pitch for Brooks Shepard, and neither team had a hit through the first five half-innings.
"We ate the innings so we didn't have to use any of our pitchers if we were lucky enough to get to Sunday," said Greece Post head coach Dan Ford, since Hong won't be at Sunday's games.
But in the bottoms of the third, fourth and fifth, everything went wrong for Brooks Shepard. James Huber worked one of his three walks on the night to lead off the third with a seven-pitch battle. Neale McMullen knocked a single past the second baseman. The first run came courtesy of Michael Mule, the nine hitter, who ripped a ball into right center to score Huber.
Michael Mule gets @greecepostball on the board first. 1-0 bottom three. @PickinSplinters pic.twitter.com/Uoj8dJ7HSP

— Billy Heyen (@Wheyen3) July 11, 2018
Victor Torres followed that with a sac-fly to score McMullen. Finnerty pulled a single into left. Sciortino walked. Ballard benefitted from a friendly hop on his 18th birthday to score two runs. Another friendly hop brought another run home. Jack Berbert singled into right. Huber walked again. It could have been worse if not for two curveball strikeouts by Sullivan to escape. With the way Hong was pitching, seven runs seemed like plenty.
The sun was out to get Brooks Shepard in the fourth. Torres popped up to first but sun in the first baseman's eyes caused the ball to fall. After he stole second, Finnerty ripped a double down the left field line to score Torres. Sciortino hit a near-identical popup to first that fell, again. It just wasn't Brooks Shepard's day, although no more runs came home that inning.
"Kids had fun, got to build the confidence a little bit," Ford said. "We played that team three times and one-run games. It's nice to come out and do something like that."
Brooks Shepard got three runs back in the top of the fifth, courtesy of three walks, two errors and a hit by pitch. Hong began to struggle with his mechanics, Ford said. Greece Post took the life out of any comeback thoughts in the bottom half.
The first six Greece Post hitters in the bottom of the fifth reached base, sparked again by a Huber leadoff walk. Mule delivered again, with an RBI double down the right-field line.
"Mike struggled for a good part of the season, but the swings looked good the whole time," Ford said. "It was just not connecting it. Something clicked on Sunday in that second game, even though it was a tough double header. And everything he hits is just on a line and on a barrel. It's great to see."
Finnerty delivered again himself, lacing a run-scoring double over the left fielder's head. Sciortino tucked one inside the left-field line that was misplayed and ended with him standing on third base. Greece Post had five more runs, a ten-run lead and a clear look at seizing the final playoff spot.
The last few innings weren't without nerves for Greece Post, as the bullpen struggled to find the strike zone. But Brooks Shepard couldn't mount a serious comeback, scoring just one run in the seventh as a consolation prize. Greece Post would get the chance to continue its season.
"During the season we thought we'd be kind of a shoo-in for (the playoffs)," Ballard said. "But any way to get to the championship, any way, and we just gotta beat Rayson-Miller next time we see them."
For Finnerty, the chance to play more baseball has extra meaning. He, unlike a handful of his teammates, won't be playing ball in college, which he starts in the fall. Wednesday's game was probably the last competitive game he would play at Greece Arcadia, his high school. After the game, his dad had Finnerty and McMullen pose for a picture, as they'd been playing together in Greece since they were five, Finnerty's father said.
The win meant a playoff berth for Greece Post. It meant a difficult matchup with Rayson Miller, which beat Greece Post in all three meetings this season. And it meant an opportunity for Finnerty to just keep playing ball.
"It's great," Finnerty said. "You know, third season playing Legion. Just trying to be the veteran. Trying to keep the young guys focused and energized. That's all there is."