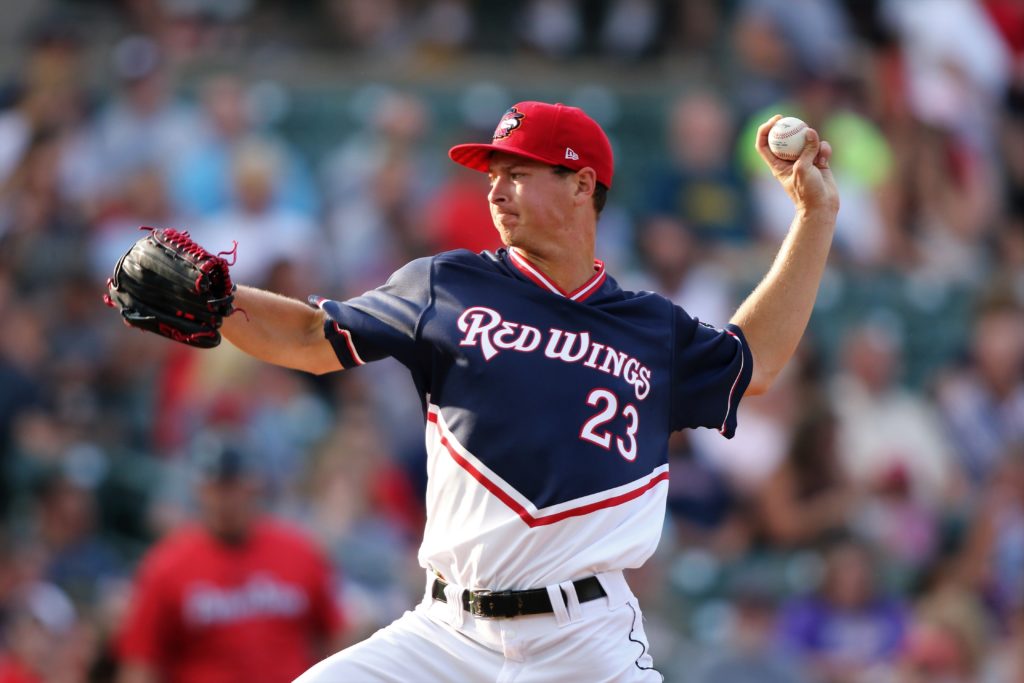 By KEVIN OKLOBZIJA
Two facts about pitching in Triple-A compared to pitching in Major League Baseball that you may or may not have known:
The baseball isn't the same. MLB's ball is made in Costa Rica, MiLB gets its ball from China.
The way relievers are used, at least by some organizations, including the Minnesota Twins, is vastly different as well.
Wednesday night was the perfect example. With a Fourth of July crowd of 11,898 packed into toasty Frontier Field, John Curtiss was asked to get the final five outs — and throw more pitches than he has all season — for the Rochester Red Wings.
It didn't work out well at all.
Curtiss allowed four two-out runs in the top of the ninth, the last of which was unearned because of catcher Cameron Rupp's error, and a 5-2 lead turned into a 6-5 loss to the Pawtucket Red Sox.
A large percentage of fans were booing after Tzu-Wei Lin's line-drive single to right drove home the tying and go-ahead runs. Their holiday night at the ballpark ended in disappointment.
VIEW MORE JOE TERRITO PHOTOS HERE. 
Lin hit the 47th pitch from Curtiss, six more than he had thrown in any outing this season. It was a solid line drive. The previous batter, pinch-hitter Rusney Castillo, lined a 1-2 pitch to right field for a two-run single, which came after a walk to No. 8 hitter Cole Sturgeon.
The guy who had been perfect in save situations — eight for eight, which is twice as many saves as any other Wings reliever — couldn't finish the job on Wednesday. Of course, he'd also never been required to throw more than 30 pitches when presented with a save opportunity.
Except Curtiss isn't really the guy the Wings turn to when they need to nail down a game.
"We don't have closers here," manager Joel Skinner said. "This is what these guys are doing down here; they're supposed to get stretched out."
That's why he allowed Curtiss to try to get the final out before finally bringing on Jake Reed to end the inning after Pawtucket had taken the lead. In Triple-A, it's all about learning, about experiencing the situation.
Of course, Curtiss was the victim of a misplay that was totally out of his control. After Rupp caught the 1-2 pitch to Lin and went to throw it back to the mound, he simply dropped the ball, which allowed Castillo to scoot to second, which in turn allowed Castillo to score on Lin's ensuing single.
How often does a catcher simply drop the ball as he goes to lob it back to the pitcher, especially with the game on the line? You have a better chance of seeing $100,000 on a scratch-off ticket than you do seeing that play at Frontier Field in the ninth inning of a one-run game.
"You stay around long enough, you see everything," Skinner said.
Pawtucket, by the way, subscribes to a slightly different theory when it comes relievers. Once ahead, Ryan Brasier was summoned from the bullpen, he with the 11-for-12 save record and 1.41 ERA (second best among qualified International League relievers). That's why he's headed to the Triple-A All-Star Game next week.
He retired the Wings in order on a soft fly to left and two strikeouts.
And so it's back to .500 for the Wings (41-41) as a three-game winning streak was snapped. They're once again 10 games under .500 at home (15-25).
There were good things along the way to this loss, however. Starter Stephen Gonsalves allowed just three hits and one walk while striking out six in six shutout innings.
The control was a vast improvement for Gonsalves. He had walked 29 over his previous 31 innings in his eight starts since May 24.
"I've been in a little fluster the last month," he said. He obviously knew he needed to make opponents earn first base and did so on Wednesday.
"It's hard not to think about throwing strikes when you have (Byron) Buxton out in center and a big-league infield behind you," he said. "You can just think about throwing to contact."
The Wings batters, meanwhile, scored three times against Pawtucket starter Jalen Beeks, who also is headed to the All-Star Game. Kennys Vargas mashed a pitch in the fourth for a two-run home run. The exit velocity was a scalding 114 mph. Vargas struck out in his other three at-bats.
Rupp then hit a solo homer in the fifth, just his third in 19 games with the Wings and just his fourth hit over his past 37 at-bats (with 18 Ks in that span, including two on Wednesday).
The Wings hadn't hit multiple homers in a game at Frontier Field since May 25, and have done so just three times all season at home.