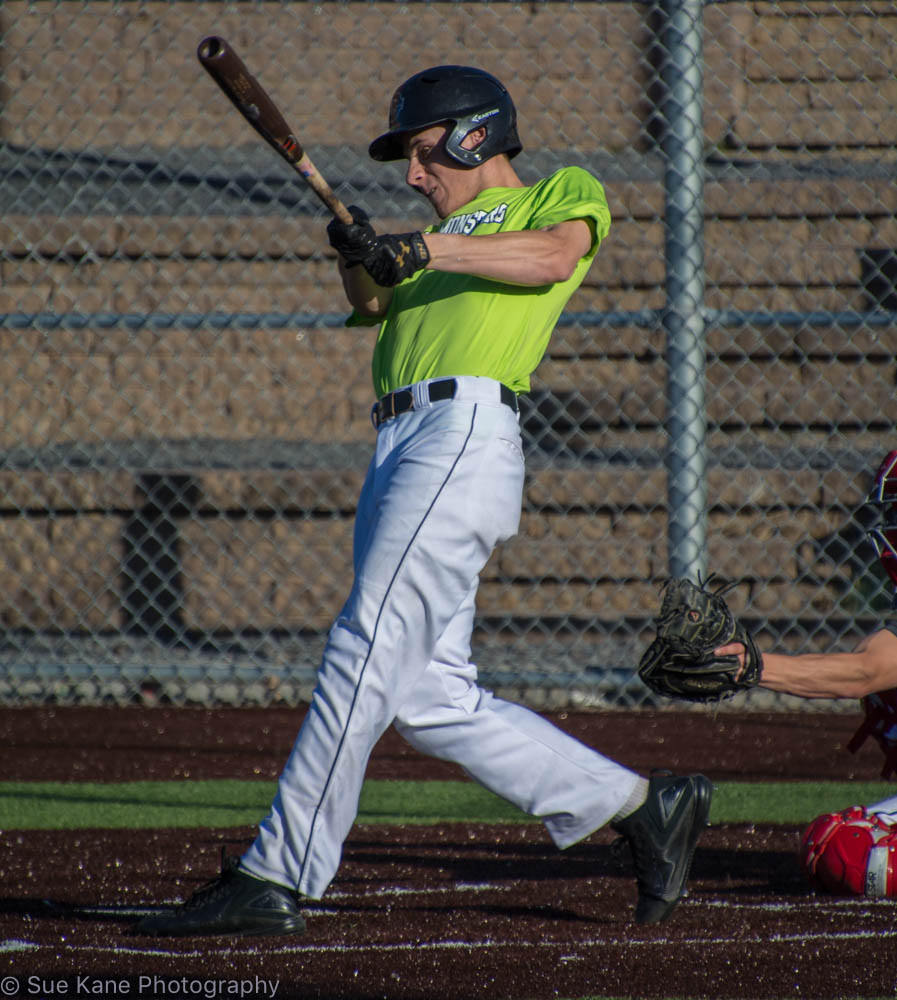 PLAYER OF THE WEEK (6/24-7/1) — Rochester Division
Logan Martella-Tasick, Lake Monsters/Monroe Community College
So. OF Penfield
Martella-Tasick busted out of a 3-for-16 stretch collecting six hits in 10 at bats for the week. In a game where he produced four of the Monsters 10 runs, the sophomore outfielder connected on a pair of doubles including a two-run shot in a 10-2 win over the Monarchs on June 25th. He scored three runs in four games and added a stolen base.
VIEW MORE SUE KANE PHOTOS HERE. 
PITCHER OF THE WEEK (6/24-7/1) — Rochester Division
Tanner Cooper, Monarchs/Finger Lakes Community College
So. RHP/IF Canandaigua
Cooper struck out 11 over six innings in his only appearance on the mound last week. The 6-foot-2 right-hander held opposing batters to .136 in the outing while accumulating a strike percentage of 1.831. He allowed one run on three hits and two walks.
LEAGUE LEADERS – Rochester Division
Batting Average
Jonathan Catapano LM .417
Nate Chase LM .365
Stephen Kemp Mon .347
Mike Jamele Mon .327
Brandon Henshaw Mon .311
RBI
Brandon Henshaw Mon 20
Nate Chase LM 14
Jonathan Catapano LM 13
Christian Montanez FF 12
Sean Flannery LM 11
Sean Sheets FF 11
Dom Palma LM 11
Pitching
Strike Outs
Tanner Cooper Mon 44
John Gassler FF 34
Jared Wren Mon 27
Hayden Ewell LM 25
Quin Ignaszak Mon 21
Batting Average Against
Tanner Cooper Mon .163
Jason Wasilnak Mon .203
Hector Vargas Mon .219
Hayden Ewell LM .220
John Gassler FF .236
Thursday 7/5
Lake Monsters vs. Monarchs 5:30 PM University of Rochester
Flyin' Fish vs. Lake Monsters 8:15 PM University of Rochester
Saturday 7/7
Snow Dogs vs. Lake Monsters DH 11AM & 1:30 PM University of Rochester
Indians vs. Flyin' Fish DH 4PM & 6:30 PM University of Rochester
Sunday 7/8
Blazers vs. Monarchs DH 11AM & 1:30 PM University of Rochester