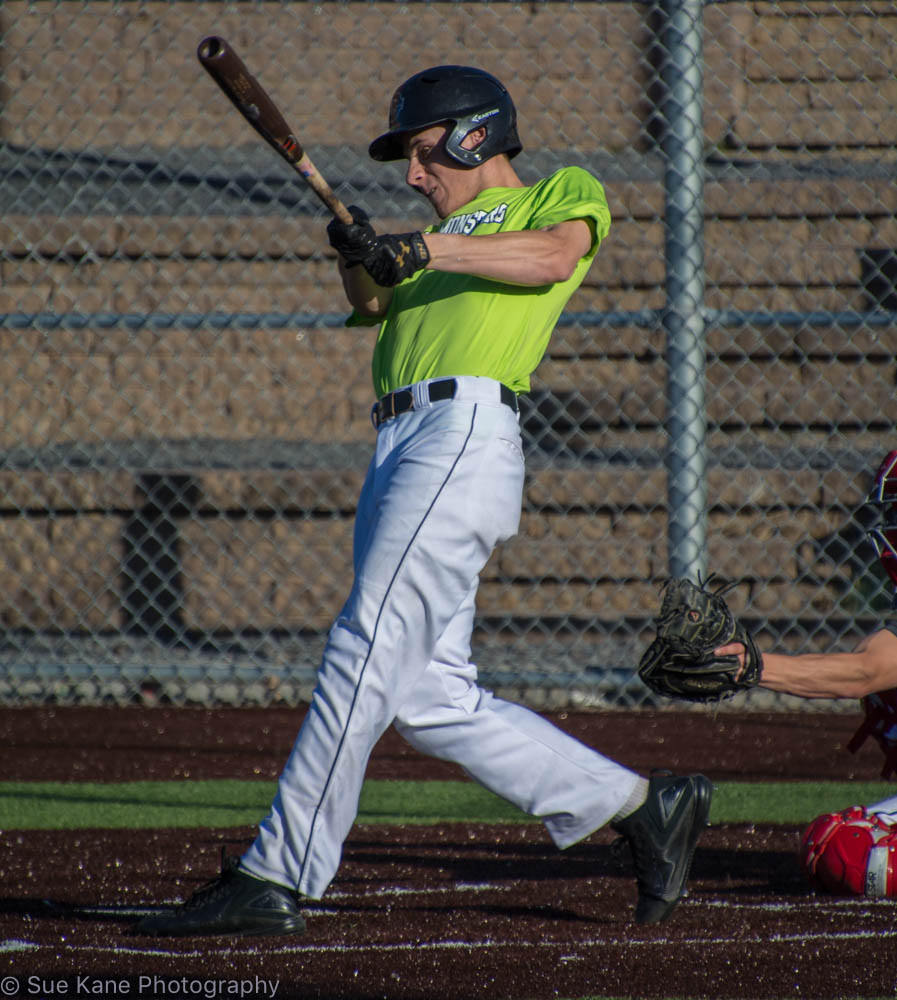 MONARCHS 2
LAKE MONSTERS 10
Logan Martella-Tasick (Monroe CC) finished 3-for-3 with a pair of doubles, two RBI and two runs scored as the Lake Monsters put crooked numbers on the scoreboard in each of the first three innings and never trailed. Martella-Tasick singled and scored in a two-run second and doubled home two runs in a four-run third as the Lake Show went on to win its third straight.
Logan Martella-Tasick double down the line scores 2 more. Still bottom 3: ???? 8 ???? 0 #ICBL18 pic.twitter.com/ILf3qKguQ6

— Paul Gotham (@PickinSplinters) June 25, 2018
Hayden Ewell (So. New Hampshire) started and allowed one run on three hits over 4 1/3 innings for his first win of the season. The right-hander struck out nine, walked two and surrendered three hits.
Hayden Ewell strikes out the side. Middle of the fourth: ???? 9 ???? 0 #ICBL18 pic.twitter.com/bqP36TKAal

— Paul Gotham (@PickinSplinters) June 25, 2018
Jourdan Plaisted (Elmira College) allowed a hit and two walks over 1 2/3 shutout innings in relief. Jake Hewitt (St. John Fisher College) hurled a scoreless seventh out of the bullpen. Nate Chase (Grand Valley State) tripled, drove in two and scored twice.
Sean Flannery takes it himself for the 6-3 GDP. pic.twitter.com/whaD0Bak8i

— Paul Gotham (@PickinSplinters) June 25, 2018
Dom Palma (Manhattan College) had a hit, a walk and two RBI. Brennen Smith (Monroe CC) went 2-for-4 with a run scored. Tyler Smith (Niagara County CC) had an RBI and a run scored. Sean Flannery (Kings College) singled, scored a run and drove in another. Max Argento (John Carroll) finished 2-for-2 for the Monarchs.

VIEW MORE SUE KANE PHOTOS HERE.
FLYIN' FISH 1
MONARCHS 4
Tanner Cooper (Finger Lakes CC) struck out 11 over six innings of work and picked up his second win of the season without any losses. The right-hander allowed one run on three hits on two walks and lowered his ERA to 2.04. He has struck out 39 in 24 innings of work and opponents are hitting .174 against him.
Sibling Rivalry Revisited: Tanner Cooper gets the better of this one. #ICBL18 pic.twitter.com/TttIMfs2us

— Paul Gotham (@PickinSplinters) June 26, 2018
Stephen Kemp (Medaille) drove in a run with a triple and later scored on a Tyler Cyrus (John Carroll) base hit as the Monarchs grabbed a 2-0 lead in the second and never trailed. The Monarchs added a pair of unearned runs in the third. Mike Sabatine (University of Maine) walked twice and scored a run. Mike Jamele (Merrimack College) scored a run. Ryan Kalbfus (Gannon University) added an RBI. Jason Wasilnak (St. John Fisher College) picked up the save striking out one over a scoreless inning. John Gassler (New York University) took the loss. The left-hander allowed four runs (two earned) on two hits and three walks over five innings of work. He struck out eight.
John Gassler sets down the side in order in the 4th with a pair of ???? outs. Going to the 5th: ???? 4 ???? 1 #ICBL18 pic.twitter.com/97PcLfUQlX

— Paul Gotham (@PickinSplinters) June 26, 2018
Ryan Hill (Monroe CC) walked and scored the lone Fish run. Sean Sheets (Keuka College), Anthony Mashewske (Keuka College) and Shane Hake (Elmira College) had a single apiece.
John Gassler gets the ground ball. Ryan Hill cleans it up from there. Five full: 'Narchs 4 ???? 1 #ICBL18 pic.twitter.com/je7KNAkd2O

— Paul Gotham (@PickinSplinters) June 26, 2018
WEDNESDAY
Lake Monsters vs. Flyin' Fish 5:30 PM University of Rochester
Flyin' Fish vs. Monarchs 8:15 PM University of Rochester