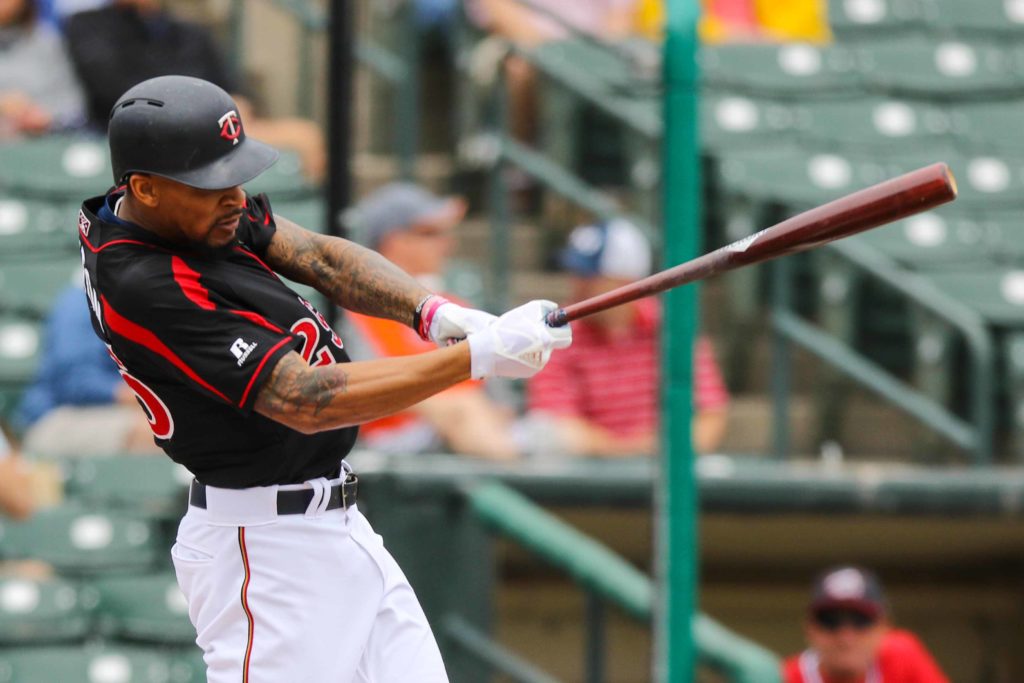 By KEVIN OKLOBZIJA
Byron Buxton said he needs to be more aggressive at the plate.
He also said he needs to cut down on his strikeouts.
The trick will be figuring out how to do both, but Buxton knows that's exactly what he must do to get back in the Minnesota Twins lineup.
He succeeded with part of that dichotomy on Friday night in helping the Rochester Red Wings to a 3-1 victory over the Scranton/Wilkes-Barre RailRiders at Frontier Field.
Wings starter Stephen Gonsalves (5-3) didn't have great command of the strike zone (he walked five) but managed to get through five innings giving up just two hits and no runs on 91 pitches. Jake Reed and John Curtiss were strong in relief as the Wings (35-35) ran their winning streak to four (all at home).
Buxton drove in the Wings three runs with a 370-foot home run to left field in the bottom of the fifth off Justus Sheffield, but he did strike out twice in his four at-bats in game No. 4 of his rehabilitation assignment from the Twins.
"I still have to get back into the groove of things," said Buxton, who is 3-for-14 (.214) with seven strikeouts since joining the Red Wings on Tuesday. "I need to cut down on my strikeouts. I need to put the ball in play more."
Indeed, when Buxton hits a fair ball on the ground, the defense is immediately in heightened alert mode. He can turn a routine grounder to short into an infield single because of his blazing speed.
And when at-bats that might have been strikeouts instead become singles or walks, then the chances of him being on second are probably 90 percent or better. Last season, he was 29-for-30 stealing bases. In his major league career that began in 2015, he is 46-for-51.
"I know when I get on base, I cause havoc," he said.
But he also doesn't mind showing off his power. He flirted with being a 5-tool player last year when he belted 16 homers for the Twins, 11 of which came in the 34 games between Aug. 12 and Sept. 17. He also hit .331 over that stretch during his Gold Glove season.
His home run on Friday was a towering fly ball to left field that carried into the bullpen and gave the Wings a 3-0 lead.
"The more aggressive I am, the more I tend to be myself," he said. "When I say aggressive, I mean picking out good pitches for me to hit hard."
The Wings and RailRiders (35-37) play again at 7:05 Saturday and close the series at 1:05 p.m. Sunday.