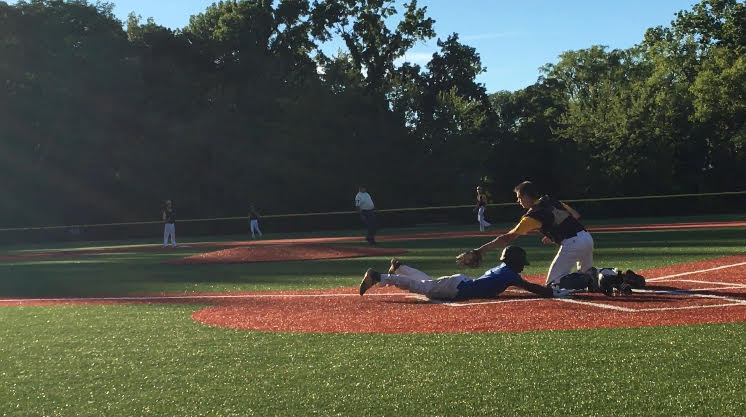 By BILLY HEYEN
EAST IRONDEQUOIT, N.Y. — Before facing Caleb Delly with one out in the sixth inning on Wednesday, Maxx Countryman had thrown 17.1 innings while allowing just one hit, when combining his final start with Avon and his first two for Rayson-Miller.
Shawn Brooks was on due to a walk and a steal for Irondequoit Post in the sixth. Delly worked the count to 2-0 and said he was just looking for a fastball over the plate. He took strike one. Then he got the fastball he was looking for and pulled it through the right side for the second hit off Countryman in two weeks.
A close play at the plate gave Irondequoit its first run. It turned out to be the game's only run because Countryman, who'd been utterly dominant for the past month, was outdueled by AJ Gartland.
"We tip our hat to AJ," Rayson-Miller coach Tom Sapienza said. "Just pitched a real good game."
The lefthander spun a gem for Irondequoit Post in its 1-0 win over Rayson-Miller. After winning its first ten league games, Rayson-Miller couldn't overcome the Irondequoit High School alumnus and current Alfred State pitcher. Gartland was too good. He pitched a two-hitter and struck out seven. It was the only time Rayson-Miller scored fewer than four runs all season.
"He had incredible fastball command," Irondequoit Post coach Joey Kuhn said. "He was knee-high outside, knee-high inside, moving guys back for called strikes. You know, when he commands his fastball like that, he's able to work off that and get a lot of good hitters out."
From the outset, the game set up as a pitchers' duel. Through the first two and a half innings, neither team had a hit. Rayson-Miller got a knock off Gartland in the third on a slow infield single that was just too deep in the shortstop hole for a play to be made. The best-hit ball of the game was a Colin Smith ground-rule double the following inning. But Gartland stranded runners on base in all four of the chances he had to do so.
Irondequoit couldn't mount any opposition against Countryman through the first five, though. He struck out two in the fifth and was cruising along.
"He was able to throw fastball, curveball, anytime, any count," Kuhn said of Countryman. "We saw that he was throwing 2-0 curveballs in the first inning. He kept everybody off balance. We didn't get a lot of hard hit balls off him because he mixed it up so well and was able to throw both pitches for strikes so effectively."
Five no-hit innings for Countryman. Five strikeouts as well. Scoreless as we go to the bottom of the fifth. @PickinSplinters @livcosports pic.twitter.com/YxXQWAk5lP

— Billy Heyen (@Wheyen3) June 20, 2018
After Countryman struck out the leadoff batter of the sixth, Brooks fouled off four two-strike pitches and worked a walk on the tenth pitch of his at bat. That's when Delly, the leadoff hitter for Irondequoit Post, stepped in.
A pitchout attempt on the second pitch to Delly didn't stop Brooks from trying to steal second and sliding in safely. And then Delly came through.
He said he wanted to drive in the run for Gartland "really bad." And as the ball squirted through the hole on the right side and the throw came all the way through to try and get Brooks at home, Delly could've taken second. He was too locked in on the play at the plate.
"I was pumped," Delly said. "I didn't even run to second. I was looking at the throw home and hoping he was gonna be safe."
The first hit Countryman allows is to Celeb Delly of @ERidgeLancers. It drives in a run and it's 1-0 Irondequoit in top 6. Countryman is out and Sam Cestra is in. @PickinSplinters pic.twitter.com/PCwCHgHSfY

— Billy Heyen (@Wheyen3) June 20, 2018
Brooks was, and from that point on, Gartland allowed just one baserunner, via an error. He worked a 1-2-3 seventh inning. As the game's final out flew toward the second baseman's glove, Gartland turned and whacked his glove in celebration.
Rayson-Miller had its first loss, which gives Sapienza's group what he called a new challenge to overcome.
"Our team has felt pretty good about itself," Sapienza said. "So now they've been punched once, and we'll see whether they can make the next best play."
On the other side, Irondequoit Post, which had struggled to close out close games, had a statement win. Gartland had helped prove to his club what it could do.
"It just kind of reaffirms what we knew already," Gartland said. "We're a good ballclub and going into this game, we didn't feel any different. We were just really confident in what we have here and just excited to see it work out our way this time."