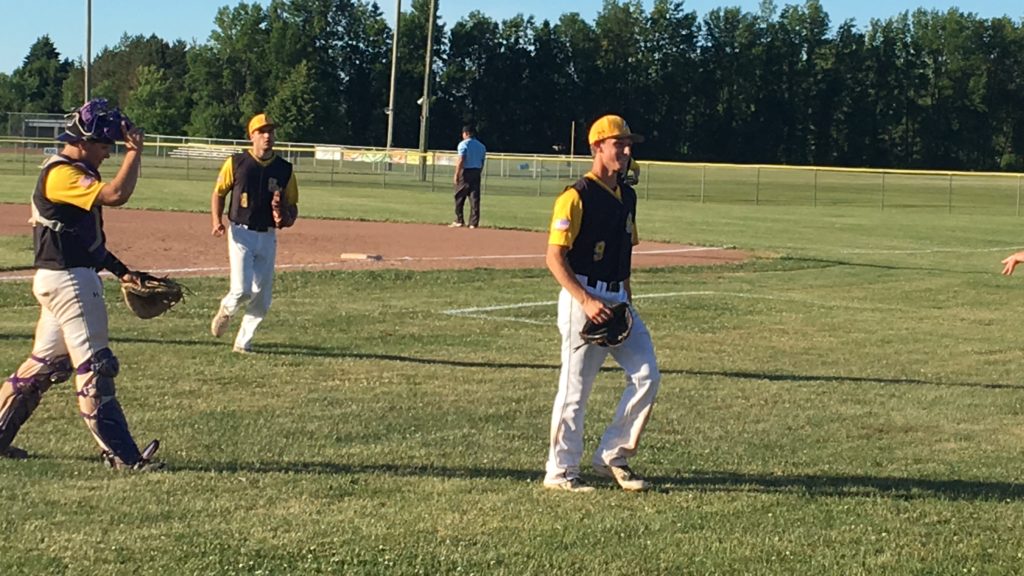 By BILLY HEYEN
ONTARIO CENTER, N.Y. — The last time Maxx Countryman took the mound, he threw a two-hitter in the Class C New York state semifinal. Avon won the state championship the next day.
On Friday, exactly a week later, the stakes were a bit lower in an American Legion regular season game. It didn't matter, because Countryman picked up right where he left off.
"I got the rest that I needed," Countryman said, "and came out here and was on an inning-to-inning basis with coach and letting him know how I'm doing. Just went out there one at a time."
Countryman's five no-hit innings, which included 11 strikeouts, were more than enough to keep Rayson Miller undefeated — a perfect seven for seven in league play — with a 7-0 win over Braman Post at Wayne High School. Countryman added a run-scoring triple for good measure. Josh Phelps finished the shutout's final two innings, allowing just one hit, and Rayson Miller continued its scorching start to the Legion season.
"We should be competitive all summer long," said Rayson Miller head coach Tom Sapienza. "We've got some horses."
It turned out the only run Rayson Miller needed came courtesy of Countryman before he even took the mound. In the top of the first, he drove a ball over the centerfielder's head to bring a run home and get Rayson Miller on the board. He ran home on a Colin Smith groundout moments later. Then, Countryman took the mound and went to work.
He struck out the first batter he faced on a curveball looking. In the second, Countryman added two more punchouts on high heat. Then he painted a fastball for another, broke a bat for a groundout and used his curveball for another strikeout in the third. Five strikeouts after three with nine up and nine down was a good start. It got better.
"He was unhittable," said Rayson Miller shortstop Lukas Haefner. "It's pretty hard to hit it when he can spot fastballs on the inside half, outside half and do the same thing with his offspeed. It helps that he throws hard, too. At that point, it's kind of unhittable."
The fourth started with an eight-pitch at bat, which ended with Countryman blowing a fastball by the hitter for strike three. Then he struck out the inning's second batter on a curve, swinging. The third went down on three pitches, also on a curve, and also the third swinging strikeout of the inning.
He started the fifth the same way he ended the fourth: with a swinging strikeout on his curve. That almost didn't happen, though. First baseman Owen VanNewkirk had a chance to catch a popup in foul ground but overran it. The next pitch was when Countryman punched the batter out, and VanNewkirk was quick to throw in an "I got you another strikeout."
Then the perfect game ended, after 13 guys had been set down, on a full-count walk. That didn't slow down Countryman, who buckled the next man's knees with a curve for a looking punchout. A groundball after resulted in an error, but it meant that Countryman could strikeout one more hitter, another one looking, another one on his curveball.
"It was my first time catching him, ever," said Rayson Miller catcher Jourdan Plaisted. "We were able to mix pitches, really get in the batter's head, give them the shake and just really get after it."
Ks 9, 10, and 11 come on curveballs. A walk and an error are stranded. Maxx Countryman is through five with no hits allowed and Rayson Miller leads 5-0. @PickinSplinters @livcosports pic.twitter.com/kTbb0UZ7A6

— Billy Heyen (@Wheyen3) June 15, 2018
Hovering around 80 pitches, it turned out that 11th punchout would be Countryman's last. Sapienza and Countryman both took the long view after the game.
"We've got bigger fish to fry," Sapienza said, and then added with a wink, "He'll have other chances."
The only time it seemed like Countryman's night may get a blemish was in his final at bat, in the top of the seventh. He lined a ball right at the left fielder as his bat broke. Countryman wasn't quite sure whether it had broken, so as he headed toward the dugout, he whacked it against the ground. It made the hollow sound only a broken bat makes.
But Rayson Miller was well on its way to victory at that point. The dugout encouraged Countryman to break the bat, fully. So, with a smile on his face, Countryman snapped it in half over his knee. His teammates showered him with cheers as loud as he'd gotten all day.
"We're just playing for fun," Plaisted said. "We're just having a good time. We're gonna keep it going and we're gonna try and have as much fun and keep it going as long as possible."