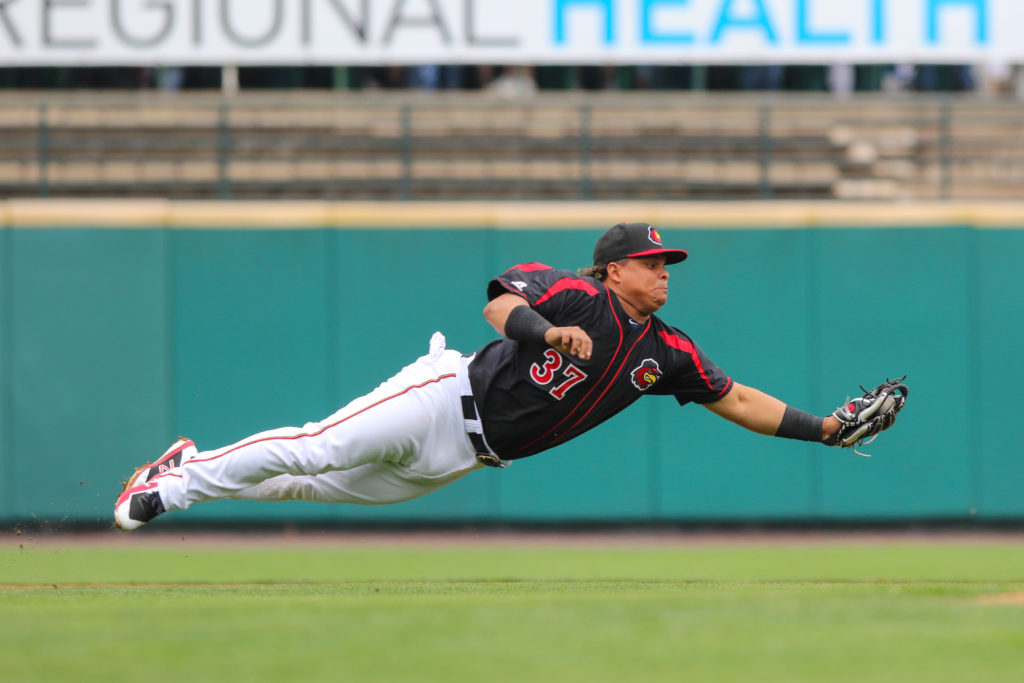 By BILLY HEYEN
ROCHESTER, N.Y. — With a runner on second in the fifth, Syracuse's Bengie Gonzalez hit a rocket one-hopper to Rochester's Willians Astudillo at third. He backhanded the ball and looked to throw behind the runner on second as Leonardo Reginatto raced over to cover.
During the Red Wings nine-game home losing streak that was snapped Tuesday, that throw may have resulted in no outs or an error. Now en route to a second-straight home win, though, Reginatto just snagged the ball on the run and threw on to Chris Carter at first for the out.
It was one of many things to go right for Astudillo on Wednesday in Rochester's 2-0 win, along with two doubles and a diving stop at third. It supported Adalberto Mejia, the Red Wings' lefty making the start on his 25th birthday, who got the win with seven shutout innings to go with eight strikeouts. Even though Rochester's home offensive woes continued, things came together at Frontier Field on Wednesday afternoon to ensure a win for the Red Wings anyway.
"That's how shutouts happen," Rochester manager Joel Skinner said "It's just a matter of guys executing, making pitches. We got a couple of double plays when we needed it and a couple strikeouts to keep guys in check with runners on third."
In the top of the third, with the game still scoreless and Mejia yet to allow a hit, Gonzalez ripped one toward the glove side of Astudillo. He laid out and snagged the ball on its first bounce before hopping up and firing across the diamond for the out.
Astudillo has played 119 professional games as a third baseman, but the majority of those came in 2010 and 2011 in the Venezuelan Summer League. Wednesday was just his eighth time at the hot corner, while the majority of his starts have come behind the plate at catcher. Twice in robbing Gonzalez, he showed he could handle it.
"It's a situation where we're trying to get his bat in the lineup the way he's swinging it," Skinner said. "He's a versatile guy."
Astudillo's bat was put to good use in the early going, with a double beyond the left field bullpen to Frontier Field's angled left-center field corner. He seemed to get jammed his second time but still lined a ball between the outfielders for a double to right center.
The Red Wings scored both their runs in the fourth following Astudillo's second double, although he was forced out and didn't score himself. Rochester loaded the bases with no outs, but Zack Granite and Reginatto both hit into fielders' choices. That left it up to Byron Buxton, who was 0-for-5 through one-plus rehab games with Rochester up to that point.
Buxton sent a hard grounder up the middle. There would be no play at first, so the diving second baseman forced a toss to second which he overthrew. That allowed a second run to score and Rochester had all the runs it needed.
"Not really worried about my foot," Buxton said. "Once I'm on the field, it's more of go out there and be myself."
Mejia made the two runs hold up. In both the fifth and the sixth, he allowed a double but no more. He finished his final inning, the seventh, strong, striking out the side swinging. To the last batter, with his pitch count getting up to his final total of 98 pitches, Mejia hit 95 miles per hour on the first pitch, 96 on the second strike and, after a breaking ball for a ball, 95 for the swing and miss to end the inning.
Gabriel Moya and Alan Busenitz both pitched shutout innings out of the bullpen to finish off Rochester's second-straight home win that had been preceded by nine-straight home losses. It gave Mejia an outing tied for his longest of the season, and the only time he's pitched longer than two innings without allowing a run. It was a fitting birthday gift for the 6-foot-3 lefthander.
"When you're pitching on your birthday, you're happy," Mejia said, "and to win the game, too."
Mejia earned his third win of the season to celebrate turning 25 with a positive mark, and all he plans on doing the rest of the day is spending time at home with his wife and kids. It wasn't Tuesday's only excitement, as Rochester celebrated another win with loud music blaring in its clubhouse. Skinner says the way to keep it going is just to "win a couple more."
"I think the thing is every game starts with starting pitching and going from there," Skinner said. "The last two nights, Enns and Mejia have given us a shot and we've scored just enough. From a standpoint of that's usually the formula, we want to keep moving with that."