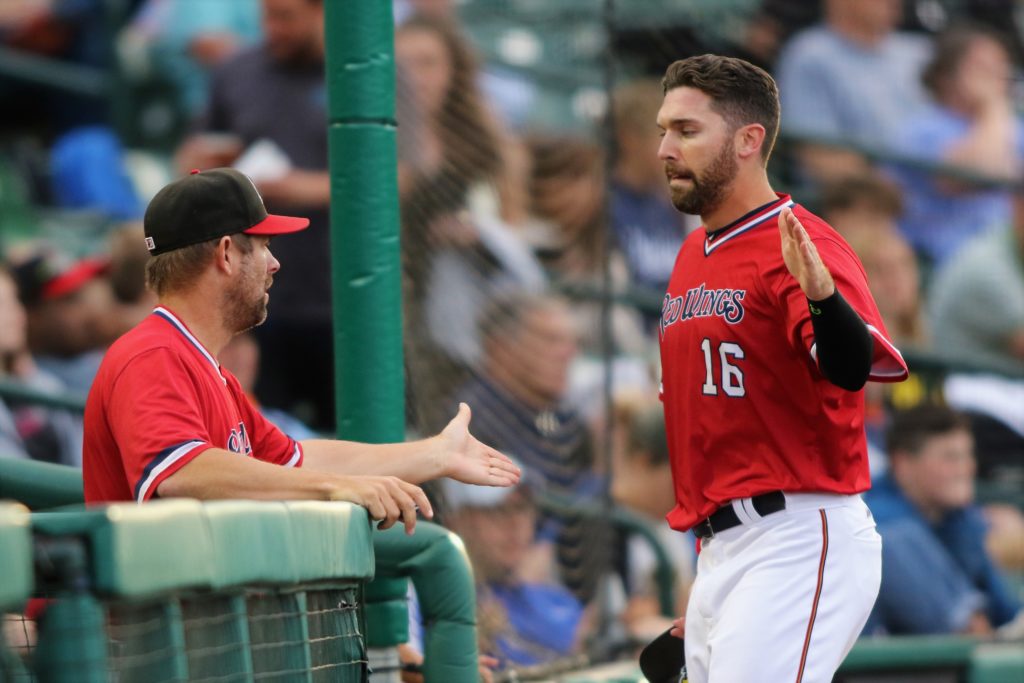 By BILLY HEYEN
ROCHESTER, N.Y. — Before Tuesday night, the Rochester Red Wings had lost nine home games in a row. They'd scored two or fewer runs in all nine of those games. Tuesday, that changed.
"We scored more than two runs, basically is what happened," Rochester manager Joel Skinner said. "From that standpoint, you have to score some runs to win and we did that tonight."
Four third-inning runs made the difference for the Red Wings on Tuesday at Frontier Field. That was the only frame Rochester scored in but it was enough to defeat the Syracuse Chiefs, 4-3. After not scoring more than two runs in a game at Frontier Field since May 25, the Red Wings put a four-spot up in one inning on Tuesday.
"I think it's just one of those things where scoring runs can get kind of contagious," Rochester outfielder Jake Cave said.
Rochester was down two runs entering the third. It seemed the home woes would continue. Then Gregorio Petit lined a ball into right field leading off the inning from the nine slot. Byron Buxton, rehabbing in Rochester in recovery from a broken toe, couldn't follow it up as he flew out on an 0-for-4 night for him. But then Nick Gordon reached on a hard hit ball that was charged an error on the second baseman.
VIEW MORE JOE TERRITO PHOTOS HERE. 
That's when Cave stepped up. After the game, Cave said he was just looking for a pitch up. He got it in the form of a slider and sent it high down the left field line. It fell in front of Syracuse's Yadiel Hernandez in fair territory and then bounced over his head and into the corner. The bounce allowed both runners to come around and score, and Cave rolled into second with a two-run double.
"I was happy those guys got on in front of me so I could get some runs in," Cave said.
Three batters later, Willians Astudillo followed with a run-scoring single and was copied immediately after by a Cameron Rupp RBI hit. Rochester, which had scored 10 runs in its previous nine home games, had four in the third that took only two outs to get.
The following half inning, Red Wings' starter Dietrich Enns gave up a third run to Syracuse, but that was the last the Chiefs would tally. Beginning in the sixth, Rochester relied on a dominant bullpen to finish the game.
First up was DJ Baxendale, who struck out three Chiefs looking in the sixth, along with the leadoff guy in the seventh, looking as well. Two Syracuse batters recorded hits to put Baxendale up against the wall, but he induced a 4-6-3 double play to escape with his second clean inning.
"I was able to execute all my pitches and set them up the right way," Baxendale said. "Our catcher, Cameron Rupp, did a great job back there calling a good game and just really having good glovework back there and having an understanding of what to do to attack the hitters."
Luke Bard came on for the eighth for Rochester and allowed two one-out hits. A fielders' choice to Astudillo at third got a tag for the second out, and Bard followed that up with a breaking ball for strike three to finish the eighth with the Red Wings still up a run.
With John Curtiss warming up to come on and try to get his fifth save, Rochester looked for some insurance in the bottom of the eighth. Astudillo hit a lazy fly with two outs to left, though, and as the ball settled into Hernandez's glove, Curtiss was already running out of the bullpen ready to finish it off.
He didn't encounter any trouble in doing so. Curtiss struck out Chris Dominguez swinging, then used a 99 mile per hour, high fastball to punchout out Tuffy Gosewisch for the second out. A flyout to Zack Granite ended the ballgame and the Red Wings' recent miseries at home.
"We always want to win at home," Baxendale said. "We've got great fans here. So to come in after a rough stretch in our last couple at home and just kind of carry the momentum we had on the road trip into a home win and hopefully a couple more is always great."
After the game, music that was mostly lacking during the home losing stretch was blasting from the home clubhouse. Aaron Slegers was in charge, Baxendale said, then adding that maybe Slegers should run it every day, because he was doing a good job.
The good mood extended down the hallway when Cave was being interviewed. There, two of his teammates came and stood behind the media while Cave answered questions, lifting up their shirts and sticking their tongues out. With a weight off the Red Wings backs at home, everyone's spirits were high.
"We're in a good spot, just try to keep it going," Cave said. "Got an early one tomorrow so get some sleep tonight and come out and hopefully the offense rolls over and pitchers keep dominating."