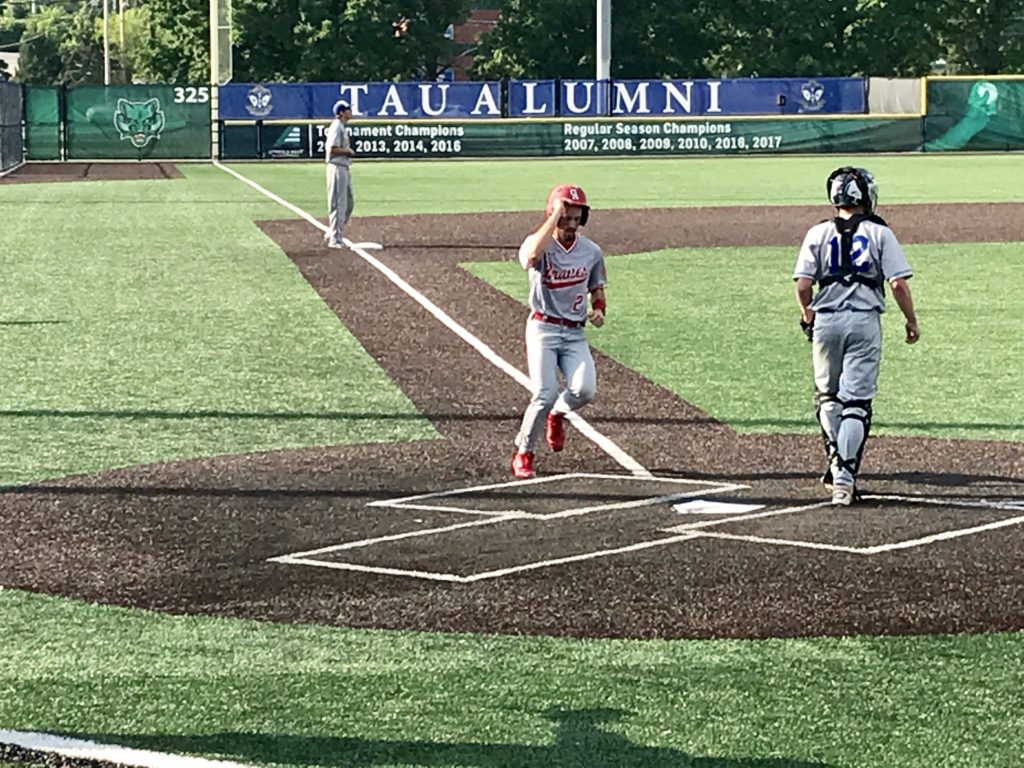 By PAUL GOTHAM
BINGHAMTON, N.Y. — It came down to an unscripted play.
With two outs and a runner on second in the bottom of the third, Queensbury's Matt Chase swung and missed at a Michael Sculli two-strike offering. The inning should have ended except the ball glanced off Seth Vigneri's glove. The sophomore catcher alertly wheeled to retrieve the ball.
It's a play the All-County performer makes 99 out of 100 times.
This was that one time.
As Vigneri turned and chased, he learned quickly the dimensions at Binghamton University are different than those of Canandaigua's Evans Field or for that matter any high school field where he has played the past two months. The distance between home and the backstop a few feet greater. The difference had to affect his timing. What should have been a routine K 2-3 in the book was anything but that.
The rushed throw missed the target at first. Noah Edwards scored from third.
"There was nobody more frustrated about that play than Seth," Canandaigua coach Dale Werth said after the Braves fell 3-1 in the NYS Class A semifinal game. "It's when something unexpected happens, you try to practice that, but you really don't. We've never practiced a scenario like that."
The next batter, Mike Siano, followed with an RBI double into the left center gap. Queensbury had all the runs they needed to advance to the NYS Class A final on Saturday.
"It's little things like that," Werth added. "If that happens to them, we win. Give them credit. They executed a little better than us today. They deserved to win."
From there Canandaigua threatened, but the Braves (20-5) winners of eight straight and 16 of 17 did not erase the deficit.
They put two on in the fourth with one out but couldn't capitalize. Sculli doubled home John DiSalvo in the fifth to make it 2-1 game. The tying run was left stranded at third. Connor Fisher led the seventh with a double to straight center.
Add to that Vigneri and Dylan Mackenzie getting aboard in a second frame when the Braves came away empty-handed.
"It's timely hitting," Werth noted. "Sometimes in baseball it's not the amount of hits, it's when you get your hits. They had a little bit more timely hitting than we did.  We had runners on especially early in that game. We had chances to score. We just didn't get hits behind them. You put hits there. You have five or six runs and it's a different game."
Sculli had thrown 22.1 innings of shutout ball in the postseason entering Friday's contest. A week ago in the NYS Far West Regional, the junior left-hander worked the outside of the plate to retire right-handed batters. In the semifinal he didn't receive that call.
"You get different umpires," Werth explained. "If he gets a guy giving him that outside corner, it's a different game. He just lives out there. He paints that. They didn't give him that, so that was certainly part of the game."
Twice Canandaigua's defense erased runners at the plate. On the Edwards double in the third, Cooper Crunick took the relay and fired a strike to Vigneri who calmly apples the tag at the plate. In the sixth with runners on the corners, Sculli picked over to first. Jack Slvia broke from third. Tristan Tyndall's throw to home easily beat the runner.
"I'm proud of this team, proud of the kids. With three seniors, to get to this point, we knew we'd have a good team, but you don't expect to do this. I'm told them to hold their heads up high. They played great."
Edwards allowed an unearned run on six hits to pick up the win.
Siano finished with two hits.
Queensbury (II) advanced to play Lakeland (I) in Saturday's championship game.