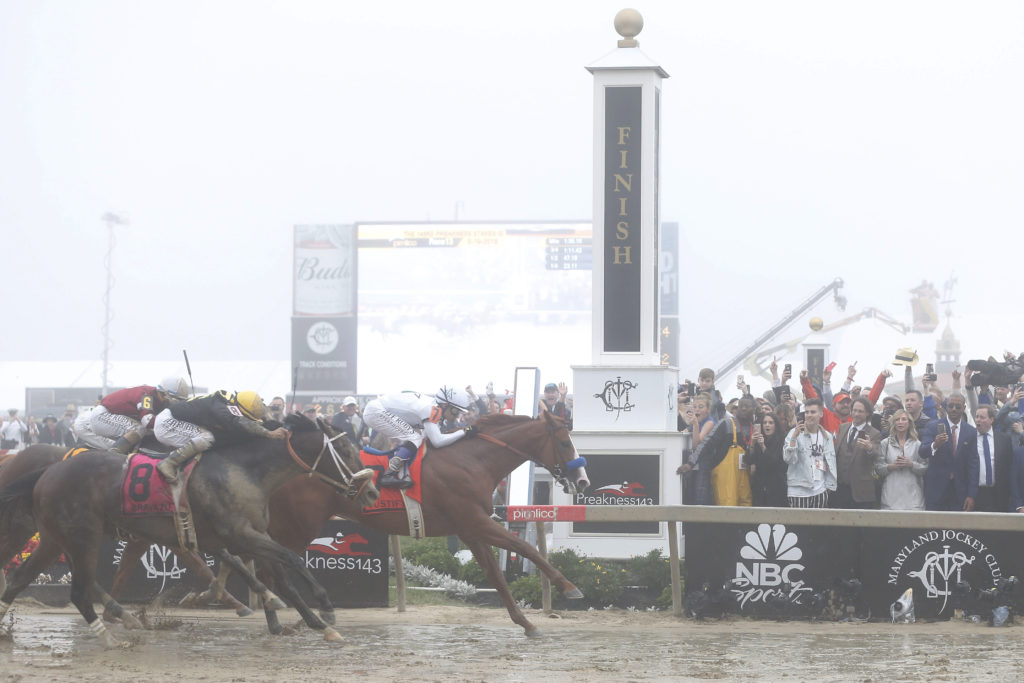 By KEVIN OKLOBZIJA
Before Justify had even been draped with the viking poms blanket in the winner's circle at Pimlico Race Course, I vowed I'd be playing any logical contender in Belmont Stakes before I'd play the Derby and Preakness winner.
Now, on the eve of the 150th running of the Belmont Stakes, I'm not so sure I can follow through on that plan.
Who's good enough to beat him if the fit and fast Justify shows up?
Other than Noble Indy, there doesn't appear to be any horse with early speed to soften up Justify. But since Noble Indy is owned by Winstar Farm, majority owner of Justify, jockey Javier Castellano certainly isn't going to get into an early duel. Just to be sure, trainer Todd Pletcher took the blinkers off.
No horse owned by the same connections is going to end up dueling his stablemate right out of a Triple Crown.
As a result, Justify won't need to expend unnecessary energy early to set the pace, so when contenders Hofberg, Vino Rosso and maybe even Tenfold and Blended Citizen come calling, he'll be able to hold them off — if he's still primed and loaded.
That's really the only "if" I see. Has the grind of the Triple Crown, coupled with Justify's lack of racing foundation, made him vulnerable in the mile-and-one-half Belmont Stakes?
How well you play the educated guessing game will determine whether you think Justify wins.
I think he certainly can win, but I will use other horses in the big-pool Pick 4 and 5, as well as in 11th-race exotics, because I do believe the Triple Crown trail has impacted his stamina to some degree.
He's just the second horse to win the Kentucky Derby without racing a 2-year-old, and the first since 1882. His five career starts have all come since Feb. 18. Maybe when it comes time to find another gear in the long Belmont Park stretch, he simply won't find it.
Like Preakness Day, Daily Racing Form has selections from 20 of its experts. There were 15 that picked Justify to win the Preakness. Just eight are picking him to win Saturday.
I was a fan of Best Magic in the Kentucky Derby and he ran second; Justify was simply better. I thought Best Magic had a good chance to turn the tables in Baltimore. Instead, he ran neck-and-neck with him for three-quarters of a mile before backing up; Justify kept right on going.
Had the Preakness been the Derby distance of a mile and 1/4, then Bravazo, Tenfold or even Lone Sailor might have run by the tiring Justify. Of course, what difference does that make? You can't cash tickets on what-ifs.
Here's a look at the contenders other than Justify:
No. 4-Hofburg, freshened up after a seventh-place finish at Churchill Downs, has the best chance to spoil the Triple Crown party. He's trained by Hall of Famer Bill Mott, who has only won one Triple Crown race (the 2010 Belmont with Drosselmeyer) but also doesn't enter just to enter (see D. Wayne Lukas for someone who was the original subscriber to the "You can't win it if you're not in it" theory).
Hofburg, not Justify, will be my key horse in trifectas.
No. 7-Tenfold was full of run at Pimlico. He's bred to love the slop, so that didn't hurt him in Baltimore, but he also has some talent. His trainer, Steve Asmussen, won the 2016 Belmont with Creator. His Beyer Speed Figure numbers continue to rise, so that's usually a reason to play a horse, and he shouldn't mind the race distance.
No. 8-Vino Rosso was my absolute Play Against horse in the Derby, because Wood Memorial winners NEVER do well in the Run for the Roses. But now he's back in New York, freshened up since Kentucky is another son of Curlin who may relish the 1 1/2 miles, and he has the right running style to be attacking when they turn for home.
No. 10-Blended Citizen has done a lot of running — 10 career starts — but this will be his first Grade 1 race, and the first jockey Kyle Frey has ever ridden in. You won't notice him early, but he should be visible in the stretch. His Beyers say he's not good enough, but they are inching upward and trainer Doug O'Neill is pretty darn sharp. Hardly the worst long shot to consider.
No. 6-Gronkowski is a toss-at-your-own-risk proposition. He's a Kentucky-bred colt who has never run on American soil and never raced on dirt. But he's 4-for-4 on synthetic dirt in Great Britain, has moved into the barn of elite trainer Chad Brown, adds Lasix, takes off pounds (which may matter a tiny bit going a mile and a half) and I think must be used.
Per DRF, Brown finds the winner's circle at a 25-percent clip first time with a horse and first-time Lasix, and 30 percent when the horse hasn't raced in two to six months.
My .50 trifectas (find a friend or two, split the costs):
1-6-7-8-10/4/1-3-6-7-8-9-10 ($15).
4/1-3-6-7-8-9-10/1-3-6-7-8-9-10 ($21)
1-6-7-8-10/1-3-6-7-8-9-10-/4 ($15).