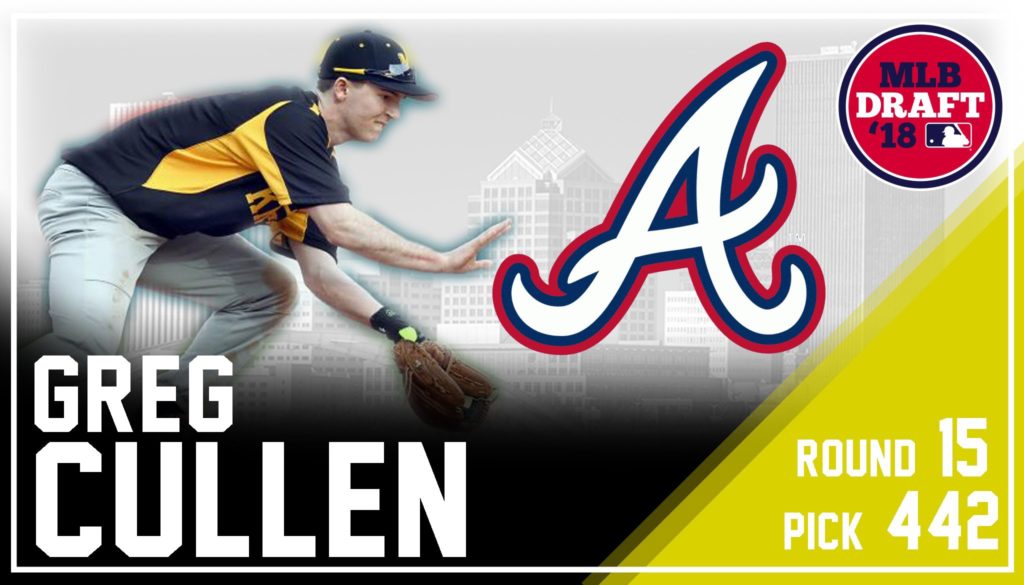 By BILLY HEYEN
Penfield-native Greg Cullen was selected by the Atlanta Braves in the 15th round of the 2018 Major League Baseball First-Year Player Draft. Cullen starred at McQuaid during high school and has spent the last three years playing for Niagara University. This is the fifth straight year that a former Section V baseball player was drafted.
As a junior at Niagara, Cullen led the nation in batting average, finishing the season with a .458 mark. That included 17 doubles, three triples and four home runs. He also stole 13 bases. All of that added up to a second-team All America spot for Cullen.
At McQuaid, Cullen was named All-State First Team following his senior year. He and the Knights also took home the sectional crown that season.
The lefty-swinging infielder has the option of returning to Niagara for his senior season or signing a professional contract and being assigned somewhere in the minor leagues. The most likely destinations for newly drafted players are rookie ball or short-season Class A. In the Braves organization, the rookie team plays in Gulf Coast league while the short-season A team plays in Appalachian League.
In the 2017 MLB Draft, two players who had attended high school in the Rochester area were selected. Ernie Clement, who graduated from Brighton before heading to Virginia, was selected by the Cleveland Indians in the fourth round. Logan Harasta went to Webster Thomas before being drafted in the seventh round out of Buffalo by the San Francisco Giants.
Cullen joins Canandaigua's Adam Scott who was taken in yesterday's fourth round by the Cleveland Indians.
Cullen also joins Clement, Will Gorman, Harasta and Conner Simonetti as former Rochester Collegiate Baseball League products to be taken in the MLB draft.
Section V players chosen in MLB Draft since 2006
2018
Player –School – Position — Round — Team
Adam Scott — Canandaigua — P — 4th — Indians
Greg Cullen — McQuaid — INF — 15th — Braves
Victor Cavalieri — Northstar — P — 36th — Braves
2017
Ernie Clement – Brighton – INF — 4th – Indians
Logan Harasta – Webster Thomas –P —  7th – Giants
2016
Conner Simonetti  — Fairport – OF — 13th – Nationals
2015
Matt Portland –Victor – P — 17th – Royals
Danny Mendick – Pittsford Mendon – INF – 22nd – White Sox
Steven Klimek – Greece Arcadia – P – 33rd – Baltimore
2014
Jordan Schwartz – Hornell – P – 4th – A's
2012
Grant Heyman – Pittsford Sutherland – OF – 11th – Blue Jays
Trey Pascazi – East Rochester – INF – 23rd – Blue Jays
2011
Brian Dupra – Greece Athena – P – 7th — Nationals
Jon Schwind – Hilton – C – 41st — Pirates
Andre Kinder – Albion – P – 42nd — Phillies
Chris Bostick – Aquinas – INF – 44th – A's
2010
Cito Culver – Irondequoit – INF – 1st – Yankees
Brian Dupra – Greece Athena – P – 11th – Tigers
Yimy Rodriguez – Greece Arcadia – P – 27th – Dodgers
2009
Dusty Odenbach – McQuaid – P – 8th – Royals
Matthew Tone – Irondequoit – P – 14th – Twins
Christian Segar — McQuaid — OF — 49th — Cubs
2007
Andy Parrino – Brockport – INF – 26th – Padres
Brian Dupra – Greece Athena  — P – 36th — Rangers